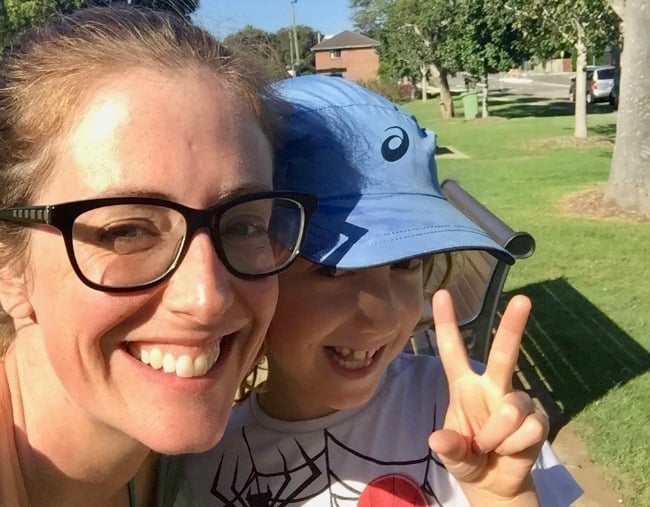 As my son approaches his eighth birthday, he is showing signs of wanting to be a 'big kid' in so many ways.
He wants to play Fortnite like his big cousins, he is reading alone at night and I notice how he cares more about the opinions of his peers. While he is many years from being a young adult, I do want to give him some autonomy where possible, with one exception; when he wants to use public toilets alone.
At this stage I take him into the ladies' room with me or we use a disabled cubicle if its empty.
Toby rolls his eyes and comes along, but begs me to let him go into the mens' room, as he would with his dad, but I just don't feel it's safe.
One of our local cafes has a unisex cubicle which is handy, but this option is few and far between in our area.
Further to the question of what to do with him when using public toilets, I recently noticed a sign in the ladies change room of a local council swimming pool requesting that boys who are older than five, DO NOT use the ladies communal change rooms but instead the disabled change room.
Personally, I feel that five is very young, and there would surely be few women offended by a five-year-old boy getting changed with the help of their mama.
Most of the parents I asked who use council pool facilities in our town, said they have either ignored this sign (and others like it), or simply don't take their sons swimming without their male partner.
Rebecca a mum of two boys, said, "Imagine a six-year-old being in a changing room getting undressed alone with a bunch of adult men... that's far less comfortable for me than my son being in a room with me, regardless of whether it offends any adult women."
Mum to a five-year-old boy and four-year-old girl, Kursten agrees.
She said, "I would never allow my son to go into a male change room on his own, you don't know who is in there. Something terrible could happen in a moment that would have a huge impact on his life. If the pool enforced the rule, I would just stop going."
Another mum described how this sign wouldn't even exist in Perth after the horrific murder of an eight-year-old girl in a shopping centre disabled toilet in 2007.
Sally is a mum of a teenage daughter who also feels that this issue gets worse as children get to the pre-teen and teen phase.
"My daughter has been ultra-modest for quite a few years, so she'd be in the cubicle getting changed in private anyway. I would never begrudge a woman bringing her son into the women's change rooms because, if I had a son, there is no way on earth I'd send him into the men's alone.
"If in doubt, maybe you could duck in first and make sure there isn't a mass of nude teens getting changed (for your son's sake as much as yours!) and if there is, make a quick announcement you're bringing your son in with you to see what the consensus is."
If I take Toby swimming at one of my local council pools, I help him to change under a towel by the side of the pool and I put my swimmers on before I leave the house so I am ready to roll once he is, but this is getting harder as he becomes more modest. So far, I have not used the disabled toilet in case it is needed but I guess this will soon be our only option.
Where I grew up in the UK we had 'Family' sized cubicles at the council pool so that when my dad took my sister and I swimming every Sunday, we all got changed in a big cubicle together.
I returned to the UK with my boys last Christmas and we took them swimming at another local pool. The whole changing room area was unisex and divided into private cubicles with plenty of options for families to undress and dress together.
It seems like a sensible solution to me.
Regarding the public toilets, Toby will just be coming into the ladies with me as we try to limit using disabled cubicles where possible.
As for the pool, I realise that the expense of creating family rooms is not an option for every council facility, yet is asking all families with children over five, to use the one and only disabled room, the only option forever?
I certainly hope not.
What are your thoughts on sons using public toilets? Should there be more unisex options? Would you ignore the pool sign or do you think it is fair enough to exclude boys over a certain age from communal changing rooms?