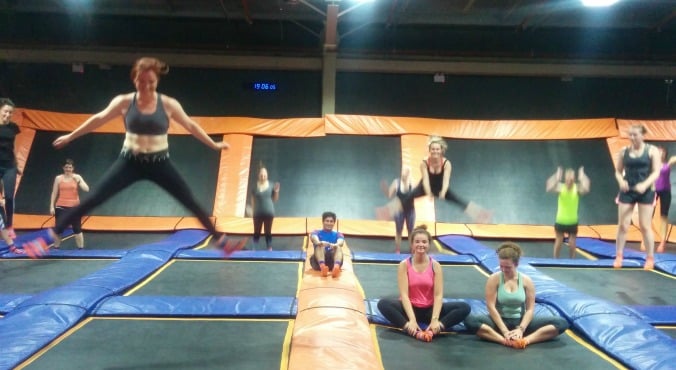 Image: iStock.
My first memories of a trampoline were in my grandmother's living room circa 1984. Her tiny frame bounced from foot to foot atop a personal-sized rebounder (a small, round riff on a trampoline where you can't do flips or stunts).
Rebounding became a serious fitness fad in the US after a 1980 NASA study (in the Journal of Applied Physiology) concluded a trampoline workout was superior and more efficient to jogging.
In the last 10 years trampolines have risen yet again from the ashes of fitness trends, like a bouncy Phoenix, in the form of the multi-million-dollar US trampoline arena industry. They've landed and proliferated on Australian shores too, bringing with them a new sort of trampoline-based fitness classes.
The current incarnation of Sky Fit launched in September 2015 and it seems people are truly jumping for fitness again ("membership numbers are building fast," says program director Emily Steele), but not as my grandmother knew it.
The number of people in the Sky Fit class I did at Alexandria's Sky Zone tell me that it's not just a few sad souls with bum joints, as I misguidedly thought it might be.
Instead it was a fully booked class of young folks. The vibe I got from the other class goers was refreshingly free from the air of dread and thousand-mile stares that typified the pre-class atmosphere at regular fitness classes I'd done before.
Initially I was hesitant to book a class here because I was terrified of sharing a giant trampoline littered with snotty children in various states of flight. But the space was mercifully child-free on a quiet Tuesday night – the only sounds were the music pumping over the loud speaker and encouraging words.
And we work out on a quilt of individual tramp pads divided by padded lanes – not a giant bouncy mosh pit. No doubt the weekends at this place are madder than Bedlam but on weekday nights it was basically a dedicated – delightfully air conditioned – gym space for Sky Fit. (Post continues after gallery.)
The funnest ways to work out
In terms of potential workout, Sky Zone quotes the NASA study on its site ("68 per cent more efficient than jogging") and trampoline fanatics are quick to regale you with all the miraculous-sounding benefits of trampolining. Detox – that lightening rod of a word – your lymphatic system! Improve balance! Strengthen cells! Ease anxiety! Build muscle in less time! Get an aerobic workout in minutes! Eases joint pain! Helps autism!
Some claims aren't necessarily back by studies – the whole detox and lymph thing, for example, is thin on the ground (or completely absent) where empirical evidence is concerned – and the strengthening and aerobic benefits clearly depend on the intensity and variability of your workout and your ease on a trampoline (which can be learned).
New York Times journalist and trampoline-for-fitness sceptic Gretchen Reynolds believes rebounding is about as taxing as an afternoon at the bowling lane. My sweat-soaked shirt, wobbling legs and shortness of breath after class say otherwise. Although, I'm sure she had light bouncing on a personal rebounder – grandma style – and not a destabilised HITT classes in mind.