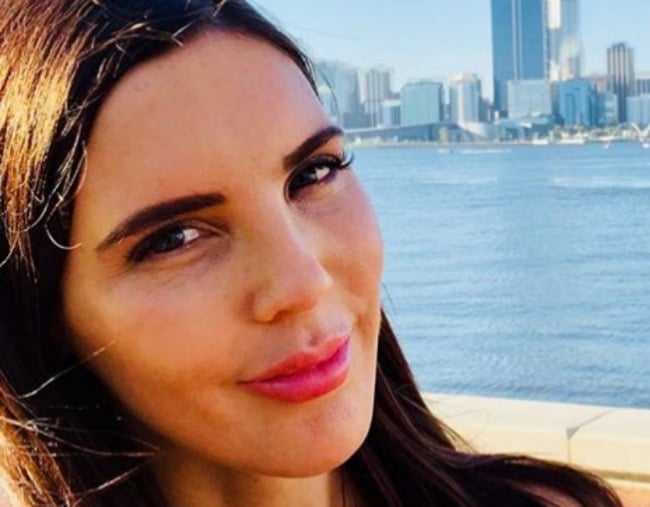 1. Married at First Sight's Tracey Jewel accuses radio hosts of "bullying".
Married at First Sight star Tracey Jewel has slammed Adelaide radio show Hit 107 for "bullying". Speaking to the station, the 35-year-old mother of one was taunted about her co-star from the show, Dean Wells, and her new self-help book This Goddess Means Business. 
While the reality star kept it together on air, she let the radio show know she was disappointed with the interview in a private message to the host, Amos Gill, on Instagram.
"Thanks for having me Amos Cat and Angus (see I can get it right) lol but sorry to say I'm appalled at that interview," she wrote.
"Considering all the bullying I get online I expected more from a radio station... just some feedback for the type of message you want to be sending to your listeners do you want them to think it's okay to hate on someone?"
The host screen-shotted the private message and posted it on his Instagram, captioning the image, "Tomorrow 7:15. Be appalled by my pointing out the obvious."
During the interview, host Angus O'Loughlin taunted the writer about a typo in her book.
"Let me talk about your book for a second. It's called The Goddess Means Business — I hate to put you on the spot, but can you spell 'goddess' for me?" he asked.
Jewel responded, saying " "I know what you're talking about — in the book [the word 'goddess' is missing an 'S for my acronym to work … I get it, I get it."
"Well, it's missing a 'D', because you've done 'G-O-D-E-S-S', so not a good start," he replied.
The radio show eventually ended up discussing Jewel's breakup with Sean, taunting the woman about the way she broke up him.