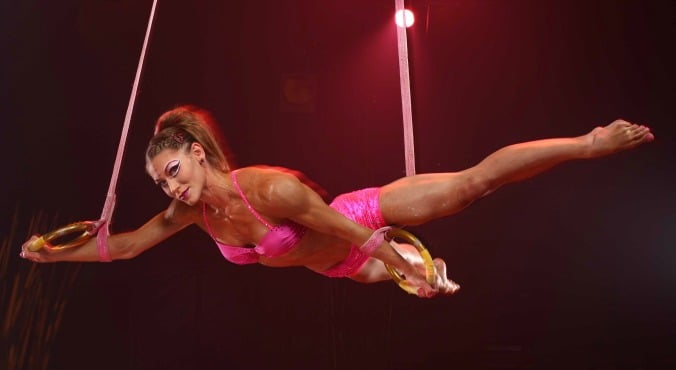 Images: OSA Images, Costumes: Kym Barrett, 2010 Cirque du Soleil.
For those of us who struggle to even touch our toes, it's impossible to imagine being capable of the kind of mid-air stunts Cirque du Soleil's performers pull off every night.
Like her castmates, Alevtyna Titarenko is mind-blowingly strong, flexible and fit. The Ukraine-born athlete has been involved in sport since the age of 5 – and started winning World Championships in acrobatic gymnastics and amateur fitness competitions by the time she hit her teen years.
Since 1997, the mum of one has appeared in four Cirque du Soleil productions. Right now Alevtyna is part of the Rings Trio act and a hand-to-hand routine in the TOTEM production, which is about to reach Australia. The Glow spoke to Alevtyna during the New Zealand leg of the TOTEM tour, to find out exactly what it takes to stay on top of her game.
Can you talk us through what your training routine is like while you're on tour?
"The act itself doesn't take much time – it's only 7 minutes – but there's a lot of time preparing. Usually I take 45 minutes to warm up – this includes stretching, strength exercises, weights as well as some technical stuff. The actual performance is on the rings, so you really need your upper body strength. It's very difficult to say hours-wise how much we train, but it's up to 1-2 hours a day. We also sometimes do yoga training to cool down."
Do you do any other exercise outside of the show?
"I try to work out three times a week, and I'll do some cardio. It depends, though – if I've got two shows a day I don't want to do any extra workouts, I'll just do two lots of warm ups which is already an hour and a half. It's quite difficult for the body because you've got a constant warm up and cool down."
How else do you like to stay fit?
"I love to play volleyball. I'm not much into hiking or that kind of thing – I do like to just walk outside and go swimming, although not so much in a swimming pool. Basically I'm trying to stay active. Also, when you have a child you don't have much time to relax because the child is active and she always wants to do something." [Alevtyna's daughter is 10 and already into acrobatics like her mum]
Alevtyna Titarenko in Cirque du Soleil