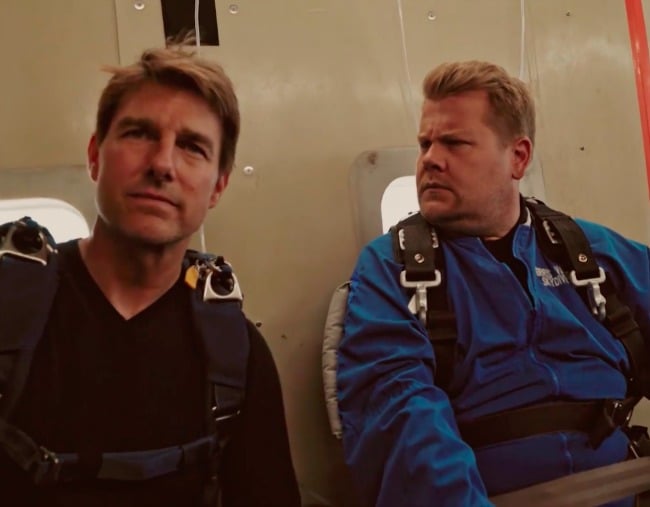 Tom Cruise is no stranger to dangerous stunts. But for James Corden, it's a whole new playing field.
In the latest episode of The Late Late Show, host Corden had his first skydiving experience with actor Tom Cruise, who is famous for doing his own stunts in films.
Earlier this week, the 39-year-old TV host joked about Cruise doing his own stunts, leading the actor to invite him skydiving.
Cruise, who jumped out of a plane over 100 times for a single shot in his upcoming film Mission: Impossible – Fallout, was able to make the jump solo.
On the other hand, Corden had to make the jump strapped to another man named Danny, who Corden was skeptical about.
"We're not skydiving into Margaritaville," he joked.
"I want someone who looks like they know what they're doing."
the spread-eagle has landed. pic.twitter.com/2Ugr8uo8Xf

— The Late Late Show (@latelateshow) July 27, 2018
As the plane rose above the California desert, Cruise appeared completely unfazed beside a visibly terrified Corden.
"I'll be honest I'm terrified. This feels like a mistake," Corden confessed.
"The worst problem in all of this is is we both die I will get zero press," he added.
"I mean I will be a footnote. The story will be 'Tom Cruise dies; also that guy who occasionally drives around in a car.'"
Eventually, after swearing and receiving some words of reassurance from Cruise, the former Gavin and Stacey actor jumped out of the plane.
Cruise, 56, expertly landed on his feet while comedian Corden landed on his knees, hilariously face planting the ground.
You can watch the entire hilarious video here: