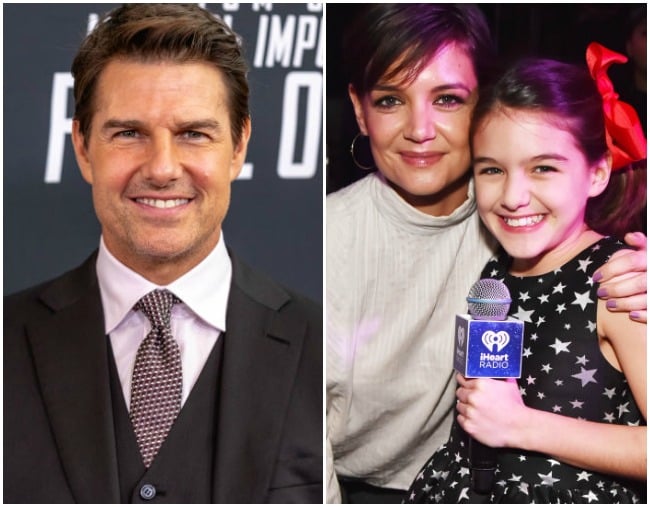 Although Katie Holmes and Tom Cruise share custody of their daughter Suri Cruise, it's believed the 56-year-old actor is largely estranged from the 12-year-old.
Whether it's due to his divorce with Katie in 2012, his connection with Scientology, or both, much is speculated by fans and media alike.
A scroll through international photo agency Getty indicates Tom and Suri haven't been pictured publicly together since 2012 and in June of last year, In Touch reported Tom hadn't seen or spoken to Suri in more than 1000 days, with another source stating he hasn't seen her since she was seven.
"Tom eats, breathes and sleeps Scientology," they said, speaking about the religion's 'disconnection policy' which discourages its members from connecting with people, like Katie, who have left the church.
"He's disconnected from Katie, and then de facto from Suri, because of her connection to Katie. He hasn't seen her since she was seven."
Watch: Tom Cruise talks about his relationship with Scientology.
But now, according to US publication OK! Magazine, the American Made actor is making active steps to reconnect with his daughter after years of "heartbreaking letters, calls and voicemails from Suri".
"He's contacted Suri through a third party, who he trusts implicitly, to check in and make sure she's OK," said an unidentified source.
"He wants her to know that he's thought of her all this time and got all of her messages.
"In fact, he read and listened to each and every word."
Despite this, the source states that Tom has been the main driver behind their separation.
"Tom's always been allowed to see Suri for 10 days a month, but he's never taken Katie up on the offer to do so," they said.
"Tom's paving the way to come back to Suri's life permanently – and many expect it to happen soon.'"
Along with Suri, Tom also shares two adopted children with his ex-wife Nicole Kidman – Isabella Jane Cruise, 25, and Connor Cruise, 23.