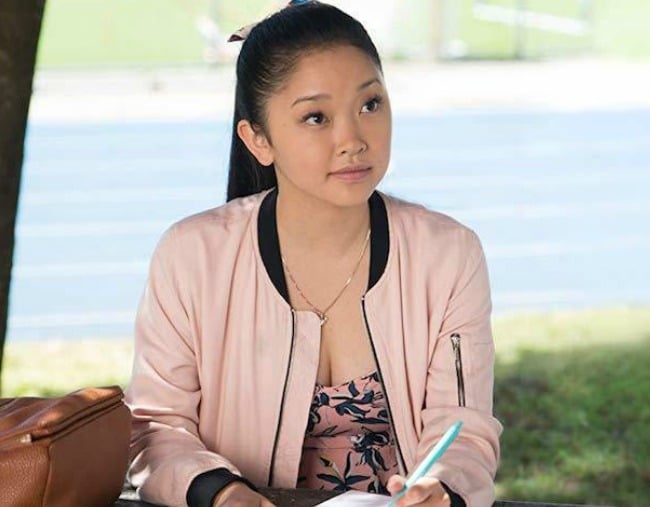 Oh.
Something unexpected has happened.
Netflix has released an original movie and it's actually… good.
Yep, there's a new Netflix rom-com in your library and it doesn't star Adam Sandler. It's also nowhere near as cringe-worthy as your Uncle Dave's dance moves at your cousin's wedding last weekend.
In short, it's really bloody watchable.
To All The Boys I've Loved Before is based on the 2014 young adult novel of the same name.
The movie follows half-Korean, half-Caucasian high schooler Lara Jean Covey (Lana Condor).
Everyone is obsessed with Netflix's new rom-com…
Lara Jean lives with her widowed hot dad Dan (John Corbett), her older sister Margot (Janel Parrish), and her younger sister Kitty (Anna Cathcart).
Lara Jean likes to read sappy romance novels and she's also in love Margot's boyfriend, Josh (Israel Broussard), who happens to be her best male friend.
At some point, Lara Jean thought it was a good idea to write love letters to the five guys she'd had a crush on in the past, including Josh and the school jock, Peter (Noah Centineo).
She never intended to send them.
Of course, this being a rom-com, someone else sent them on her behalf, setting off a sequence of events that force Lara Jean to come out of her self-imposed shell and actually confront her true feelings.
Lara Jean's biggest concern is that her older sister Margot, who has just broken up with Josh and left for college in Scotland, will find out about her true feelings for her ex-boyfriend.
So, when Peter confronts her about the letter, they decide to pretend to be in a relationship – to make his ex-girlfriend jealous and to make it clear to Josh that she's not interested in him.
Yep, you can probably guess where this is going.
To All The Boys I've Loved Before is not an unpredictable thriller, full of twists and turns. Instead, it's a really sweet rom-com full of all the high school cliches and movie montages we've come to expect from this kind of movie.
But it's really bloody likeable.
The Netflix original will remind you exactly how it feels to be a teenager with a crush on the boy next door.
It perfectly captures those angsty, sweaty, awkward, butterfly-inducing years.
To All The Boys is funny, sweet, and most importantly, Adam Sandler isn't in it ¯\_(ツ)_/¯.
To All The Boys I've Loved Before is streaming on Netflix now.