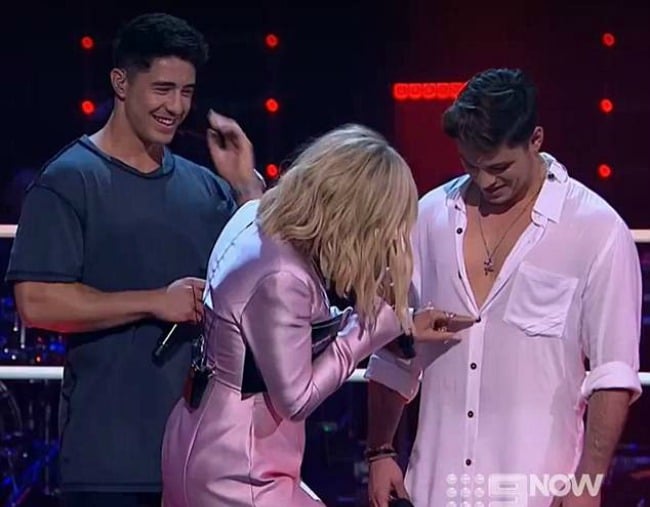 On Sunday night, 19-year-old Jackson Parfitt and 24-year-old Brock Ashby featured in The Voice's 'battle round',  the two men jostling for a spot on Kelly Rowland's team in the reality show.
But some two days after their performance aired, few are talking about their singing. Instead, a large portion found host Sonia Kruger's behaviour to the men jarring in a realm that is punctuated by talk of sexual harassment and how seriously we must consider the overlap between a power imbalance and the ability to give considered consent.
As the two men finished their performance, host Joe Jonas commended Jackson on his performance:
"Jackson you've grown a lot as a singer," he said.
"Having Kelly as a coach has really helped you. You are trying new things and it's really impressive. You forgot a few buttons on your shirt though, I noticed."
Watch the full exchange here (Post continues):
Then, came Delta Goodrem:
"No he didn't," she said.
Sonia Kruger then entered the fray, gesturing towards the 19-year-old's chest.
"No, you're right. You forgot to undo this one and this one," she said, as she walked over to his chest and pointing to his buttons.
It didn't quite end there, with Kruger then offering to "keep" the artist Rowland didn't pick for herself. Goodrem assured her that was "perfectly normal," because they are "very talented, gorgeous looking men".
Twitter were fast, fierce and firm: Why the double standard?
Anyone else over the comments objectifying contestants on #TheVoiceAU?

— Kayla (@kaylasymons2) May 13, 2018
#TheVoiceAU we wouldn't stand for men objectifying female contestants in the way your male contestants are being objectified. Not on. Not comfortable to watch. We should not have double standards on these issues.

— Kate McCready (@katemccready) May 13, 2018
@TheVoiceAU double standards from @DeltaGoodrem & @KELLYROWLAND on the voice. Objectifying men yet if Joe was to say a girl on the show was hot or similar there would be upraw. #EqualRights = #EqualRespect #TheVoiceAU

— Robert Jack (@robjack70) May 13, 2018
Oh boy… I bet this sexual harassment won't be on the news. #TheVoiceAU

— Brandon (@BrandonMcKay6) May 13, 2018
Imagine if a male host said that to two pretty female contestants. Sexism Sonia. #thevoiceau

— Call me Jo (@joferguson9) May 13, 2018
anyone else ever think about the fact that this show was supposed to be about judging singers purely on their voice, irregardless of their appearance? yet here we are watching old women objectify these male contestants and comment endlessly on people's looks. #TheVoiceAU

— ???? (@idoIsehun) May 13, 2018
Addressing the furore on Today Extra on Monday morning, Kruger said she understood why Twitter reacted as it did, but acknowledged it was "just a bit of fun".
"I kind of get the point with some of these tweets," she said. "It is a slightly different standard, it's a different standard."
Her co-host David Campbell, meanwhile, conceded he felt Twitter was "not looking at the whole picture", because in truth, Joe Jonas began the conversation.
And while perhaps Campbell is right, in that there were many players in this game, that's not to say we should be shutting down this conversation in its entirety.
Because the fact of the matter is what's true for women must always be true for men, too. And if they aren't — if we employ and encourage double standards — then everyone loses, because no one's experience is taken seriously.
Even women's.