Australians spend $8 billion on their pets annually and I have certainly contributed my fair share of that figure, particularly in 2006 when my two beloved dogs became incredibly ill and I spent $38,000 trying to keep them alive.
It was New Year's Day in 2006 when temperatures in Sydney quickly rose to an unheard of 47 degrees. I had food poisoning (not a hangover) and was in bed when I heard my husband preparing to take our dogs and our son out for their morning walk. I knew it was going to be a hot day and I weakly called out to him telling him it was too hot and to stay home. However he was determined to get in an early morning walk before it became too hot. We lived near the beach and were used to predictions of hot weather only to have them tempered by the cool sea breeze.
They bundled out the door and I promptly fell into a thick sleep.
I woke to the phone ringing but it was all the way across the room and I was too sick to get up so I let it ring out. It kept ringing and ringing and ringing and I'd wait for it to stop before falling asleep again. Next thing I remember my husband walks through the door holding our then two-year-old son Philip who was flushed and sweating. My husband was dripping in sweat.
"Honey, didn't you hear the phone. Pepper collapsed. I need your help to get her inside."
Pepper was one of our two Rottweiller dogs who we'd picked up from Renbury Farm Animal Shelter. She was a mature-aged slightly overweight rescue dog and Baxter was a young, incredibly stout dog we'd bought from a family when he was still a puppy.
Baxter had walked in behind my husband and Philip and he seemed anxious, as if waiting for instruction from us. I stumbled out of bed and gave Philip a drink of water and wiped down his face. Then I followed my husband down the stair to the garage of our unit block and saw Pepper lying prone in the boot of our car. She was awake but starring straight ahead and panting at an alarming rate.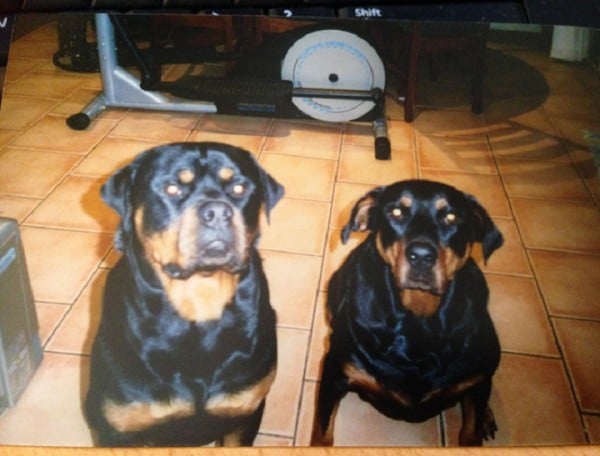 "Pepper," I leaned in close to her face and her eyes moved a little and she tried to move but couldn't.