Last night's episode of The Bachelorette was somewhat perplexing.
Georgia Love, our intelligent, well-spoken, confident, feminist icon was being her princess-self during a medieval-themed date, when all of a sudden, her merry little men turned into a bunch of dicks.
While Courtney has copped most of the flack for his poor behaviour, choosing not to even try in a competition to win more time with Georgia, there was another man in a knight costume who had us banging our heads against a wall.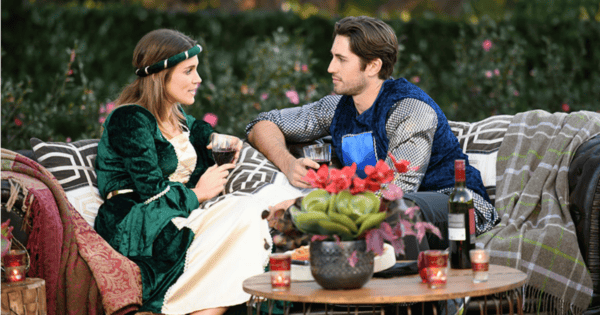 RHYS.
When Rhys ended up winning more time with Georgia (by default, because the others chose to let him win, reasoning, "he does more damage when he's speaking") he was... rude. There's no other way to describe it.
He sat opposite her and opened the conversation with a snide remark about her not speaking to him enough at the last cocktail party.
Rhys, dude. This is Georgia's show. She can do whatever the f*ck she wants. And now that you are speaking to her, surely you have something more interesting to say other than "why don't you ever speak to me?"
He then explained his poetry has been really great because he can write his feelings down and say them in the right words to her. Georgia's reaction looked something like this: