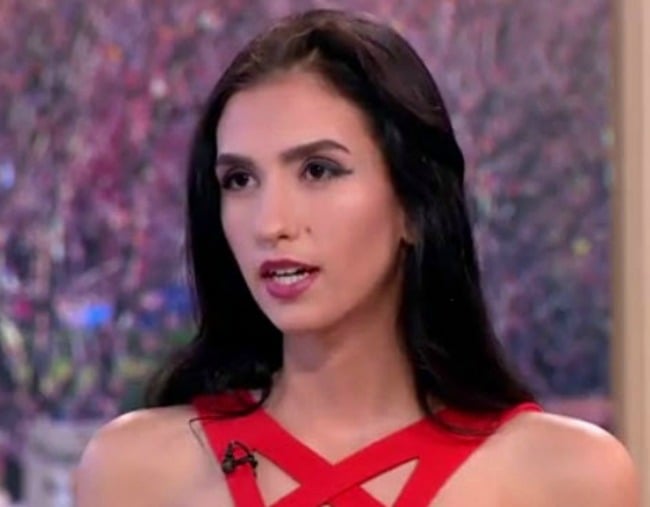 In 2016 Aleexandra Khefren was 18 years old and wanting to crack into the international modelling industry.
So when the Romanian teen was approached with a proposal that, she says, sounded like a simple way to gain fame and progress her modelling career with essentially no downsides, she was convinced.
That proposal was for Aleexandra to pretend to sell her virginity to the highest bidder. She wouldn't actually go through with it, she was told. She would just gain publicity in the UK over the stunt. Her concerns that it may get back to her family in Romania were eased when she was promised "what happened in the UK would stay in the UK".
During an appearance on UK breakfast show This Morning at the time, she said she was hoping to sell her virginity for more than $1 million so she could buy her parents a home and study at Oxford University.
Watch Aleexandra's appearance on the ITV program. Post continues. 
"I am thinking it is strictly business not emotional. I think it will be alright, I think a glass of wine will be enough to get through," she told the show's hosts.
And in March last year she claimed the deal was done, and she had sold her virginity for $3.7 million to a Hong Kong businessman.
"I wanted to sell my virginity with Cinderella Escorts rather than giving it to a future friend who might have left me anyway," a statement from her read.
"And I think many other girls have the same attitude."
Two years on, the 20-year-old has told pornography website Sugarcookie that the sale didn't occur, but she said the stunt still "ruined my life".
"It never happened," Aleexandra said in a video interview released on YouTube this month. "Like, [there] was no bidder. It was a non-existent person."
"I didn't sell my virginity."