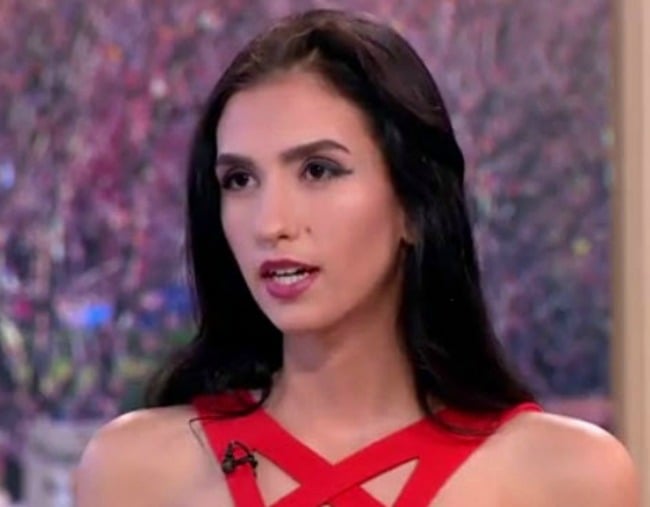 In 2016 Aleexandra Khefren was 18 years old and wanting to crack into the international modelling industry.
So when the Romanian teen was approached with a proposal that, she says, sounded like a simple way to gain fame and progress her modelling career with essentially no downsides, she was convinced.
That proposal was for Aleexandra to pretend to sell her virginity to the highest bidder. She wouldn't actually go through with it, she was told. She would just gain publicity in the UK over the stunt. Her concerns that it may get back to her family in Romania were eased when she was promised "what happened in the UK would stay in the UK".
During an appearance on UK breakfast show This Morning at the time, she said she was hoping to sell her virginity for more than $1 million so she could buy her parents a home and study at Oxford University.
Watch Aleexandra's appearance on the ITV program. Post continues. 
"I am thinking it is strictly business not emotional. I think it will be alright, I think a glass of wine will be enough to get through," she told the show's hosts.
And in March last year she claimed the deal was done, and she had sold her virginity for $3.7 million to a Hong Kong businessman.
"I wanted to sell my virginity with Cinderella Escorts rather than giving it to a future friend who might have left me anyway," a statement from her read.
"And I think many other girls have the same attitude."
Two years on, the 20-year-old has told pornography website Sugarcookie that the sale didn't occur, but she said the stunt still "ruined my life".
"It never happened," Aleexandra said in a video interview released on YouTube this month. "Like, [there] was no bidder. It was a non-existent person."
"I didn't sell my virginity."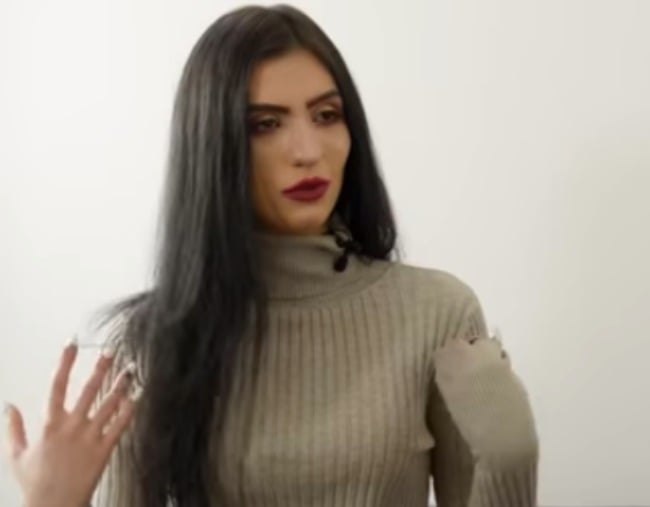 She explained that Cinderella Escorts got in touch with her through social media and offered a deal: "I would kind of become famous with my modelling career, become a celebrity and all that stuff, and they will get so much publicity on their escort site."
She says she was told they weren't going to use her real name and her parents were not going to find out.
However, the UK news reports of her plans were picked up globally "within hours" and soon a reporter had contacted her uncle, allowing her parents to learn the truth.
But it wasn't just her parents who were upset. Aleexandra said she lost friends and family over it and copped abuse online.
"I got a lot of hate, the media was attacking me," she told the interviewer, Harriet.
"They were really, really hard on me. I felt attacked, bullied, and I didn't expect that, even from my friends, classmates. They called me a liar."
Sex is always being used to shame women. Before the ball-tampering scandal, Candine Warner was being bullied for choices she made years ago. Post continues.
Aleexandra said she became depressed and even attempted suicide multiple times.
Thankfully, she has now recovered - thanks to therapy and the support of her husband.
"He is the reason for who I am now. I wouldn't be here in person if it wasn't for him... I love him so much because without him I couldn't do anything."
As for Cinderella Escorts, they claim it wasn't simply a stunt, and that a client was willing to pay £2 million ($3.7 million) but the deal fell through when the agency found out Aleexandra had a boyfriend.
"She was very angry with us," the founder said in an email to News.com.au.
"She started a campaign against us in Romanian newspapers with a lot of lies that this was all a marketing strategy. As you can understand, losing £2 million because of our decision make her hating us and try to make dirty campaigns (sic)."
If you or anyone you care about is experiencing crisis, depression or suicidal thoughts, you can always call Lifeline on 13 11 14.