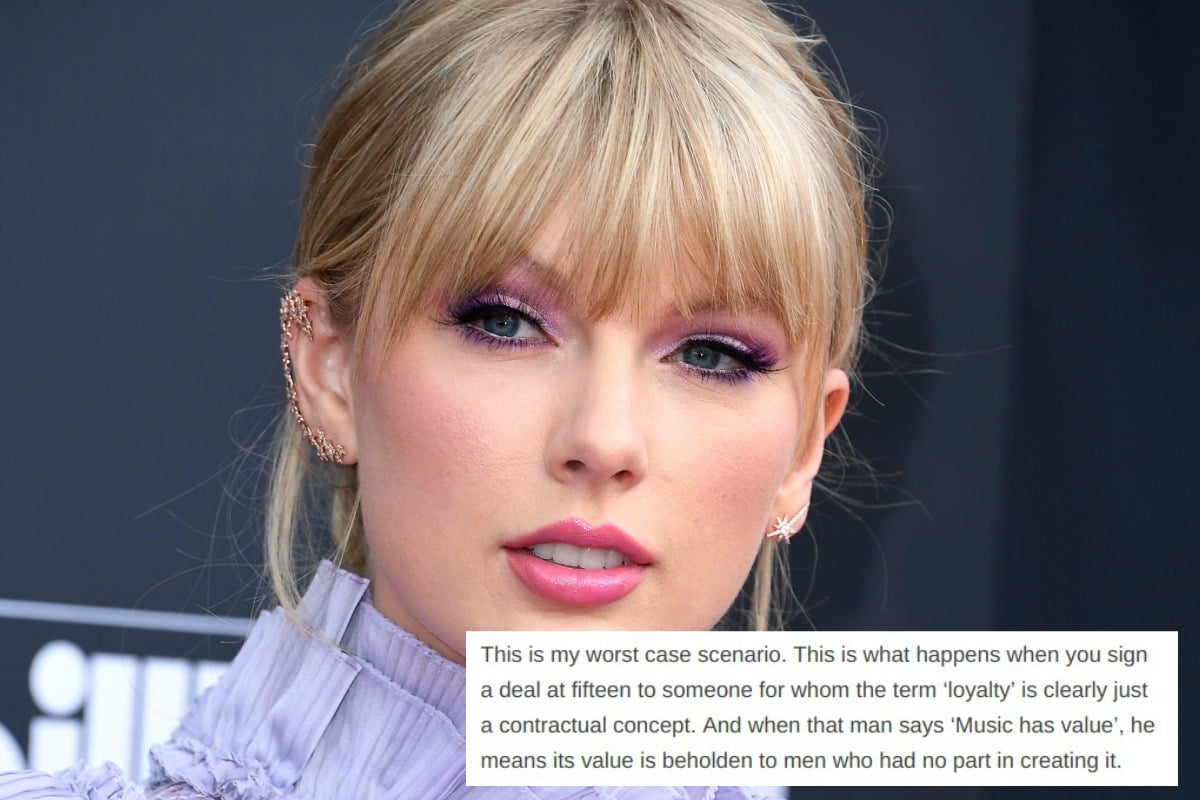 The list of Taylor Swift's accomplishments as an artist is extremely long.
Highlights include:
Writing an entire Grammy-nominated album on her own with no co-writers
Becoming the youngest ever winner of the Grammy for Album of the Year
Being the first (and only) artist to ever debut four albums with at least one million copies sold in their first week
Whether you're a fan or not, there is simply no denying that Taylor Swift is an absolute powerhouse in the music business.
But even a woman with as much power as Swift cannot avoid the injustices of such a cut-throat business.
The 29-year-old has penned a Tumblr post after learning that her long-time manager Scott Borchetta, who she parted ways with in 2018 after 12 years, sold his label Big Machine Records to Scooter Braun, the controversial manager of Justin Bieber.
Borchetta owned the rights to her back catalogue, which means Braun now stands to make millions off of Swift's past music.
And she is pissed. If you're wondering what's going on, and why Swift has described it as her "worst nightmare", we've got you covered:
What is going on with Taylor Swift and Scooter Braun?
Scooter Braun is best known as the manager who discovered Justin Bieber, but he also represents other big names including Ariana Grande, Carly Rae Jepson and Demi Lovato.
On Sunday (Monday, AEST), it was announced that Scooter Braun's company Ithaca Holdings was acquiring Big Machine Label Group, the label that released all of Taylor Swift's studio albums and owns her masters.
Swift said she learned of the sale as it was announced to the world.
Why is Taylor Swift so upset?
After learning of the news, Swift published a lengthy Tumblr post saying that for years, she begged for the opportunity to own the rights to her own work but Scott Borchetta, the owner of Big Machine Records, had only allowed her to "'earn' one album back at a time, one for every new one I turned in".
She left the label in 2018, because she knew that if she resigned, Borchetta would sell the label and "thereby selling me and my future".
"I had to make the excruciating choice to leave behind my past. Music I wrote on my bedroom floor and videos I dreamed up and paid for from the money I earned playing in bars, then clubs, then arenas, then stadiums," she wrote.
But the biggest issue stemmed from who Borchetta sold her music to: Scooter Braun.
In her post, Swift claimed Braun had been involved in "incessant, manipulative bullying" of her for years.
It was, she said, her "worst case scenario".
"When I left my masters in Scott's hands, I made peace with the fact that eventually he would sell them. Never in my worst nightmares did I imagine the buyer would be Scooter. Any time Scott Borchetta has heard the words 'Scooter Braun' escape my lips, it was when I was either crying or trying not to. He knew what he was doing; they both did.