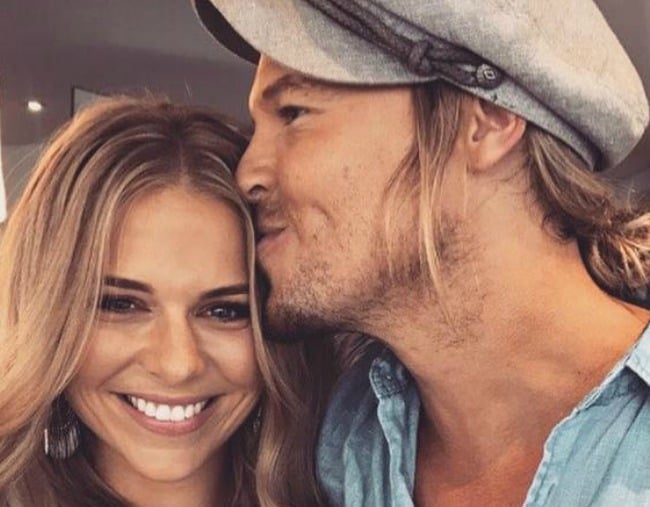 Tara Pavlovic has admitted to hitting her ex, Sam Cochrane, after their engagement party earlier this year.
Replying to comments on her Instagram, Tara has given her own version of the events that unfolded after the engagement party, where Sam claimed Tara punched him.
"He left me at our engagement party after he accused me of hooking up with his friend Stu," she explained to fans in the comments section.
"He said in the article he left because I was drunk — NOT TRUE. When I got back to the hotel he wasn't there. When he got back I asked where he was and he said he was with his French ex f*ck buddy (who he used to tell me sex stories about) and insinuated that he cheated on me (he would often play games like this to make me jealous).
"When he told me he cheated on me, I hit him and cried and told him to get out of my hotel. After he realised that the game backfired and I was done, he told me he didn't touch her and just went to her house to help her find her cat (that was the emergency he spoke of).
The Bachelor in Paradise star said Cochrane "pushed me. He pushed me every day".
"I do not condone violence, I'm not a violent person. This was so out of character for me, which is why I left when he begged me back for weeks. If I was that bad, surely the guy wouldn't beg for me back. I was in an emotional abusive relationship with a narcissist. Only someone who has been through that can relate to how f*cking bad it is, and how you can be pushed over the edge."
On Monday, Sam told Woman's Day Tara had been abusive throughout their relationship.
Cochrane said the 28-year-old's "excessive drinking" allegedly led her to bite, punch and kick him.
In hiding until the finale aired, Sam and Tara were forced to hide their relationship from the public as Tara's alleged frequent partying and drinking continued.
"At weekends it was this binging thing and then it would be the put-downs and the verbal attacks," said Sam, who says he was called a 'loser' by Tara in front of friends.
Speaking from Bali, Sam told Woman's Day that he begged Tara to stop drinking and get counselling, but after the finale finally aired, things only got worse.
"Everything spiralled," he said. "The relationship took a back seat, the drinking kicked in and then the violence started."
Earlier on Tuesday, Sam posted a lengthy message on Instagram about the breakdown of their relationship. He said he didn't speak to the media earlier because he thought he would always love Tara.
"I've woken up today wondering how I could have misjudged an individual so much. I never wanted to discuss the things I had experienced and wanted to move forward with my life. I put up two posts and never mentioned her name and never put her down. Just my sadness in what is now out in public. Ultimately I didn't talk because I was embarrassed and ashamed at what had taken place but also because I thought I would always love her," he began.
"So I allowed the horrible stuff just be a moment in time and try to move on myself. I allowed over two months of nastiness to continue after the break up but we had always promised to never go to the media. I ignored many, many requests to hear my side of the story but believed that the truth would be too damaging for someone that I ultimately loved and wished the best for."
The 31-year-old shared that during his holiday in Bali, he was shocked to see that Tara had spoken about him to the media.
"Then 5 days into me being in Bali she decided to talk about me, the relationship and painting an awful picture of me for the sake of money, branding and endorsements. I fought long and hard with the idea of shedding light on what I believe to be a very serious issue. There is never an excuse for what I've experienced and it was love that prevented me ever mentioning it. I did everything I could to keep these matters private. I wished her happiness and a good life and hoped she would learn. I had moved on and past it all," he wrote.
"She had moved in with someone within days of us ending also, so one would assume that she would have no need to mention me again. Wrong. I am so shocked to learn from private messages the men that have gone through what I have. I plan on doing all I can to shed light on it and help both men and women. There is no excuse, no reason or way of justifying it. I hope this will be the last time I have to discuss her or the relationship."
If this post brings up any issues for you, or if you just feel like you need to speak to someone, please 1800 RESPECT (1800 737 732) – the national sexual assault, domestic and family violence counselling service. It doesn't matter where you live, they will take your call and, if need be, refer you to a service closer to home.