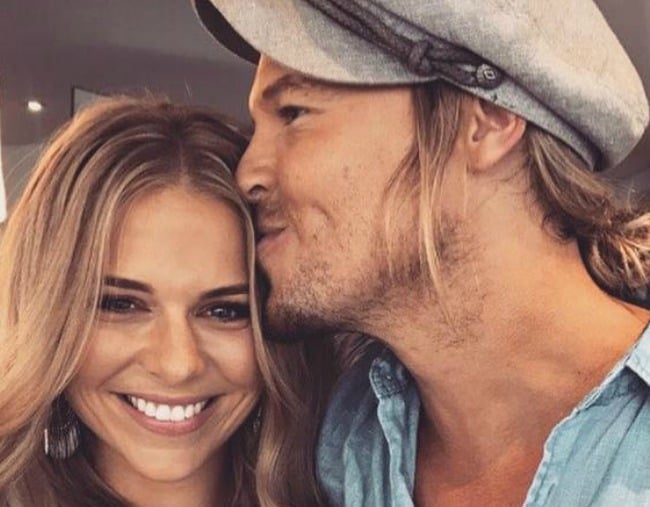 Tara Pavlovic has admitted to hitting her ex, Sam Cochrane, after their engagement party earlier this year.
Replying to comments on her Instagram, Tara has given her own version of the events that unfolded after the engagement party, where Sam claimed Tara punched him.
"He left me at our engagement party after he accused me of hooking up with his friend Stu," she explained to fans in the comments section.
"He said in the article he left because I was drunk — NOT TRUE. When I got back to the hotel he wasn't there. When he got back I asked where he was and he said he was with his French ex f*ck buddy (who he used to tell me sex stories about) and insinuated that he cheated on me (he would often play games like this to make me jealous).
"When he told me he cheated on me, I hit him and cried and told him to get out of my hotel. After he realised that the game backfired and I was done, he told me he didn't touch her and just went to her house to help her find her cat (that was the emergency he spoke of).
The Bachelor in Paradise star said Cochrane "pushed me. He pushed me every day".
"I do not condone violence, I'm not a violent person. This was so out of character for me, which is why I left when he begged me back for weeks. If I was that bad, surely the guy wouldn't beg for me back. I was in an emotional abusive relationship with a narcissist. Only someone who has been through that can relate to how f*cking bad it is, and how you can be pushed over the edge."
On Monday, Sam told Woman's Day Tara had been abusive throughout their relationship.
Cochrane said the 28-year-old's "excessive drinking" allegedly led her to bite, punch and kick him.
In hiding until the finale aired, Sam and Tara were forced to hide their relationship from the public as Tara's alleged frequent partying and drinking continued.
"At weekends it was this binging thing and then it would be the put-downs and the verbal attacks," said Sam, who says he was called a 'loser' by Tara in front of friends.
Speaking from Bali, Sam told Woman's Day that he begged Tara to stop drinking and get counselling, but after the finale finally aired, things only got worse.
"Everything spiralled," he said. "The relationship took a back seat, the drinking kicked in and then the violence started."