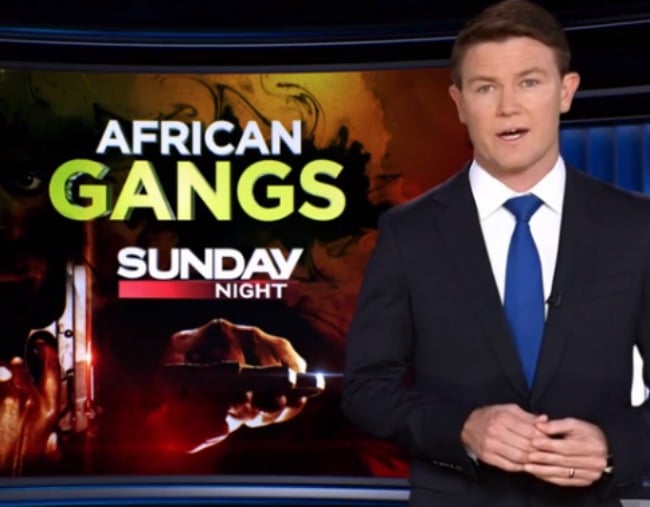 Channel Seven's Sunday Night has been accused of "hate-baiting" over a "racist" segment that focussed on Melbourne's "African gangs".
The report alleged that the Victorian city had a serious problem with gang-related violence, but that "political correctness" was holding back police from admitting to it.
"African gangs running riot, terrorising, robbing, wreaking havoc," reporter Alex Cullen said in his report.
"Yet we live in such politically correct times, the police have been loath to admit there's even a problem — but there is."
However, viewers from Melbourne and other parts of the country were quick to hit back and claim the segment was doing nothing but stirring up fear and hate for a section of the community.
Critics on Twitter began using the hashtag #NotMyAustralia to share their disgust at the program before and after it aired and instead offer positive messages to and of Australia's Sudanese community.
Among them was radio host Meshel Laurie, who wrote that multiculturalism is valued by the Melbourne community.
When I was growing up in the Hawke/Keating years, multiculturalism was a National goal. It's still a proud part of Melbourne, which is why I'd never live anywhere else. It would take a lot more than some cheap histrionics on channel 7 to rattle us. #NotMyAustralia

— Meshel Laurie (@Meshel_Laurie) July 8, 2018
#NotmyAustralia and @Channel7 are engaging in an insidious and long term strategy to fan the fires of race hate and hate baiting. Make no mistake – this is a part of a long term strategy

— Su Dharmapala (@SuDharmapala) July 8, 2018
A branch of the Australian Labor Party described the segment as "fake news" and "un-Australian". Meanwhile, lawyer and South-Sudanese Aussie Maker Mayek led the charge to boycott the channel and the program, successfully sending #NotMyAustralia into Twitter's trending tags.
The quality of life in Australia has been enriched by the multi-cultural fabric of our nation. Spreading fake news is shameful and un-Australian. Please boycott the 7 program. #NotMyAustralia https://t.co/GqYEgiYX4R

— ALP CanterburyBranch (@ALPCanterburyBr) July 8, 2018
In 5 minutes EST, @Channel7 will be broadcasting a bogus story about "African gangs". Africans love this country as much as any other Australian and have no interest to harm others.Please tell a friend to tell a friend or a relative to boycott this story tonight #NotMyAustralia

— Maker Mayek (@MakMayek) July 8, 2018
Big support for African/Australians tonight, who, in my experience, are highly educated, freedom seeking, contribution making and generous of spirit in a traditionally Australian way. Most are smarter, more genuine than those who seek to tear them down #NotmyAustralia pic.twitter.com/TwaIRhbfe0

— Andy Park (@andy_park) July 8, 2018
Many criticised Channel Seven's interview with a woman who was at a Toorak jewelry store robbed by a group of men, twice – not by denying her experience, but by questioning how much it added to the report.
"I don't have a life anymore. These four walls is where I live. I'm too nervy. I can't go to a shopping centre because if I ran into a coloured person I'd be having a panic attack again," Elaine French said.
The promo promised a 'major investigation'. The 20-minute piece included the voices of:

Two high ranking policemen.
One deeply traumatised victim.
One reformed-badboy South Sudanese.

What did it honestly add, in July 2018?

— Benjamin Millar (@BenjaminMillar) July 9, 2018
Others suggested that the footage featured in the episode was several years old, accusing producers of misleading viewers into thinking the violence was recent.
See the first scene? Flinders Street has been painted since then, and was covered in scaffolding for the 2 years before that. See the second scene? I don't know if you've ever been to Melbourne, but there is a HUGE bloody hole there that has been there for 2 years. Frauds.

— Alan Baxter (@AlanBixter) July 8, 2018
And another common criticism was that gang violence was hardly Melbourne's or Australia's biggest issue, what with dozens of women so far this year being killed by men, many of whom were their inimate partners.
34 women have been murdered by men in Australia this year. #FixedIt #NotMyAustralia pic.twitter.com/nCBJCQKwL8

— Jasmina Markulić (@jasminamarkulic) July 8, 2018
Dear Channel 7.
John Edwards is white.
Jaymes Todd is white.
Adrian Bayley is white.
The overwhelming majority of Victoria's most violent criminals are white.
And here you are, trying to deflect from that by saying 'REMEMBER WHEN SOME AFRICANS BRAWLED AT MOOMBA 16 MONTHS AGO!"

— Psyberus (@Psyberus) July 7, 2018
Channel Seven is yet to publicly respond to the backlash.
This isn't the first time the network has been caught up in race-related controversy.
In March this year, flagship breakfast program Sunrise featured an all-white panel discussing Indigenous children being adopted by white families.
The segment, including "offensive" comments by commentator Prue MacSween, was the subject of an Australian Communications and Media Authority investigation.
"It's just crazy to just even contemplate that people are arguing against this," MacSween said. "Don't worry about the people that would cry and hand wring and say this would be another stolen generation. Just like the first stolen generation where a lot of people were taken because it was for their wellbeing …we need to do it again, perhaps."
The show's producers were also criticised for deciding to hide a protest over the segment being held outside the studio's windows, normally visible on camera. Instead, previously captured footage of Martin's Place was screened behind the hosts.