We are at a moment in time right now when we need heroes more than ever, especially those of the strong and smart teenage girl variety.
Thankfully, that's exactly what the new dystopian drama The Darkest Minds gifts us in the form of the resourceful and compelling lead character Ruby Daly, played by the equally impressive in real life actress Amandla Stenberg.
The Darkest Minds springs from the very creative minds behind the hit Netflix series Stranger Things.
With its familiar mix of likeable teenage protagonists, evil government agencies and creepy supernatural undertones, The Darkest Minds will easily be able to tide you over until season three of Stranger Things kicks off on Netflix on in 2019.
The movie takes place in the not too distance future where a disease known as Idiopathic Adolescent Acute Neurodegeneration (IAAN) has swept through the United States and killed 90 per cent of all children under the age of eighteen.
The children who are left are now mysteriously endowed with a range of powers and psychic abilities and, with adults now fearing for their own safety, are rounded up by the government and placed in internment camps.
The newly empowered teens are broken down into different factions according to the strength and range of their powers.
Greens are seen as the least dangerous with intelligence and problem solving abilities; Blues are mildly dangerous and have telekinetic abilities; Golds are somewhat dangerous and have the ability to control electricity and Reds are highly dangerous and have the ability to generate and manipulate fire.
Meanwhile, the Oranges are lethal and have the ability to enter and control the minds of others, which is the power Ruby finds herself with. At the age of 10 she is thrown into one of the camps where she remains for six years, until she makes her escape and joins up with a small band of other runaways.
The film, with its themes of strength and skill triumphing over adversity, along with exploring what it feels like to be seen as "other" was a major draw-card for 19 year old Amandla. The talented actress who is quickly becoming the new go to girl for Hollywood flicks and who already has an impressive legion of fans who follow her for her words of wisdom, inclusivity and activism.
Amandla, who first rose to prominence as Rue in the blockbuster film The Hunger Games, said she was attracted to The Darkest Minds thanks to how the character of Ruby came across in the pages of Alexandra Bracken's best-selling young adult novel of the same name.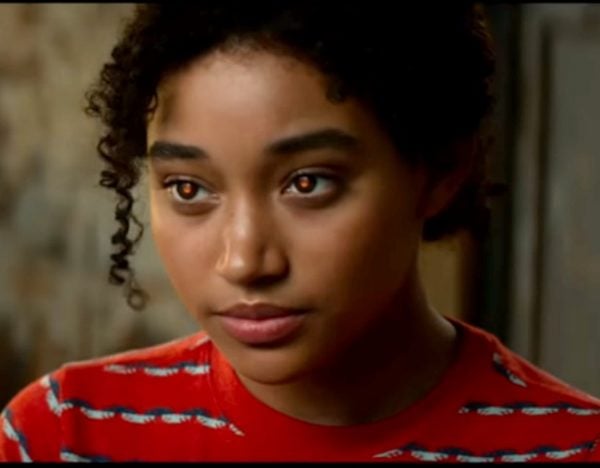 "We tried to stay really authentic to the Ruby we see in the book and what I really love about the character is that we get so much insight into what she's thinking and her thoughts are so vulnerable,"Amandla told Mamamia. "She is a character who doesn't always feel strong and who doesn't always feel entirely capable."
"But in the movie we really get to see her full character arc and see her get to that place of real power. To me that was the most important part of her character and what needed to be transported to screen.
"Also, you can infer from the book that Ruby is written white. So to me, even just the idea that the studio was interested in making Ruby a black character was powerful.
"I feel that we get to see a lot of stories like this one but they always have white actresses at the helm and, while they have all done an amazing job, I felt like it was time to see a movie like this with a black girl at the helm."
While the plot and premise of The Darkest Minds leads to an a dangerous feeling cinematic world with an intriguing set of problems for the characters to face, it pales in comparison to the true beating heart of the film which is comprised of the scenes shared between the four teenage leads.
Once she escapes from the camp, Ruby joins up with Liam (Harris Dickinson, portraying the best romantic lead in a young adult dystopian film I think I've ever seen) with the power of telekinesis, Chubs (Skylan Brooks) a Green with super intelligence and Suzume "Zu"(Miya Cech), the youngest of the group who posses the power of electrokinesis.
The scenes shared between the kids are packed with a special kind of heart and humour that plays out on screen beautifully as they bond together to outrun the fearsome Lady Jane (played by Game of Thrones star Gwendoline Christie), a bounty hunter of super-powered teens  and make their way towards a secret safe haven of other survivors.
Amandla said the young cast bonded from their very first screen test, yet she still felt an tremendous amount of pressure on her shoulders from the moment she stepped on set knowing it was up to her to carry such a big budget studio film.
"I was very nervous stepping into the role of Ruby, if I did not have nerves I think I would be a crazy person," she said. "We (the four leads) had some good time to bond during our two weeks of rehearsals and during that time we spent a lot of time in the blue van that you see our characters in for so much of the movie. It's like their home throughout the duration of the film, that van.
"There was a natural chemistry between us all, even just in the screen tests. It became apparent early on that we were going to become a little family."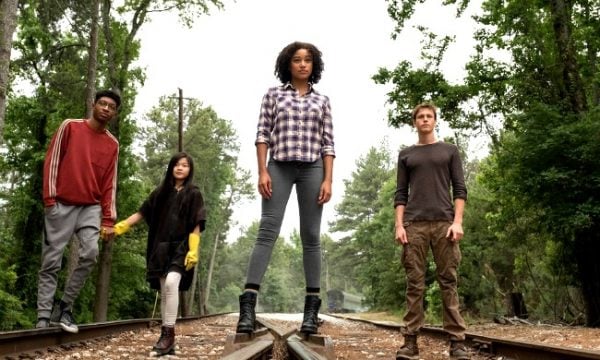 For Amandla, choosing her roles and film projects is just as much a part of her legacy as the topics she chooses to speak on.
The openly gay 19-year-old has become a voice of her generation by speaking out on everything from race, to sexuality, feminism and LBGTQI+ rights. Time Magazine named her one of its Most Influential Teens two years in a row while power players like Oprah and Beyonce have also publicly sung her praises.
Beyonce even brought Amandla to New Orlean to film scenes for Lemonade, where she told her "when Blue grows up, I want her to be just like you."
And so Amandla has chosen her projects carefully, selecting the role of Ruby after recognising that she is a character  who teenagers, especially young women, need to see on their screens right now.
However, instead of standing out from the new release film crowd, The Darkest Minds has been likened to other big budget young adult franchises where teenagers with powers and special abilities face off against a big bad government entities.
After franchises such as The Hunger Games, Maze Runner and Divergent all flooded the box office years ago (with the last installment of the Divergent films crashing and burning so badly at the box office that the final film was cancelled) film critics have wondered aloud whether The Darkest Minds has come too little, too late.
Not so, however, counters Amandla, who insists her new film will stand out to audiences above the rest.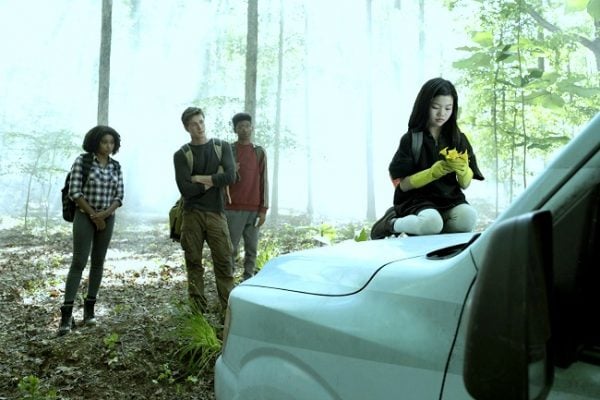 "I think people assume from the promotional materials and the plot-line details that The Darkest Minds is a really heavy story," she said. "There are parts of it that are very heavy and that are sad but mostly it's an entertaining film.
"It's a popcorn film and you should go into it ready to laugh and ready to get your adrenaline pumping. That's how this movie sets itself apart from others you mentioned, it does not take itself too seriously. "
The Darkest Minds is certainly an action packed ride with an ending that left a large majority of my cinema in tears. If you're a lover of young adult drama, whether you're of teenage years or even just a touch older, this movie will appeal to you.
The Darkest Minds is now playing in cinemas Australia wide and is rated M. 
For more TV and movie recommendations you can follow writer and Mamamia Entertainment Editor Laura Brodnik on Facebook.