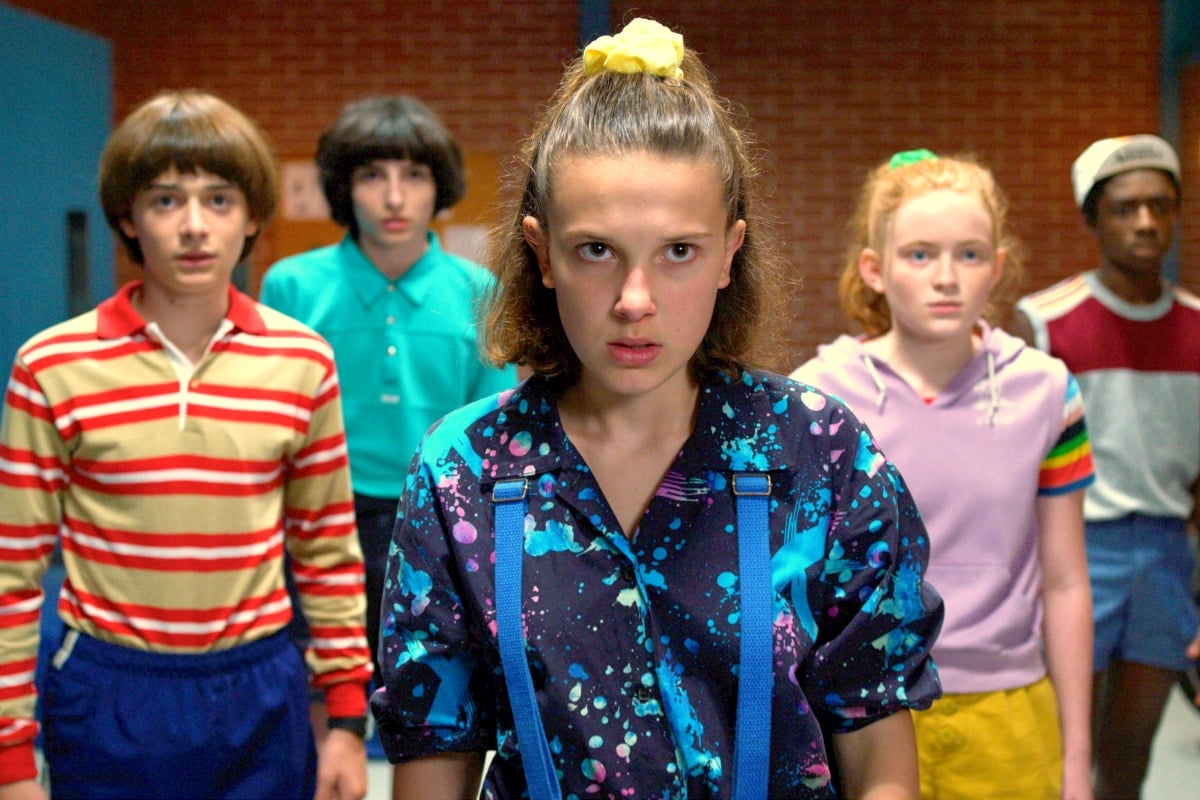 Stranger Things season three was faced with a terrifying task.
After the immense success of season one in 2016, and then the slightly hit and miss offering that was season two, the beloved Netflix show that centers on a group of kids in a small Indiana town in 1983 who discover a portal to an alternate dimension called The Upside Down had a lot to prove in 2019.
With this in mind, I'm happy to report that season three is as entertaining and deeply satisfying as witnessing a Demogorgon be ripped to shreds, and just as deliciously gory.
Season three sets up new mysteries, introduces brand new monstrous threats to the small town of Hawkins and heavily utilises its greatest asset, the charisma and chemistry of its brilliant cast, to perfection.
It's been three years since we first met our gang of scrappy little heroes Mike (Finn Wolfhard), Dustin (Gaten Matarazzo), Lucas (Caleb McLaughlin) and, of course, Will (Noah Schnapp) whose disappearance into The Upside Down was the story catalyst for season one.
Joined once again by the otherworldly power-wielding Eleven (Millie Bobby Brown) and sassy season two entry Max (Sadie Sink) these now teenagers are in the midst of their summer holidays and deeply entwined in their romantic lives (Eleven and Mike, in particular, spend the majority of the first episode with their faces smooshed together) when the newest supernatural threat to their little town rears its head.
Meanwhile, older lovebirds Nancy (Natalia Dyer) and Jonathan (Charlie Heaton) are spending their summer holidays interning at the local newspaper, where Jonathan is praised for his photography and Nancy is sent on endless lunch runs while her story ideas are ridiculed by a bunch of sexist older men.
It's while following up on a forbidden story lead that Nancy stumbles upon the new supernatural threat (honestly, saying any more about that would very much spoil the story for you), a discovery depicted through a series of scenes featuring gruesome super-charged rat deaths that will force anyone with a fear of rodents to hurriedly cover their eyes.
The surprise breakout character of season two, Steve Harrington (Joe Keery), is now scooping ice cream at Hawkins' shiny new mall while he figures out what life means without the safety net of high school and he once again teams up with his pal Dustin to unravel the town's latest mystery along with his new-coworker, Robin (Maya Hawke).
One of the most show-stopping story arcs of season three, however, belongs to teenage bully and perpetual eye-candy for mothers of Hawkins, Billy, who is played by Australian actor Dacre Montgomery.
Speaking to Mamamia, the 24-year-old actor confirmed that the horror elements of the show were the highest they have ever been in season three and that his character plays a pivotal role in the show's biggest moments.