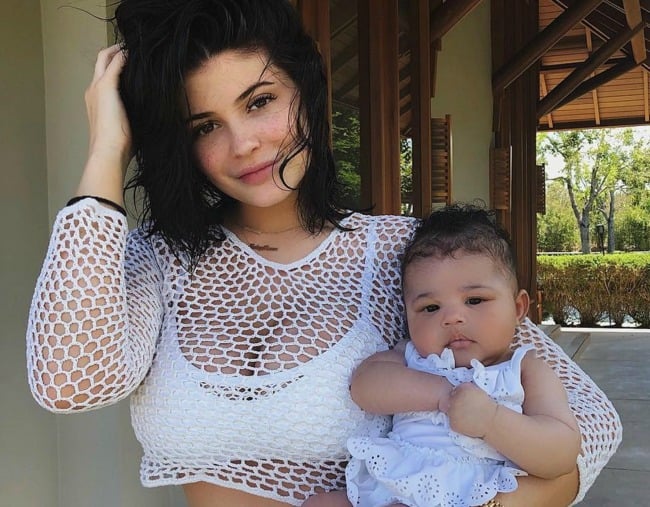 Kylie Jenner has shared a super sweet video of her daughter Stormi, revealing the five-month-old's newly pierced ears.
The 20-year-old beauty mogul shared the video to Snapchat earlier today, kissing her daughter's face as Stormi playfully pulled at her hair.
"The best kisses," the reality TV star captioned the post.
The footage, shared just hours ago, is destined to spark the should-babies-have-their-ears-pierced debate, with Twitter users already questioning Kylie's decision.
As if Kylie Jenner's baby Stormi has her ears pierced ????????????
— princess kat (@kats___) July 12, 2018
It was revealed today that Stormi's mother Kylie is worth a staggering $900 million, making her the 27th-richest self-made woman in America.
According to Forbes, with her reality TV career and Kylie Cosmetics empire under her belt, Kylie is well on her way to becoming a billioniare by age 21.
Speaking to the magazine, Kylie revealed that she'd like Stormi to inherit her beauty empire "if she's into it".
"Maybe one day I'll pass this on to Stormi," she said.
Listen: The Young Mummy Sophie Cachia says she won't be piercing her young child's ears anytime soon. Is it ever okay to pierce the ears of your toddler?
Want to hear to more? Subscribe to This Glorious Mess.
Stormi herself already has her own impressive net worth. She might not be one yet, but Stormi is reportedly worth nearly $3 million.
She also has an enviable shoe collection, worth more than $28,000.
Stormi Webster was born on February 1 to parents Kylie and her rapper boyfriend, 26-year-old Travis Scott.
What do you think? Is it okay to pierce a baby's ears?