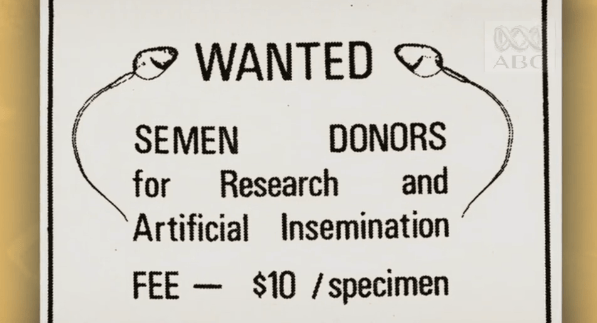 Is it possible to truly know who you are if you don't know where you come from?
Ross Hunter, Jeff Springfield, Michael Griffiths and Myf Cumberland who were all conceived in the 1970s using anonymous donor sperm, go on their own personal journeys in the documentary, Sperm Donors Anonymous to find out.
The documentary to be shown on the ABC tonight night, follows the cautionary and inspiring journey these four donor-conceived adults undertake to uncover the truth about their genetic heritage and discover the identity of their biological fathers. Fathers none of them even knew existed until they accidentally discovered the fact in adulthood.
With more than 60,000 babies conceived through anonymous sperm donations in Australia, it is little wonder this subject is having a very bright light shone upon it, especially as the donors were always under the impression that they'd have life-long anonymity.
That line is suddenly a little blurry.
The search for their anonymous sperm donors was never going to be easy one, especially as the donations took place more than 40 years ago. Each of them first had to find out their 'donor code', the 2-3 letter and number code each speciment was given. Even when that was found, their efforts were hampered by misappropriated files, non-existent clinics, a sometimes archaic filing system and possible legal ramifications from divulging what was always expected to be confidential information.
Of the four donor conceived children, only three were successful in finding their biological fathers.
To fully understand how their stories though, it's important to remember that the 1970s were a much less 'policed' era and even though the advanced technology to freeze and store sperm had became available, the psychological and moral support, for all parties, was yet to catch up.
Initially, medical students from the local university were encouraged to donate their sperm for $10; it was often described as "no different to donating blood". It wasn't long, however, before demand for the donated sperm started to outstrip supply. Donations were then accepted from virtually any willing male around Australia.
Donor Ian Smith recently discovered he has fathered seven children with his donations, and is haunted by the likelihood he will never meet them. He admits that, at the time of donating, he had no real concept of what he was doing and readily admits that if he thinks about it too much, it can take him down a very dark path.