1. Thank you Tom Gleeson for introducing us to Sophie Monk's nipple hairs.
Last night, Sophie Monk and Tom Gleeson went head to head for the second time on ABC's Hard Chat.
Amongst Sophie admitting to her inability to read, and being friends with Bill Shorten (who likes her Instagram photos), she also made one most peculiar admission: She's named her nipple hairs, as we all do.
#HardChat with @SophieMonk. The sequel! #TheWeekly #TheYearly pic.twitter.com/o8NEEBNIXY

— Tom Gleeson (@nonstoptom) December 20, 2017

Amidst speculative conversation about the correlation between Tom's male pattern baldness and his "hair downstairs", Sophie decided to share her own personal body hair situation.
"I've got a nipple hair that just won't stop growing and I call it Trevor because it's just part of me now," Sophie confessed during the hilarious grilling.
"I pluck it and the next minute it's back and I feel like people should study that for male pattern baldness," she continued.
Not only did Sophie name her first and most stubborn nipple hair, but named her second one too.
"I think Trevor might have gained a friend, so Trent's on there too," she laughed.
Here's to Trevor and Trent: A friendship like no other.
2. The lucrative divorce settlement between Harvey Weinstein and his estranged wife Georgina Chapman.
10 years is apparently the time needed to be married to disgraced producer Harvey Weinstein to drain him of the $15 million that wife Georgina Chapman will leave with.
While neither party has yet to officially file for divorce, Chapman announced of her intentions to do so right after the sexual allegations came out in October.
According to TMZ, their prenup agreement contained a clause that stated that after the 10th wedding anniversary Chapman would receive $520,000 for every year of marriage she suffered spent. She previously would have only received $380,000 in spousal support.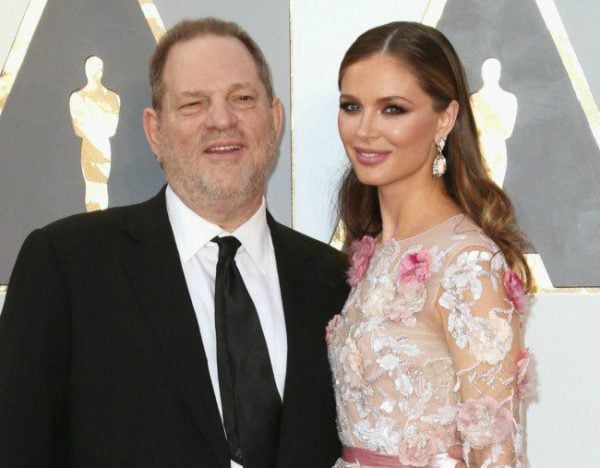 However that's not all that she'll be walking away with and the numbers are staggering, albeit not surprising considering his reported $331 million worth.
Chapman will also receive $6.1 million in marital assests and $3.8 million in a housing allowance.
Yep.
LISTEN: The Mamamia Out Loud team discuss whether we should be listening to Matt Damon? Or should he just shut up? Post continues after audio.

3. The Bachelor's Tara would like to be warned the next time a pap takes her photo, pretty please.
To put it simply: We love Tara Pavlovic from the Bachelor. Why? Because…
We sure do love an "Instagram vs. reality" shot, and this one takes the cake. The photo on the right captures Tara in a seemingly natural pose, and the one on the left is… all of us, most of the time.
Thanks to the paparazzi's speedy lens, Tara's Instagram photo has just proven that the best of us can be caught off guard by unwanted photography. Not that we have the paparazzi following us everywhere at all times, but we can imagine the inconvenience.
"Mum always did tell me to keep my chin up," Tara joked in her caption.
On behalf of Tara, we'd like to request a little heads up from the paparazzi next time. Perhaps a, "Hey Tara, smile!" Or even a, "Three, two, one!" Or ideally, refrain from taking the photo at all. Please and thank you.
Sometimes we just want to stretch our neck muscles in peace, okay!?
4. Behold: Our first look at the Mamma Mia sequel.
It's here.
Although sequels are objectively never as good as the first, we have a very, VERY good feeling about the Mamma Mia sequel.
Not only is the original all-star cast making a return, but Lily James and Cher will also be joining Meryl Streep, Amanda Seyfried, Colin Firth, and Pierce Brosnan.
That's right. Cher.
A behind-the-scenes video was released just today on the Mamma Mia! Here We Go Again official Twitter account, where the cast and crew are shown being legitimate dancing queens.
It's a wrap! See the first trailer for #MammaMia2 tomorrow. pic.twitter.com/EcyODvPagl

— Mamma Mia (@mammamiamovie) December 20, 2017
"The movie's better than the original because there's a depth to it that only comes from time," Amanda Seyfried told EW.
Mamma Mia! Here We Go Again will hit theatres on July 18 next year, so to all the super fans (aka all of us): Start refreshing your ABBA lyrics knowledge now.
5. Did we mention that Khloe Kardashian might be engaged AND in legal trouble? (Hear us out...)
Khloe Kardashian dominated our timelines today.
For one thing she finally confirmed her heavily rumoured pregnancy in true Kardashian style with a professional shoot over Instagram and really we wouldn't have expected anything less.
However with this, two other issues came to the fore...
Firstly, that row of diamonds on her left finger that we can only assume is a wedding or
engagement ring, and secondly the very possible legal ramifications this could have for the reality TV star.
The offending clue? The very evident Calvin Klein apparel she's sporting without the #sp or #ad hashtag accompanying it.
And while Khloe could be doing this sans commercial interest, it's worth noting sister Kendal's
previous involvement with the brand, and the fact that un-sponsored shout outs just isn't very Kardashian behavior at all.
Naturally, we broke down the muddy legal waters and you can read all about it. You're welcome.
LISTEN: Mia, Holly and Jessie have all the TV shows you need to get your eyeballs on this summer, and list is a good un'.