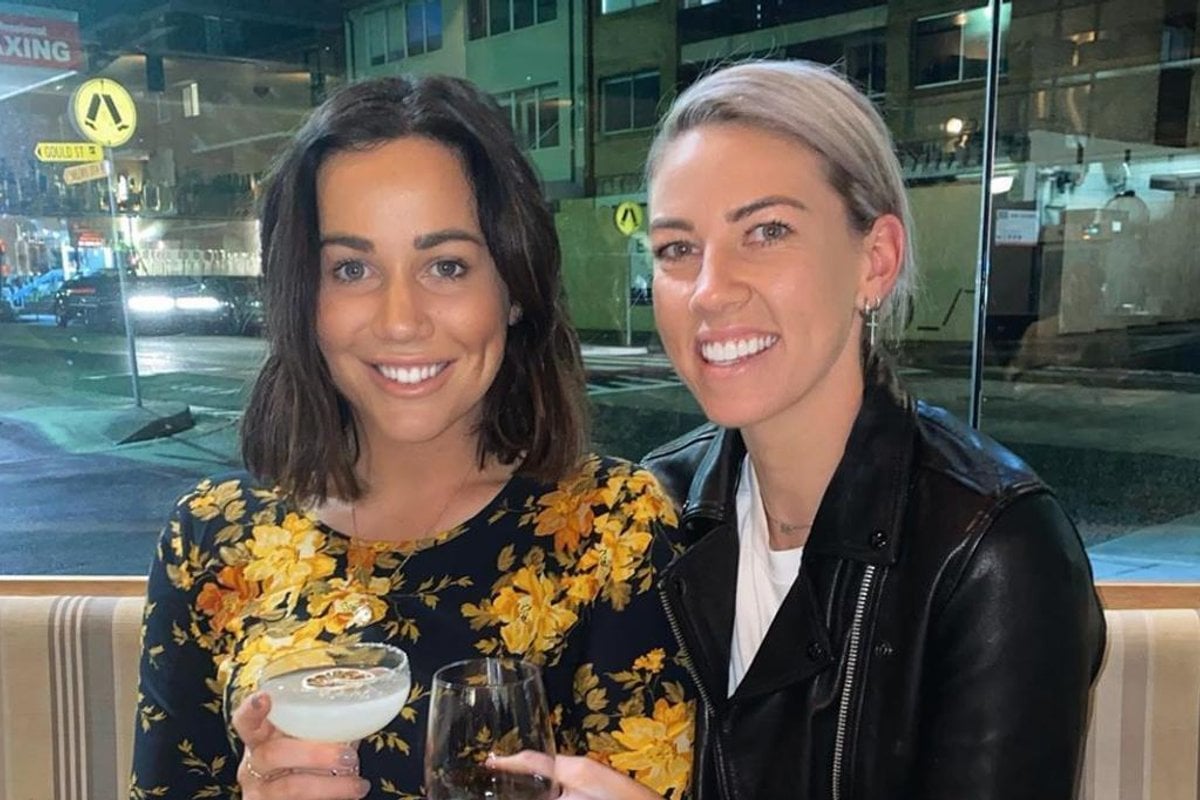 Content warning: This post deals with self-harm and suicide and could be triggering for some readers.
Around six months after Sophie Cachia announced her separation from her husband of four years, AFL star Jaryd Cachia, the entrepreneur and former 'The Young Mummy' blogger revealed she was dating professional soccer player Alanna Kennedy.
It was an intense - and oftentimes volatile - relationship, and one that Cachia is searingly honest about in her soon-to-be-released memoir Then There Was Her and in her chat with No Filter podcast host Mia Freedman.
Listen to Mia Freedman's full interview with Sophie Cachia on the No Filter podcast below. Post continues after audio.
"I don't like to use the word 'toxic' but our relationship at times showed signs of that for sure, which we both contributed to," Cachia, who identifies as 'sexually bisexual and emotionally gay' tells Freedman. "Situations I continually put myself in was [someone] that I don't even know now and I'd never known before."
Read more: 'Everything went blurry.' Sophie Cachia on the moment she was first attracted to a woman.
While she contends that she's a very strong and assertive woman, Cachia found relief in taking on a more submissive role in the relationship with Kennedy.
"Alanna is an incredibly strong woman as well. And I don't say I feared her out of fear for my safety or anything, but I found myself cowering down to someone all the time. Willingly," Cachia reveals.
"And that's not who Sophie's ever been. Five-year-old Sophie wasn't that and 31-year-old Sophie isn't that. And that's what I was attracted to. Because it was such a different relationship dynamic for me. I'd never known anything like that. So I thought, 'Oh this feels different. I'm gonna go with this.'
"It was so attractive to me [to have someone take control]. And again, I'd been a mum, I'd been looking after Jaryd, I hadn't looked after myself. And then all of a sudden, I had someone looking after me... I didn't need anyone to be making me money. But someone did shit for me. Someone goes, 'Hey, we're not doing that, we're doing this'. And I'm like, 'OK'.
"It could have been the littlest decision but I didn't have to think because I got told what to do. And I loved it. So whilst I have never ever wanted to make her sound controlling, because she's not, it was Sophie willingly doing this. Because I was like, 'Someone dominate me. This is brilliant'."
Watch Sophie Cachia on Australia's Survivor. Post continues after video.