You may not have heard the name Shannon Dooley. She's not a soap star or singer, she's not a celebrity, or a public figure.
Yet, this week her name has been splashed across tabloid headlines because she happens to be friends with someone who is.
And because she happens to be bald.
A day at the beach with her longtime friend, Wrong Girl actress Jessica Marais, sparked an article in The Daily Mail yesterday with the following headline:
"Jessica Marais' close friend Shannon Dooley – who suffers from hair loss condition Alopecia – takes off her wig during bikini-clad outing with actress."
The story featured photos of Shannon and Jessica at the beach. They wore bathing suits, they stood chatting, they danced with Jessica's little girl.
They're smiling, They're relaxed, spending time together like good friends do.
But the article was little more than a vehicle for voyeuristic images of a famous woman in her swimsuit, and her hairless friend. And Shannon is sickened.
"I've been used a click-bait, my body has been used as click-bait, my physical appearance and my personal story and struggles, which no one has bothered to directly ask me about," she told Mamamia.
"It's a further example of the dehumanisation of people and the objectification of women. I've believed for a long time that it's disgusting and must end."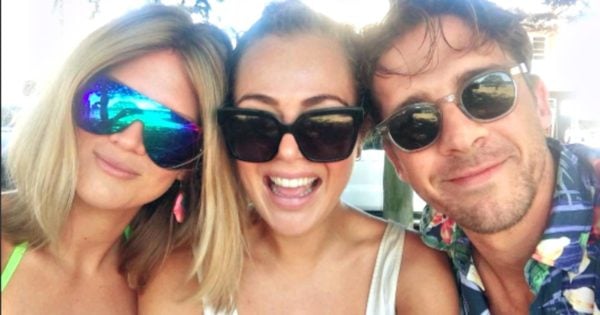 The 32-year-old, who runs Retrosweat dance studio in Sydney, has no shame about her condition, nor any particular aversion to being seen without her wig. She's spoken to the media about it once before, and even shares the odd image to her Instagram account.