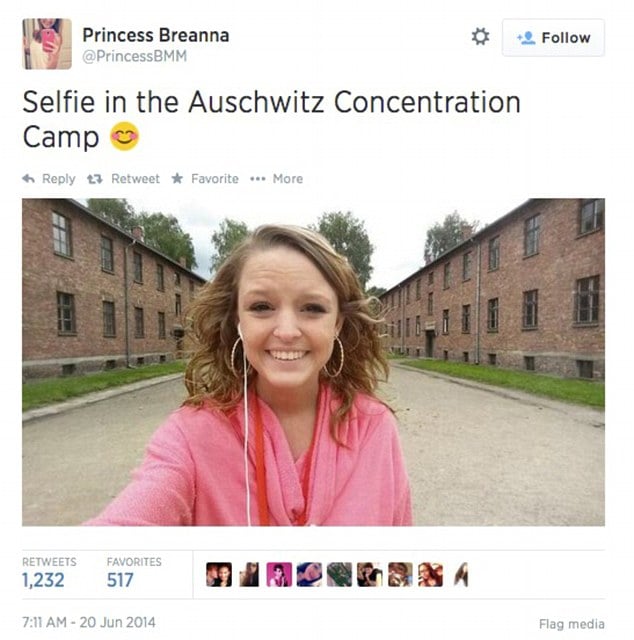 Last month, nobody knew who Breanna Mitchell was.
But in the past few days, she's become one of the world's most famous teenagers.
Because of this photo:
Breanna was visiting the Auschwitz concentration camp in Poland, taking photos of the camp along the way.
But it's this particular photo that's attracted thousands of retweets and tweets, most of them slamming Breanna for the picture.
Slamming is a weak word – some of the commenters are calling for her death.
Breanna explained that she took the selfie in honour of her late father, with whom she studied the Holocaust – however, he never had a chance to visit the camp itself.
Although the photo originally comes across as incredibly insensitive and inappropriate, Breanna say there was no malicious intent behind the posting of the photo.
"That trip actually meant something to me and I was happy about it," she explained in a later tweet.
This isn't the first time a teenager has made headlines for an inappropriate selfie at Auschwitz. Last year, a guy named John Quirke tweeted a picture from inside the gas chambers, with a shocked expression on his face. Unsurprisingly, no one was particularly impressed.
I am deeply invested in Auschwitz. The blood of my own Polish family is deeply intertwined with the location. And I don't think that Breanna made a wise choice in posting that photo in such a public forum.