After a week where the Nine Network has come under fire for its treatment of women, a 'lighthearted' comment on prime-time family show The Block on Sunday night has divided viewers.
During host Scott Cam's final score presentation with the contestants ahead of the finale on Sunday, Cam jokingly referred to judge Shaynna Blaze as a 'bitch' after delivering her scores for Hannah and Clint, and Ronnie and Georgia.
Despite delivering nothing but praise about Hannah and Clint's front garden reveal, Blaze awarded them just 7.5 out of 10. Ronnie and Georgia also received the same score.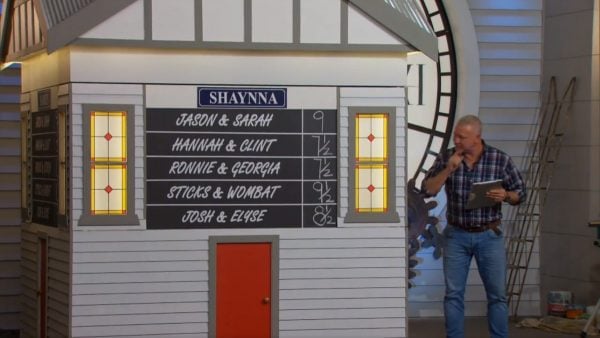 After the contestants all remarked about how harsh the interior designer's marking had been, Cam chimed in.
"Some high scores and some low scores. Jeez Shaynna's a bitch, isn't she?" he said.
In context, the remark came across as lighthearted, clearly meant in jest and as a way to sympathise with the contestants who were upset by their lower-than-expected scores.
It could have been said about any of the judges, regardless of gender, and come off the same way. Blaze, perhaps a little awkwardly, wasn't present to respond. However it certainly was not meant as a personal attack.
But not all The Block fans took it to be harmless or appropriate, with some expressing their disappointment in Cam.
@ScottyCam9 there are no excuses for calling @ShaynnaBlaze a "bitch". You owe her an unconditional apology. #theblock #familyshow

— Polly (@PollySpeaks) October 22, 2017