Risky business
You Do You is as much a self-help book as it is a postmortem on my own midlife renaissance,* which has involved taking a few big risks in the last few years.
* The life expectancy for American women is currently 79.13 years, so as of this writing, I couldn't be more midlife if I tried.
In addition to exiting the rat race, starting my own business, and convincing a publisher I was capable of writing not one but three postmortems on my midlife renaissance disguised as self-help books, in 2016 my husband and I uprooted our entire life to move from Brooklyn, New York, to a tiny fishing village in the Dominican Republic.
And if you had told sixteen- or twenty-six-year-old me that thirty-six-year-old me would jettison not only a thriving career but also a lovely apartment and a stable, comfortable existence for a complete 180- degree turn toward a life of unknowns, adventure, and snakes in her roof* — she would have lobbied to have thirty-six-year-old me preemptively committed.
All of this is to say, I know a little something about risk (and reward), so if you feel like you're ready to ditch your real or metaphorical day job, and if you're looking for a wee push off of the cliff, it would be my pleasure to provide one. Metaphorically.
* "On her roof?" asked her editor. "No, definitely in her roof," she answered. "Jesus fucking Christ," he replied.
5 types of risks you could take and how to approach them
Changing your look: Shaving your head, getting a tattoo, going Goth, or just going blond— a makeover can be subtle or bold, and none of it has to be forever. Hair grows back, wardrobes can be retrofitted, and lasers are very sophisticated these days. So why not experiment? These are the best kinds of risks to take— fun and semipermanent. Barely counts at all, frankly. Risk level: Get thee to a tattoo parlor!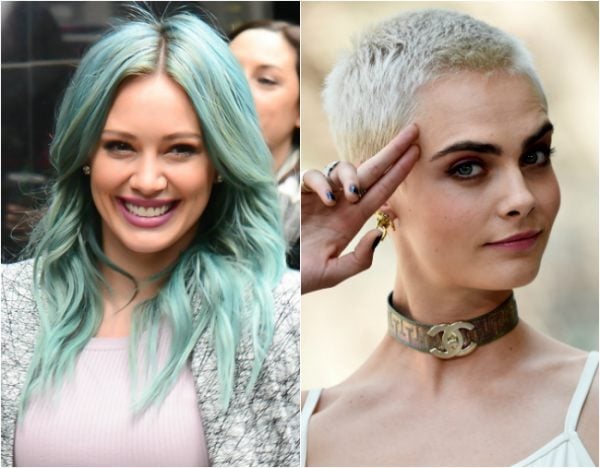 Auditioning for something: Whether it's community theater or an internationally syndicated talent competition, the worst thing that can happen — after strutting your stuff under the watchful eye of Post Office Joan (who's directing this year's outer space– set Sweeney Todd) or warbling before your secret man crush Adam Levine — is that Joan or Adam tells you "Sorry, it's a no from me." So go polish up that monologue, get your octaves in order, and give it a shot. Risk level: Deep breaths.