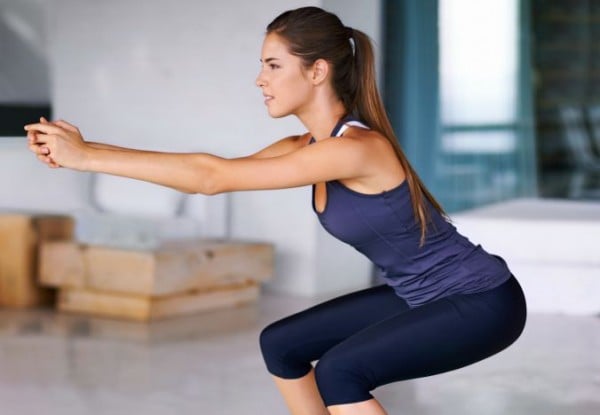 Squat jump demonstration. Image via iStock.
The Bachelorette has consumed our Wednesday and Thursday nights, dominated office watercooler chats and now it can infiltrate your workouts too.
We spoke to Sam Frost's personal trainer Blake Worrall-Thompson (ironic, we know!) about her fitness routine and it's one you can try (maybe in the ad breaks?).
"Sam's main goal was to get back into her pre-Bachelor shape, where her weight and health took a bit of a battering," he says.
Like many of us, exercise may not have been Frost's favourite thing to do, but she was committed to making a gradual but sustainable difference.
"It was important to keep it intense but as interesting as possible. We focussed on high impact and high attack weight training in order to burn fat. Sam was training five days a week – three days of weights and two days of cardio," explains Worrall-Thompson.
The workouts
Frost's exercise regimen was a mix of two strength-based workouts – Tabata and Worrall-Thompson's own 'Sexy 300' workout.
Tabata
Tabata is a time-structured workout, that involves 20 seconds of high-intensity work, followed by 10 seconds of recovery. You do each exercise eight times for a mini four minute workout before moving on to the next exercise.
Worrall-Thompson recommends working through:
Jumping lunges: Beginning with a normal lunge, ensuring your front leg is at a 90 degree angle in the squat position and your back leg is straight behind you. Jump and swap legs around, so the front leg is now the back one and vice versa. Make sure you keep your chest and torso upright and engaged.
Push ups: Place hands on the ground under your shoulders and lean on toes. Lower your body until your chest touches the floor (or as far as you can go) and then push back up.
Squat jumps: Standing with feet shoulder-width apart, do a regular squat then engage core and jump. On your (controlled) landing, go back into the squat position – that's one rep.