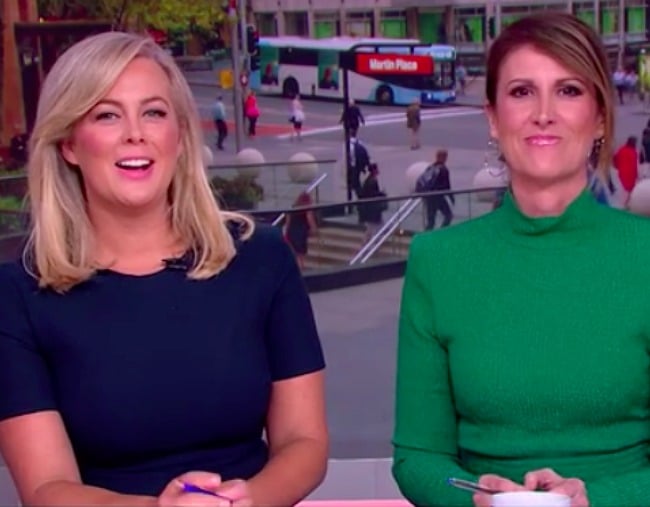 If you watched Channel Seven's breakfast show this morning, you likely had no idea what was taking place just metres away from the hosting panel.
Viewers watched Sunrise's co-host Samantha Armytage and presenters Natalie Barr, Edwina Bartholomew and Mark Beretta deliver a calm and typical current affairs program, unaware that the scenes on Martin Place, the backdrop of the show, were anything but.
Channel Seven producers reportedly pulled black blinds across the window – and appeared to put footage of a quiet Martin Place on the green screen – in an effort to conceal the hundreds of angry people that gathered to protest a segment they considered racist on Tuesday.
The segment came after Minister for Children David Gillespie announced he was pushing for "open adoptions" of Indigenous children who were at risk of rape, assault and neglect. The controversial and sensitive suggestion that governments should enable more white Australians to adopt aboriginal children was put to an all-white panel by Armytage.
You can watch a snippet of the segment below. Post continues.
The segment implied forcibly removing aboriginal children from their homes in the past was "for their wellbeing" and failed to feature a single aboriginal voice.
Not only were both panellists Sunrise consulted white, they also lacked any expertise in the field: Prue MacSween is a self-described "opinionated former journalist" while Ben Davis is a Brisbane radio host.
Armytage wrapped the conversation by saying, "let's hope some sense prevails there".
Understandably, Australians of all walks of life were irate at the show's bias, ignorance, and failure to consult a single person from the community they were discussing. Armytage, however, stood by the segment, suggesting critique to the contrary was "hysterical".
Armed with signs that read "Stop forced removals, bring the kids home" and "Aboriginal kids belong in Aboriginal families", demonstrators reportedly banged on the glass windows of the studio while filming took place.
At some points in the program, muffled chanting and yelling could be heard.
On Twitter, protesters were keen to inform viewers of what was taking place.
What's your take on this situation? Let us know in the comments.