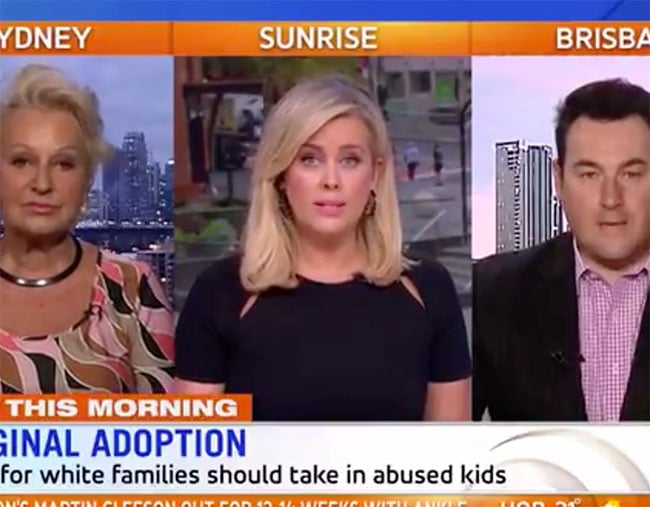 Carefully, you would think, is the way a morning breakfast show discussing the adoption of abused Aboriginal children by white Australian families should approach the issue.
But on Tuesday morning on Channel Seven's Sunrise, the show's co-host Sam Armytage and her all-white panel were anything but that.
The segment came after Minister for Children David Gillespie announced he was pushing for "open adoptions" of Indigenous children who were at risk of rape, assault and neglect. Meaning, he's trying to make it easier for white Australians to adopt Aboriginal children.
At the moment, The Aboriginal and Torres Strait Islander Child Placement Principle, which is in place in every state and territory though not always adhered to, is designed to keep Indigenous children with relatives or within Aboriginal communities.
So with Gillespie pushing to more easily enable white Australians to adopt aboriginal children, Armytage asked her panellists: Should this be allowed?
"Post-Stolen Generation, there's been a huge move to leave Aboriginal children where they are, even if they're being neglected in their own families," Armytage said.
Watch the Sunrise segment in the video below..

First, there was "commentator" Prue MacSween who called the situation a "no brainer" and said those who have an issue with Gillespie's stance represent "political correctness gone mad".
She also implied the Stolen Generation, which saw millions of Aboriginal and Torres Strait Islander children forcibly removed from their families from 1905 until 1969, was enforced by the Australian government "for the wellbeing" of the children.
"Don't worry about the people who decry and hand-wring and say, 'this will be another Stolen Generation'," MacSween said.
"Just like the first Stolen Generation, where a lot of children were taken because it was for their wellbeing, we need to do it again, perhaps."