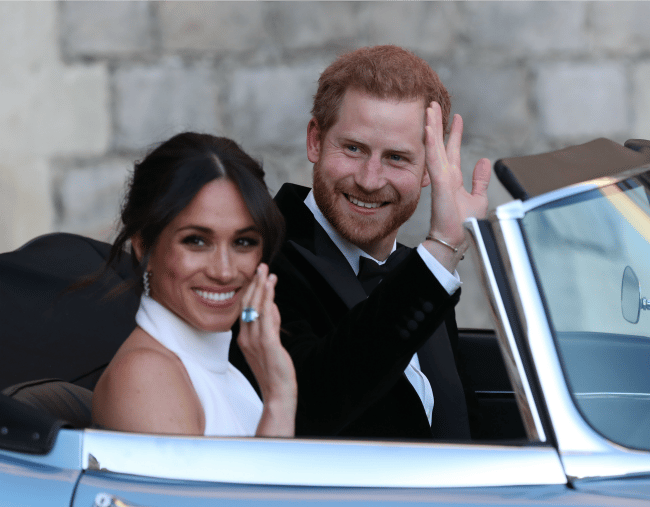 More than two billion people watched Prince Harry and Meghan Markle wed at St George's Chapel in Windsor on May 19. But as lovely as the lavish ceremony and the carriage procession were, let's be honest, it's the party that took place afterwards that we really wanted to see.
Well, thanks to some loose-lipped guests, The Sunday Times has revealed just what went on during the couple's evening reception.
After handing in their mobile phones to ensure privacy, the 200 attendees at the Frogmore House function reportedly enjoyed "lethal" cocktails, a musical performance by late night TV host James Corden (who was dressed as Henry VIII) and plenty of jokes at the new Duke of Sussex's expense.
According to the paper, the guests were spread among 20 tables inside a grand marquee; a setting that prompted Corden to quip, "It's great, but have you seen the size of the rooms at Windsor Castle? Surely they didn't need to put up a tent."
Among those present was actor George Clooney, who reportedly told a fellow guest, "I'm really enjoying this wedding because they actually seem to be in love, whereas I go to all these celebrity weddings and nobody seems to be in love at all."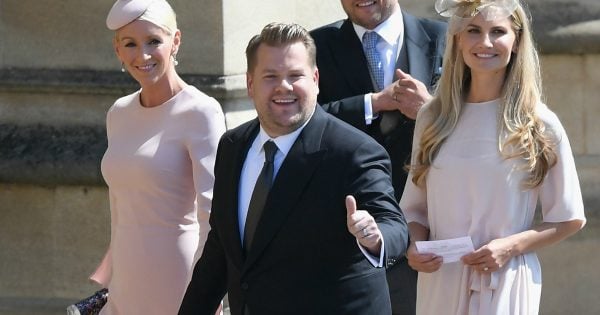 Another exception... Meghan Markle taking the mic. The 36-year-old former Suits star is believed to be the first bride in the history of the British monarchy to make a wedding speech.
According to The Sun, the address was in the form of a poem, which one unnamed guest described as the "most special part of the day".
"Most of the room was ­misty-eyed by the final line. Harry looked so proud and had to wipe away a tear," the source said.
"She spoke about their first date and falling in love at first sight... Meghan said she knew she had met her prince from the off, and how blessed and lucky she feels to have found such a profound love."
The Duchess' words followed those of her husband, 33, who "thanked his father for all the love he had given him, and for putting on such an amazing day. He also thanked Doria [Ragland], Meghan's mother, for her 'amazing daughter, my wife,'" according to The Sunday Times.
But it was the Duke's childhood friend, Charlie van Straubenzee, who made the biggest splash, regaling the room with stories and jokes about "our strawberry blonde Prince". The 30-year-old reportedly told an anecdote about his first day at Ludgrove School in Berkshire, aged eight, where the young prince was the dormitory monitor.
"All I wanted was a cuddle from my mummy," van Straubenzee said, according to The Sunday Times. "Instead Harry nicked my teddy bear and chucked it out on to the roof. Ladies and gentlemen, I ask you, how can you put someone in charge of a dorm when that someone is worse behaved than the whole dorm combined?"
But van Straubenzee also reportedly expressed his pride at how the Duke coped following the tragic death of his mother, Princess Diana, when he was just 12-years-old. He added that she would be happy he has found love.
The partying continued into the early hours of the morning, with mini burgers and toasted sandwiches rolled at out at 1am to keep the guests fuelled.
Details on best man Prince William's role in the evening remain scarce, save for rumours surrounding a rather tawdry joke about "wet knickers". We'll keep you posted.
For a raw, unedited, and slightly inappropriate Royal Wedding debrief...

Want to hear to more?  Listen to Mamamia Out Loud in iTunes, Android or on Mamamia.
Thank you - just by clicking on this and other content on Mamamia, you are helping to fund education for some of the world's most disadvantaged girls.
Together with our commercial clients and charity partner Room to Read, Mamamia's goal is to be funding 1,000 girls in school each and every day, by June 2020.
Learn more here about our ongoing mission to make the world a better place for women and girls.