For everything Prince Harry, Meghan Markle and the Royal Wedding in one convenient place, visit our Royal Wedding hub.
Prince Harry and Meghan Markle are officially the Duke and Duchess of Sussex.
After a wedding ceremony which featured a very impassioned sermon, a little bit of giggling, and some lengthy musical interludes, the newly wedded couple celebrated with 600 guests at a Lunchtime Reception hosted by the Queen.
They then had a more informal after-party with selected guests at Frogmore House.
During the wedding reception, Prince Charles gave a tear-jerking speech, Elton John performed some of his greatest hits, and we're sure Oprah had a least one 'A-ha moment'.
Anywho, here are all the juicy details of what went down after Harry and Meghan said 'I do':
1. Meghan changed into her second wedding dress.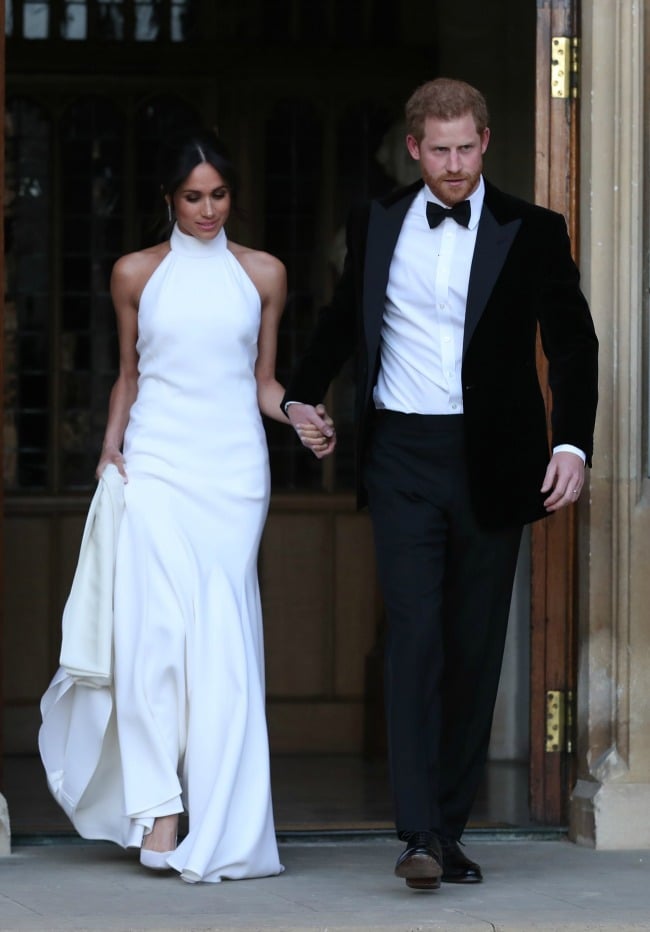 For the wedding reception, the Duchess of Sussex went for a more casual look with a Stella McCartney dress.
The Royal family's website confirmed on Saturday that McCartney custom made the gown.
Meghan's second dress was less formal with a high neck and exposed shoulders.
In a beautiful tribute, she also wore an emerald-cut aquamarine ring that once belonged to Princess Diana.
2.Prince Charles brought people to tears.
The Duke and Duchess of Sussex depart Windsor Castle for a reception hosted by The Prince of Wales at Frogmore House, in a silver blue Jaguar E-Type Concept Zero. This vehicle was originally manufactured in 1968, and has since been converted to electric power #RoyalWedding pic.twitter.com/hRrxEUlFlJ

— Kensington Palace (@KensingtonRoyal) May 19, 2018

Prince Charles paid tribute to his son "darling old Harry" in a moving speech during the wedding reception.
Apparently, it was quite the tear-jerker.
"Some people were even crying. I think it was just a very, really nice atmosphere to be in where everybody felt really loved," Suhani Jalota, the founder of the India-based Myna Mahila charity, told People.
"Essentially it was just about how Harry was as a child and growing up. And now just about the couple and how beautiful they are together.
"So I think it was just about their personalities and how they gel really well together."
3. Prince Harry surprised everyone with an "off the cuff" speech.
After Prince Charles gave his speech, Prince Harry surprised the guests by giving an impromptu speech of his own.
"It was very off-the-cuff, which was lovely. He promised that all the Americans wouldn't steal the swords and said, 'Please, when you leave, be quiet as you don't want to wake the neighbours,' which was quite fun," a guest told People.
"He [Harry] was talking about his wife and you know everybody was clapping because it was the first time he was using that term for Meghan so it was really nice."
4. Sir Elton John performed his greatest hits.
"Love recognises no barriers.

It jumps hurdles, leaps fences, penetrates walls to arrive at its destination, full of hope." - Maya Angelou#RoyalWedding #HarryandMeghan pic.twitter.com/llDX1dNaaU

— Elton John (@eltonofficial) May 19, 2018
Sir Elton John performed four of his greatest hits during the Lunchtime Reception including Your Song, Tiny Dancer, Circle of Life and I'm Still Standing.
According to the Daily Mail, Prince Harry introduced the 71-year-old by asking, "Does anyone here know how to play the piano?"
"There was a brief awkward silence before Sir Elton John got up on to the podium and started playing," Harry's 'friend' told the publication.
"It was a brilliant surprise and in keeping with the service," the friend added.
A statement from Kensington Palace confirmed the performance.
"Prince Harry asked Sir Elton to perform at the Reception which was hosted by Her Majesty The Queen at St George's Hall, Windsor Castle," read the statement.
"Sir Elton performed for the newly married couple in recognition of the close connection he has with Prince Harry and his family."
5. There were A LOT of fancy canapes.
???? 200 Amalfi lemons
???? 500 organic eggs from Suffolk
???? 20kgs of butter
???? 20kgs of flour
???? 20kgs of sugar
???? 10 bottles of Sandringham Elderflower Cordial

The baking of the #RoyalWedding cake is under way! pic.twitter.com/b3jhwtOwOP

— Kensington Palace (@KensingtonRoyal) May 18, 2018
Kensington Palace released the menu for the reception yesterday and it included a lot of fancy lil' canapes.
In fact, the lunch started off with seven different canapes:
Scottish Langoustines wrapped in Smoked Salmon with Citrus Crème Fraiche
Grilled English Asparagus wrapped in Cumbrian Ham
Garden Pea Panna Cotta with Quail Eggs and Lemon Verbena
Heritage Tomato and Basil Tartare with Balsamic Pearls
Poached Free Range Chicken bound in a Lightly Spiced Yoghurt with Roasted Apricot
Croquette of Confit Windsor Lamb, Roasted Vegetables and Shallot Jam
Warm Asparagus Spears with Mozzarella and Sun-Blush Tomatoes
The guests were also served a selection of "bowl food" and some "sweet canapes".
6. The wedding cake featured elderflower syrup from the Queen's own elderflower trees.
The wedding cake is to be served at the Reception. It was designed by Claire Ptak and features elderflower syrup made at The Queen's residence in Sandringham from the estate's own elderflower trees, as well as a light sponge cake uniquely formulated for the couple. #royalwedding pic.twitter.com/kt5lE4tEn9

— Kensington Palace (@KensingtonRoyal) May 19, 2018
The wedding cake, designed by Claire Ptak, featured elderflower syrup made at the Queen's residence from the estate's own elderflower trees.
It was a light sponge cake that was especially formulated for the couple.
It looked bloody delicious.
For more royal wedding content, the Mamamia Out Loud team have huddled together for a raw, unedited, and slightly inappropriate Royal Wedding debrief. Get it in your ears.