Fans waiting for glimpses of the third royal baby outside London's St Mary's Hospital were treated to a rather strange royal prank.
As Prince William left the hospital to collect Prince George and Princess Charlotte, royal baby watchers saw a black cab drive past the hospital with what looked like Queen Elizabeth herself, casually sitting in the back seat.
Naturally, fans got excited as they saw the cab drive by, and even upon realising that it was indeed just a wax sculpture and not the monarch herself, they still took it in good humour.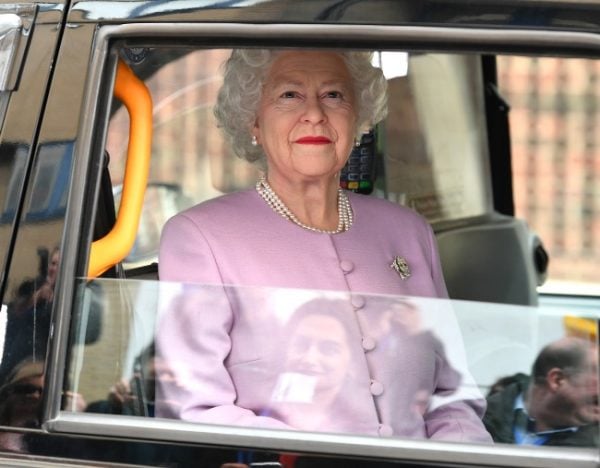 According to TVNZ journalist Joy Reid, crowds found the prank "very funny."
Wax model of Queen put inside a black cab and drives past hospital. Crowds find it very funny #royalbaby3 #itsaboy #newprince @1NewsNZ pic.twitter.com/q9i5fFN86D

— Joy Reid (@JoyReidTVNZ) April 23, 2018
— Simon Bradley (@hidarikun) April 23, 2018
A scarily good waxwork driving past the Lindo Wing #royalbabywatch pic.twitter.com/qrZIDOB4WK

— Ben Jary (@BenJary) April 23, 2018
???????????????????? LOL at the fake mannequin of the Queen driving by in a black cab outside the Lindo Wing #royalbaby #lindowing pic.twitter.com/x2wJ4MykZj

— The Blonde Tonic (@AmmeGrace) April 23, 2018
Flurry of excitement when the 'Queen' arrives #LindoWing pic.twitter.com/VVVyeP3ygj

— Kate Williams (@KateWilliamsme) April 23, 2018
While we don't know the genius mind behind the joke, we have to say that the sculptor did an eerily accurate job - they even included the Queen's signature three-strand pearls and red lipstick.
Now that's attention to detail.
Other royal-themed antics also include 81-year-old Tony Appleton who dressed up as the "unofficial" town crier and kept crowds entertained and informed, so much so that American news network CBS reported him to be part of official proceedings.
Hahahahaha the low rent fake town crier has fooled one of America's biggest news networks. What does this say about the way Americans see the British. pic.twitter.com/g20mCETnLY

— Mark Di Stefano ???????? (@MarkDiStef) April 23, 2018
Speaking to Town and Country, Appleton was also the unofficial official announcer for the births of Prince George and Prince Charlotte too.
"Every proclamation I make is important to me, whether it is a friend, a company, or a member of the royal family," he said.
"They all deserve my best efforts to celebrate good news."
He's also pretty confident that the official name of the royal baby will be Phillip... but only time will tell on that one.
Town crier predicts #Philip for #Royalbabyname pic.twitter.com/AaF78fZp3h

— Victoria Craw (@victoria_craw) April 23, 2018
Want to win a $100 gift voucher for telling us what you think? Take our short survey now for your chance to win 1 of 3 $100 gift vouchers.