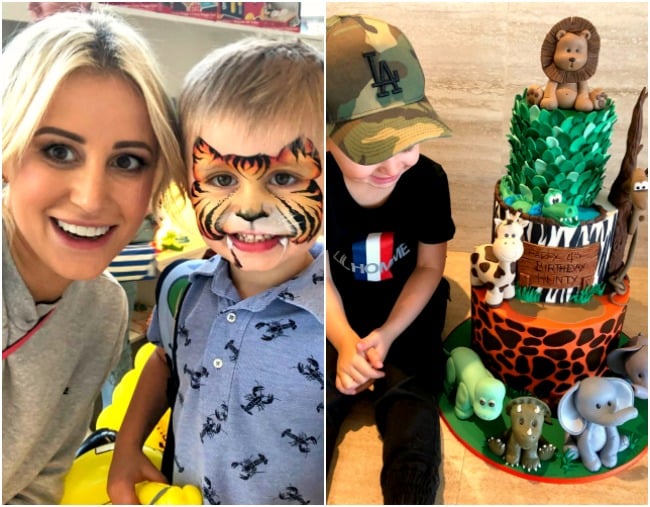 Hunter Curtis – the son of PR juggernaut Roxy Jacenko and Oliver Curtis celebrated his fourth birthday this weekend and by celebrated we mean he had not one but two extravagantly themed parties which involved two three-tiered cakes, face painting, costumes for all the guests and all the fancy trimmings a four-year-old could want.
We're sad to report that there didn't seem to be an ice-cream cake or supermarket party bag in sight.
Not that we're surprised of course – Roxy isn't the kind of woman who does thing in halves, and she 276 percent lived up to that claim.
We're just sitting here scratching our head, wondering what she'll pull off for his Sweet 16th, but we digress – onto the party parties.
Roxy Jacenko came by the Mamamia offices and we asked her to teach us how to take a selfie. It was very educational.
So, from what we can glean from the wonders of Instagram – celebrations started the day before Hunter's actual birthday on the Saturday with a construction-themed birthday party held at Sydney's Nubo play centre.
To get into the spirit, guests wore matching costumes supplied by the host which comprised of a hardhat, high-vis vest, with a professional face painter on offer too. The food was served via a lunch box concealed as a toolkit, with the adults very well catered for as well.
In attendance was sister, Pixie Curtis and friends including Indi Warner – the daughter of Candice and David Warner.
For anybody wondering, party planner Mary Ronis of Scribble & Style was the woman behind the event with Sweet Bloom Cakes the designer of the very impressive three-tiered cake – topped with an actual tractor.
Party bag, which should be more accurately described as back packs, were designed by Penny Scallan.
We can only wonder what they were filled with… gold-plated colouring in pencils? Luxury hand-crafted truffles with milk sourced from the rarest of cows? Gummy bears sculpted by Damien Hirst himself?
Probs…
Roxy Jacenko and the whole damned thing. Roxy Jacenko sits down with Mia Freedman on No Filter to talk public hatred, her children's Instagram accounts, and her husband's jail sentence. Post continues after audio.
However, that's not all. Why celebrate your fourth birthday just once, when you can do it twice? It looks like the Jacenko/Curtis household kept Hunter's actual birthday celebrations a family affair – held at what appears to be their family home.
This time the theme was dinosaurs and animals, with a cake that was almost as big as Hunter himself, a bevvy of animal themed-helium balloons and a mountain of presents.
And that's exactly how you throw your child a birthday when you're Roxy Jacenko.