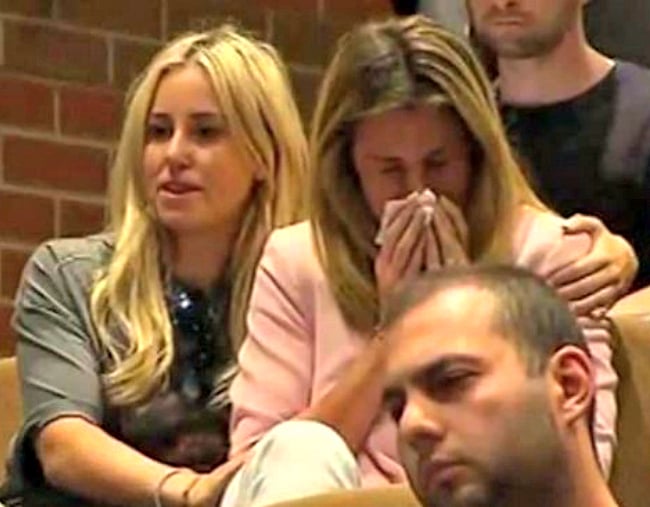 We can't imagine what it would feel like to be in Candice Warner's shoes right now.
To carry your crying toddlers through an airport terminal, screaming reporters and lights flashing in their faces.
To have an entire country – your country – calling the man you love and the father of your children a traitor and a disgrace, and to feel like it's your fault.
To have your past, your character, your grief dragged through the mud, attached to the same cart pulling your husband's indiscretions.
To be at a loss for what to say when your daughter asks 'Mummy, why are you and daddy crying?'.
But Roxy Jacenko can, because she's lived through this kind of hell too.
Holly Wainwright makes the important point we all need to remember while we're outraged over cricket's ball tampering saga. Post continues after audio.
In 2016, we watched the 37-year-old PR entrepreneur's life implode as her husband Oliver Curtis was convicted of insider trading and sentenced to two years imprisonment.
We saw the Instagram lift selfies on her way to court, with oversized black sunglasses and designer handbags. But what we didn't see was how harrowing it was raising two children and fighting breast cancer without her partner by her side.
We weren't there for the conversations she was forced to have with Pixie and Hunter about why their dad wasn't around and what to do if other kids at school called their father a 'baddie'.
And we weren't there for the quiet moment she had to herself when she thought, "what the f*ck has my life become? How am I even in this frickin position?" Roxy told Mia Freedman in her honest No Filter interview.
There are many things we're yet to see, and should not be privy to about what this ball tampering saga is doing to Candice, David and their two young daughters Ivy Mae and Indi Rae.
But when we watched Roxy sit silently with her arms wrapped around her friend as she sobbed through Saturday's press conference, we saw what female friendship looks like.
Watch as Roxy comforts her friend Candice during her husband's emotional apology. Post continues after video.
Not a PR opportunity or an attempt at self-promotion like many were quick to label it. Just one woman sitting quietly next to another, letting her know she's not alone.
Roxy told Mamamia when we reached out for comment, "I was there as a support to Candice as a friend, not in a professional/official capacity." And we believe her.
Yes, Roxy is a formidable PR expert and Candice's manager. But she's also her friend, and perhaps one of the only women in Australia who truly knows what she's is feeling right now as a wife and mother sitting in the eye of this media storm.
Candice needs all the female friends in her corner and in press rooms with arms wrapped around her she can get right now.
To lift her head up when all she might feel like doing is hanging it in shame, and to remind her as bad as it seems at the moment, there will come a day when 'the time her husband cheated in a game of cricket' will again no longer be the most noteworthy thing about her.
Some things are about optics, but a woman like Roxy consoling her friend as her world disintegrates around her isn't.
Thank you - just by clicking on this and other content on Mamamia, you are helping to fund education for some of the world's most disadvantaged girls.
Together with our commercial clients and charity partner Room to Read, Mamamia's goal is to be funding 1,000 girls in school each and every day, by June 2020.
Learn more here about our ongoing mission to make the world a better place for women and girls.