It's hard not to like Robbie Williams.
With his British charm, sharp wit and infectious charisma, this man is a born entertainer.
Last night, 42-year-old Williams appeared on The Project. It was all very lovely and cheerful. So lovely and cheerful, in fact, that many of you watching the show might have brushed aside or even missed the flashback to the uncomfortable moments surrounding Williams' kiss with Carrie Bickmore, 35, a couple of years ago.
Partly, perhaps, because of Williams' charms. And partly, perhaps, because Bickmore was lightning fast to steer the conversation well away.
The program cut to the famous interview from 2014, when Bickmore questioned Williams about kissing a number of male presenters during his press tour.
In the clip, before she finished her sentence, the singer leaned in, held a reluctant Bickmore's head in place and planted a kiss right on her lips.
Williams quipped at the time, "She pulled away. It was nearly a sexual assault."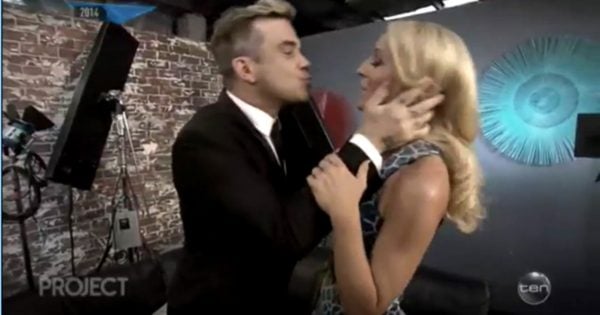 Source: Channel 10
After the replay of the footage ended, Williams made a joke that drew gasps from the audience.
"It's the Donald Trump school of entertainment, that is," he said.