There's one thing that's guaranteed when you walk into an interview with KIIS FM's Kyle Sandilands: you're going to be asked a lot of awkward and personal questions about sex.
READ ALL OF ROSIE'S BACHELOR RECAPS HERE.
Especially if your name is Richie… and you just happen to be competing to find love on national television… and you're about to go public with the girl you've been secretly dating for two and a half months.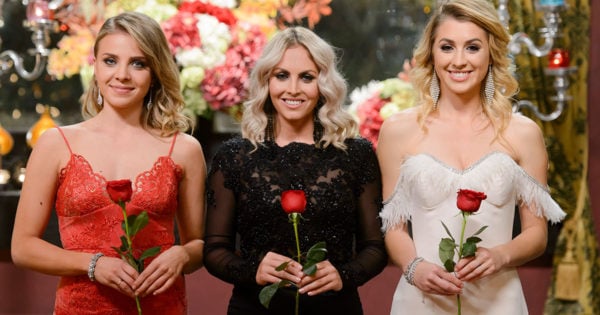 *Insert awkward Richie laugh here*
Kyle wasted no time in asking how Richie's sex life with the eventual Bachelor winner was panning out.
"What was it like the first time you entered her, sexually?" he asked.
"Jesus Kyle, mate, you know what I'm like!" a shocked Richie responded.
'Villain' Keira makes an appearance on the latest episode of Bach Chat.
"I'm a pretty pure kind of guy! I had to confirm that none of the girls had seen whether my carpet did match my drapes last time I was in..." he continued, referencing the fact that an eliminated contestant had said Richie had been with "a lot" of girls in the Bachelor mansion.
When Kyle couldn't stop talking about Richie and Mrs. Bachelor getting it on, Richie fired back.
That time Alex had a 'chocolate bath' with Richie. Post continues after video...