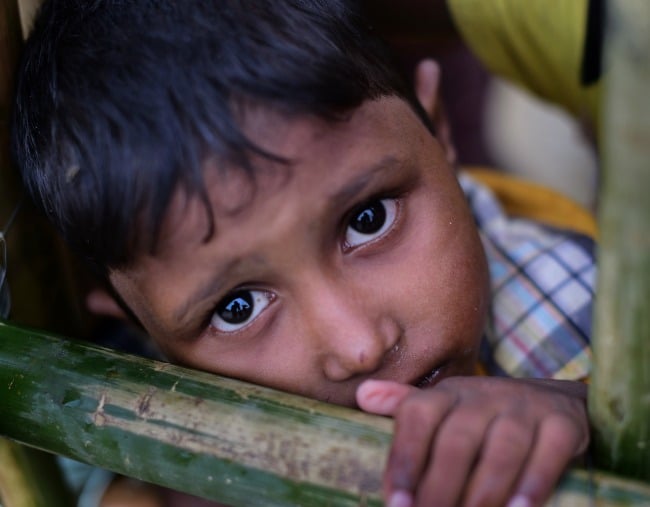 This article deals with mental health and may be triggering for some readers.
It's called resignation syndrome. It's when children are so traumatised by their situation that they stop talking, stop eating and slip into a state of hibernation. And it's happening right now with children on Nauru who have been sent there by the Australian Government.
According to a BuzzFeed report, there are a number of refugee and asylum seeker children on Nauru who are showing symptoms of resignation syndrome. One girl was reportedly brought to Australia for medical treatment late last month after she cut herself with a razor and stopped eating and drinking.
"It's one of those very severe responses to stress and trauma," Professor Louise Newman, the convenor of Doctors For Justice, explains to Mamamia. "Usually it starts out as a state of depression and anxiety. It can progress, so children not eating, not talking and occasionally becoming very physically withdrawn and looking as if they're in a semi-comatose sort of state where they're not responsive.
"We think about it as a state of withdrawal, when the world has become unbearable and a child is overwhelmed, and often the family are overwhelmed as well by whatever situation they're in. It's almost like a child going into hibernation when the world is too threatening or dangerous."
Professor Newman says the children feel trapped.
"They are in a state where they have very limited control over their lives, very limited options. They're in a state of what you might call despair and they've got very limited ways of expressing that. It's inescapable."
Resignation syndrome was first identified in Sweden, where it was given the name uppgivenhetssyndrom. It was seen only among refugee children who faced the threat of deportation. Their parents brought them into hospital, terrified that they were dying, but they had no disease that could be diagnosed. They seemed to have simply lost the will to live.
Watch: Myth-busting facts about refugees.
By 2005, more than 400 children in Sweden had developed resignation syndrome, and they lay in silent wards, with feeding tubes attached. Concerned psychiatrists protested the treatment of asylum seekers. The chief of child psychiatry in Skövde, Mildred Oudin, even wrote a poem about children with the syndrome: "Your eyes had seen it all/aged with an old man's weariness without any hope of life in the future."
Swedes watched news reports of children being expelled from the country on stretchers.
Horrified, they signed petitions. Five of the country's seven political parties called for "apathetic" children, as they were known, to be allowed to stay. Policies began to change. Sweden stopped deporting children with resignation syndrome and their families.
In Australia, it's a different story. Politically, things are at "a bit of an impasse", as Professor Newman puts it. And yet she believes that if Australians could see these children on Nauru, they wouldn't want their suffering to continue.
"I think the bottom line is no one likes to see suffering of children, in particular," she says. "I don't think it's something that the Australian public, if they were fully aware of, would support in any way."
Many doctors and other health workers feel they can't keep silent about it.
"It's a tragic situation when you see it unfolding," Professor Newman explains. "From a health professional's point of view, we find that particularly difficult, because our business is wanting to be able to support and treat people and not to harm them."
If you think you may be experiencing depression or another mental health problem, please contract your general practioner or in Australia, contact Lifeline 13 11 14 for support, or beyondblue at 1300 22 4636.