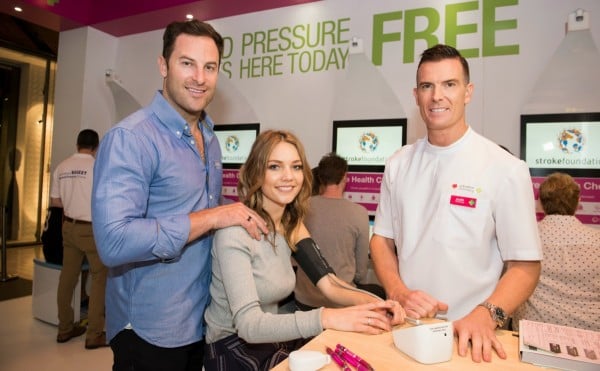 From her days on The Bachelor and The Bachelorette to her current role as half of the Rove and Sam radio show, Sam Frost has become something of a nation favourite.
It's not just because we were all so invested in her 'journey' to find love again (FYI she's still very much in the honeymoon phase with Sasha Mielczarek) but also because of her authenticity. From interviews to Instagram, Frost is passionate about keeping it real and putting her 'fame' to good use by raising awareness of important issues; from her role as Priceline ambassador for the Stroke Foundation's Australia's Biggest Blood Pressure Check campaign as well as mental health advocacy.
She tells us how she deals when she's having a poor mental health day.
1. Firstly, admit that you're feeling a bit wobbly mental health-wise, and that's okay.
"I'll invite my girlfriends, like Sarah, over and even just say to them, 'I'm not having a great day today' and we'll just sit and watch TV. Sometimes we don't even talk about it. Sometimes it's just easier to hang out and have a bit of a laugh because if you don't feel like leaving the house you can invite your girlfriends over and forget about everything else on the outside.
"Going home and seeing my family, even just trying to find the energy to see your family and spend your time with good, quality people is good for me. I just think about how I'm going to feel during and after I've spent time with these people. It's going to be fantastic and I'm going to laugh a lot and feel like myself again."
2. Make contact with the people who make you feel good.
"I surround myself with good people. Being in the media and especially when I first started my job in radio, you feel like people are sitting there wanting you to fail. It's hard to find the strength to say 'I am worthy of this job'. That was an unpleasant period of my life, and you just surround yourself with people who believe in you and think you're amazing. People who bring out a positive side of your personality."
3. Have your support network on speed dial.
"I can always go to Sasha, he's honestly one of the most supportive, encouraging, beautiful men I've met in my life. He is the number one person I can talk to and he's so encouraging, I can't stress that enough. So he's always amazing. But we do live apart and he's a few hours away so if it's not him, it's my sister. She knows me back and front and knows the patterns of my behaviour, when I'm up and when I'm enthusiastic and excited, and she also knows when I might be going through a bit of a tough time.
Watch: The phrase that can turn your anxiety on its head. Post continues after video.