Ever scrolled through your Instagram feed and wondered just how good those 'viral' beauty products really are?
Me too – so I decided to volunteer myself as tribute/guinea pig/good Samaritan and see whether they can be translated in real life or if they're best left to the Instagram world.
Spoiler alert: some turned out better than others.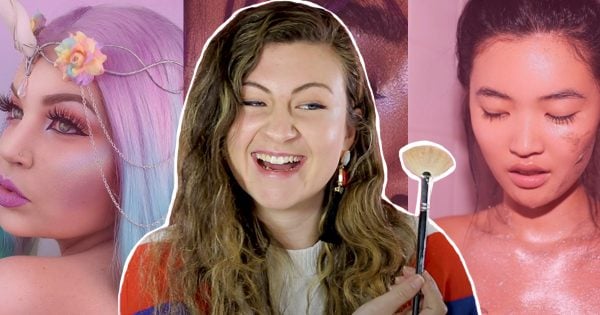 On the testing table this time were a peel-off lip tattoo, a rainbow highlighter and a shimmer scrub made out of the tears of unicorns (probably).
Check out the video above for the first impressions and results.
I was pleasantly surprised by the Frank Body Shimmer Scrub, $19.95 (currently out of stock but hopefully being brought back soon). While the sandy-like scrub features bits of glitter, the result on the skin is actually really beautiful and subtle and would be perfect for summer.
The Models Prefer K-Beauty Peel-Off Lip Tattoo, $12.99, is novelty fun that's actually worth the mess. The stain lasted a good 24 hours, held it's colour and not going to lie - it was pretty fun to peel off.
Then there's the Models Prefer Soft Touch Powder in Rainbow (currently unavailable).
I wanted to love it - and maybe I just didn't master it - but I honestly looked like I'd done a cheek-to-cheek kiss with a smurf. No matter where I swiped, I ended up with a sparkly bright blue stripe on my cheek.
If you're creating an artistic look or like your highlighter very, very, very bold then it's worth a try. The actual texture is very fine and blendable and it does look pretty.
But for every day in the office? Probably not.
What viral/popular on Instagram beauty products would you like us to try next?