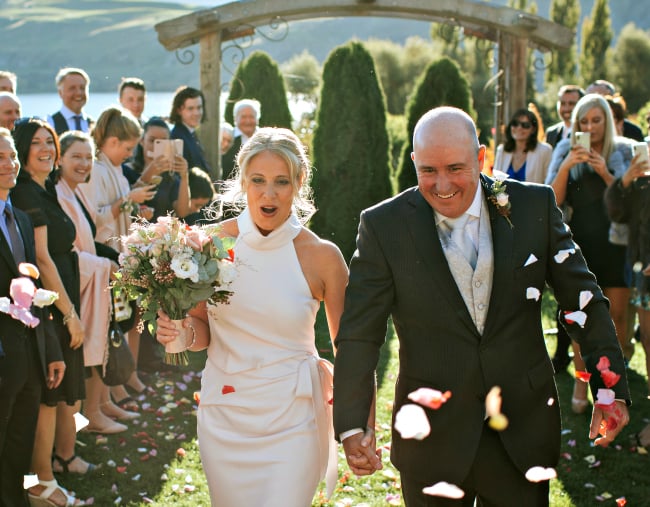 In honour of Mamamia's wedding planning podcast Hitched, we wanted to celebrate (and perve on) YOUR weddings.
Each week, we'll deep dive into one Aussie couple's wedding day to bring you all the details about the important stuff. From the practical things like the dress and vendors to the words of wisdom they wish they'd heard before their big day, below you'll find everything you want to know. 
Oh, there are lots of beautiful photos too.
This week's Wedding of the Week is Liz and Andy's stunning destination wedding that, for them, was a long time coming. Enjoy! Don't forget to Subscribe to Hitched here.
The basics.
Who: Elizabeth (Liz), 45, and Andrew (Andy), 50, from NSW
Wedding date: April 7, 2018
Number of guests: 94
Photography: Nat Symonds, Alpine Image Company, New Zealand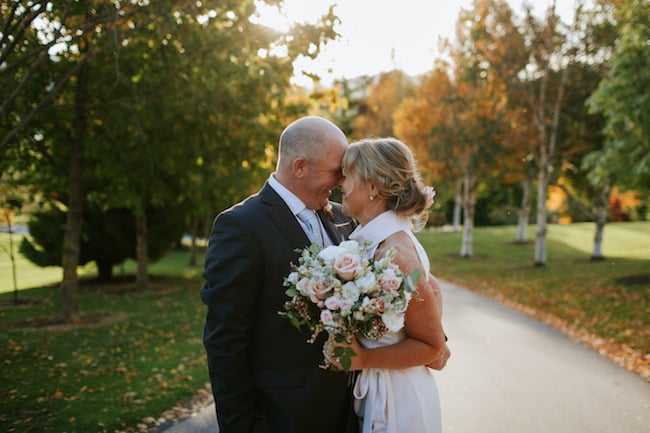 Liz and Andy's love story.
"My dad always says he doesn't know sometimes how I get through life, I must just be lucky! Who knew I could be so lucky and find someone for a second time to take on me and my baggage, and this time at 45! Not that that's old or even that I feel old, but still, it's quite amazing for me."
"To be honest, Dad, you could be onto something there! Seven years ago, our family "got Andy". It was Gus, my son who was five at the time, who chirped up one day at dinner "when did we get Andy", which of course made us all fall about laughing like we ordered him from The ICONIC and he was just dropped on our doorstep.
"Andy and I met in June, 2011 and were helped along by our great friend Janine - although, of course, she claims it was never her intention to set us up. Well done Janine, you did well "not setting us up", clearly you have a gift for this!
"Of course, I'd already decided [after my first partner] that one child was a blessing, a blessing that not everyone gets, and I was content to fly solo. Andy just hadn't found the right woman, he was desperate to be a dad, "rather an old dad than no dad" has always been his slogan.
"Look at us now, he has a sparring partner in Gus, now 12, and Charlotte who is now four and the beautiful little girl Andy always dreamt of. To us, marriage means family, the future and for always."
The wedding dress.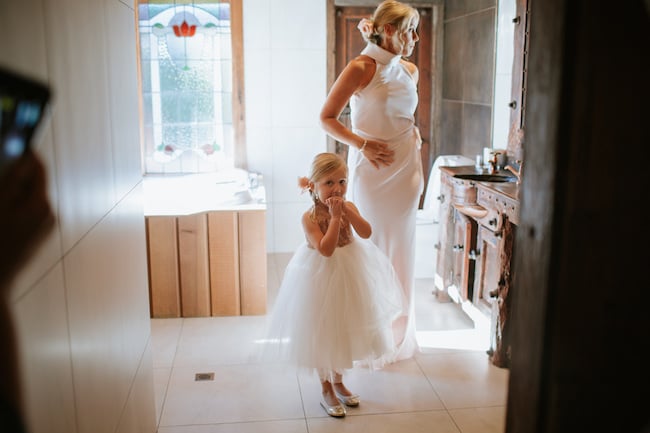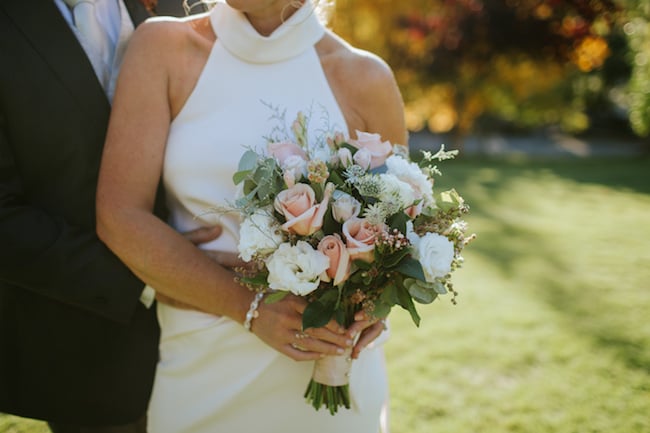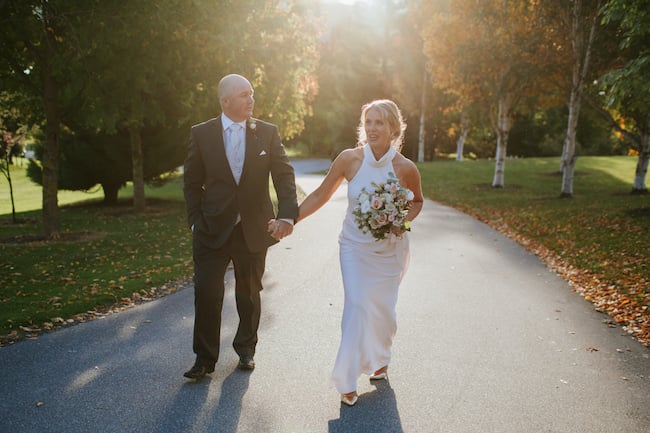 Wedding dress: Camilla & Marc
"My wedding dress was simple and not even from a wedding collection.
"There are many girlfriends I could've taken dress shopping, but only one who wouldn't forgive me if I didn't take her. Kaz and I have worked side by side for 15 years and she's been that big sister to me in all areas of my life, so she had to be involved.
"We saw one dress online, we went to one shop, Camilla and Marc in Mosman in our lunch hour, and that was it, boom done! Of course, true to fashion, Kaz bought a top whilst we were there too (those reading this that know us will chuckle at this).
"The dress was spot on and a soft pink, not white. When I put it on, I had a quiet 'aha' moment. I just knew it would be right."
Liz's bridal hair, makeup and final touches.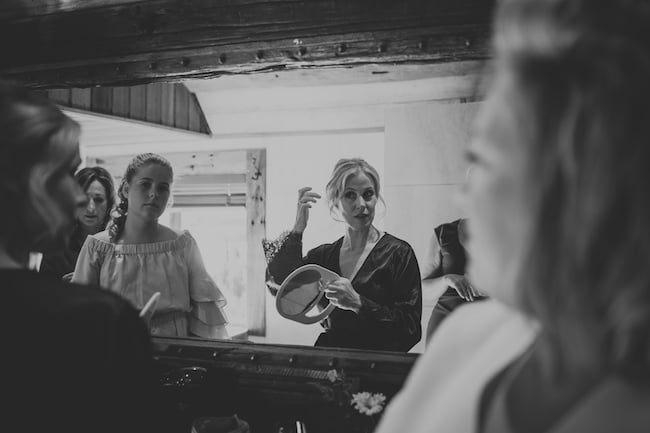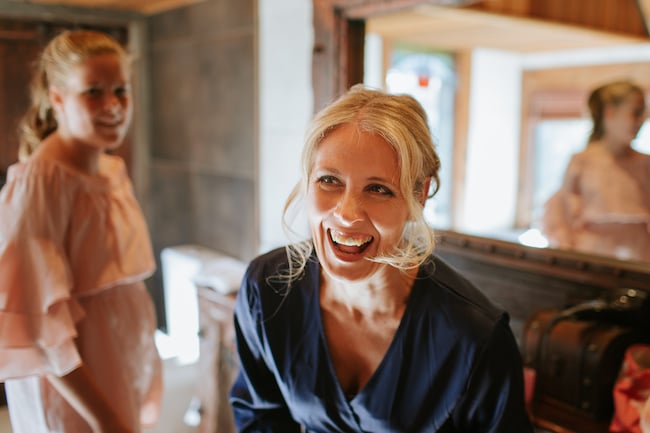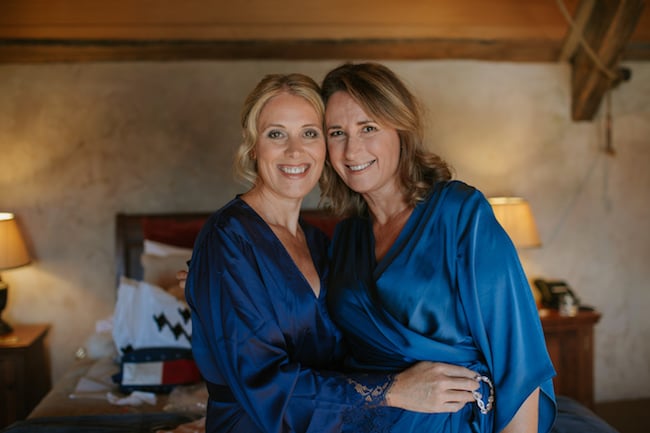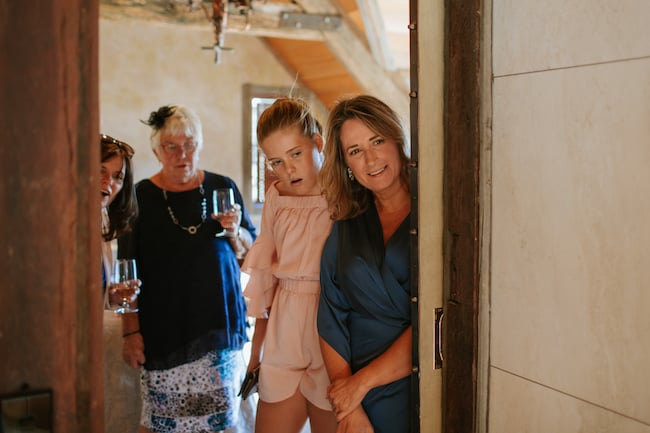 Wedding hair and makeup: Tina Fuller, Crew Stylists, Queenstown
Wedding shoes: New Look - "Cost me nine English pounds, you'd never guess!"
Wedding jewellery: "Just some earrings I'd given away to my mum a couple of years ago, but was nice to borrow them back for that one day 'something borrowed.'"
Other details: "Charlotte and I wore matching white fluffy stolls."
"My bridal style was very simple and easy, nothing too fussy, I wanted to look like me.
"Getting ready was such a wonderful experience. The lovely Tina, who did my hair and makeup,  and I shared a "moment" looking out over the stunning Lake Hayes as she curled my hair. She was a lovely lady who I felt like I'd known for years."
The bridal party.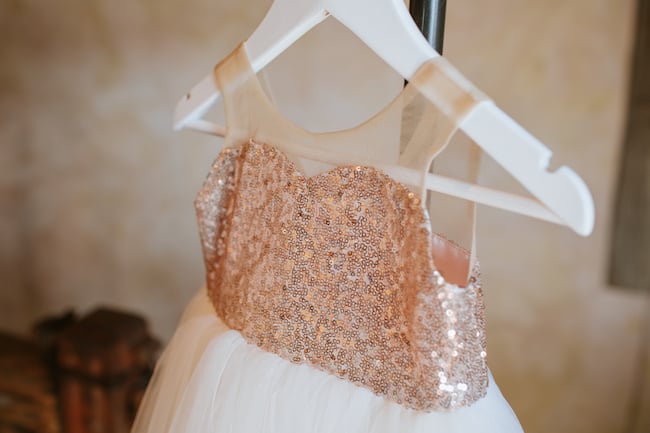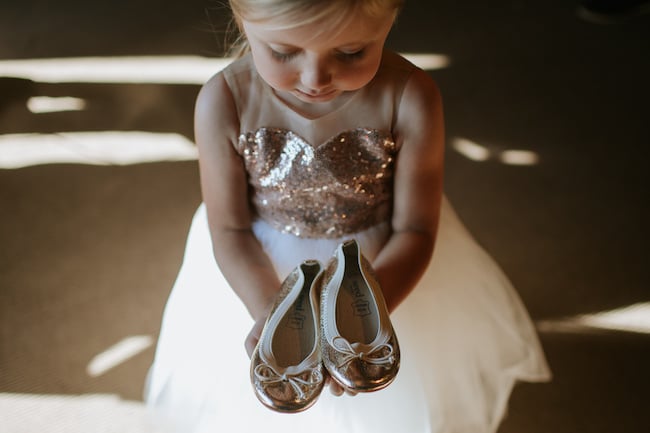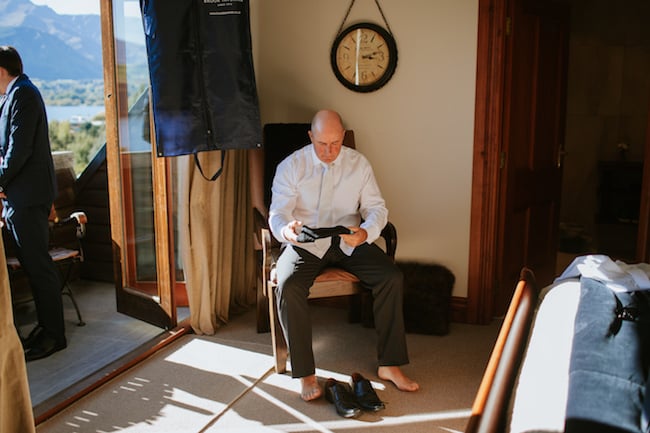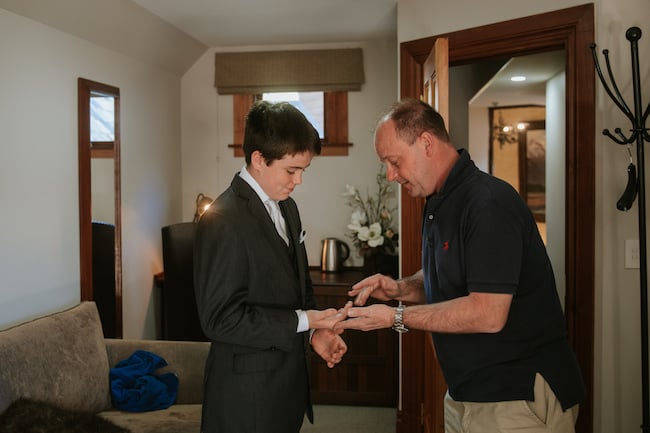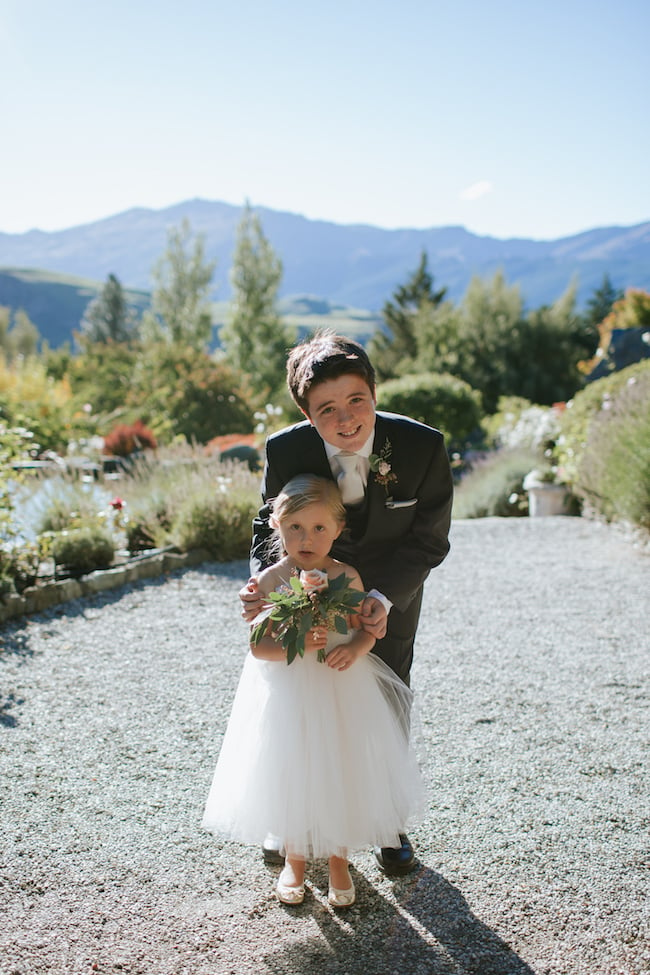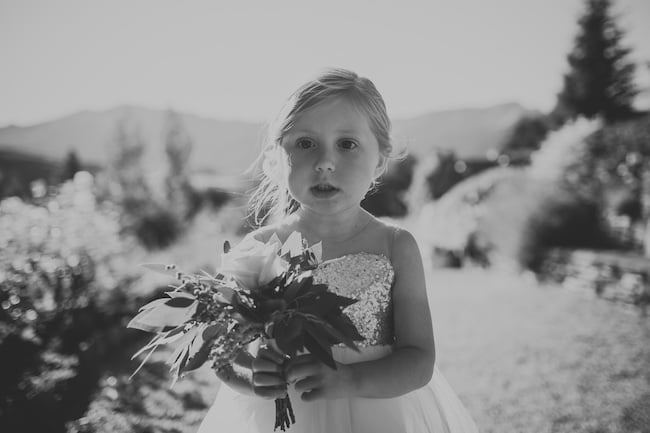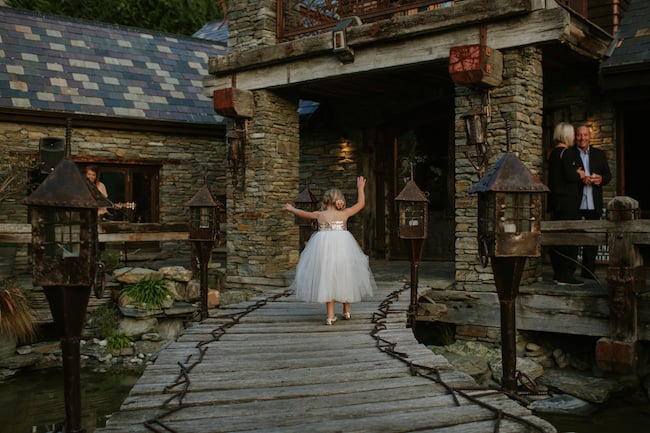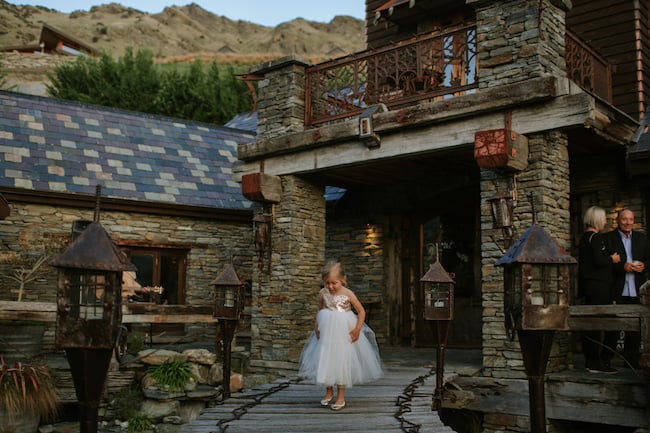 Bridesmaid details: Charlotte's flower girl dress, Marry Me Bridal in Mosman, NSW
Groom's outfit details: Sergios Suit Hire, Queenstown
Groomsmen outfit details: Sergios Suit Hire, Queenstown
"We had lifelong friends and family fly into New Zealand (where Andy is from) from England and Australia to be at the wedding. Our daughter Charlotte was the flower girl and Gus, as handsome as ever, was our page boy, always looking out for his little sister.
"The requirements for Charlotte's dress was that she had to be able to twirl in it, and it had to be sparkly. She also had to have Gus' approval before we bought it. For the men, Sergios Suit hire in Queenstown was really helpful and maintained excellent customer service."
The ceremony and reception.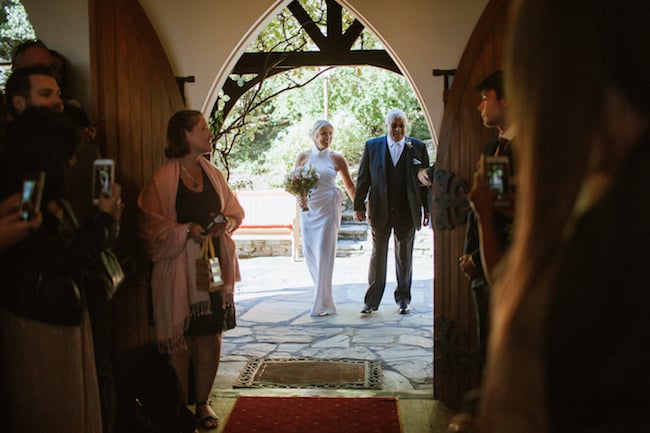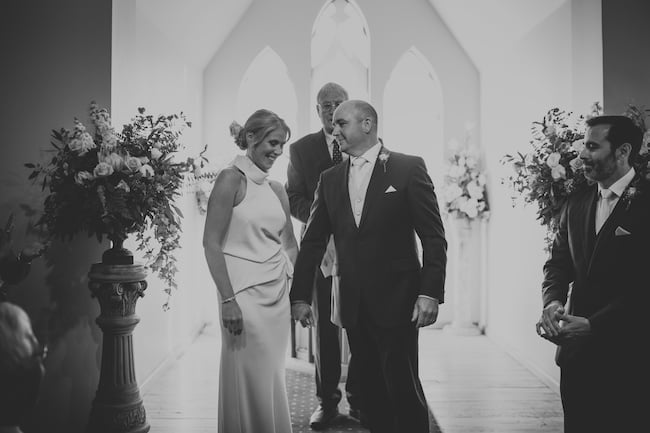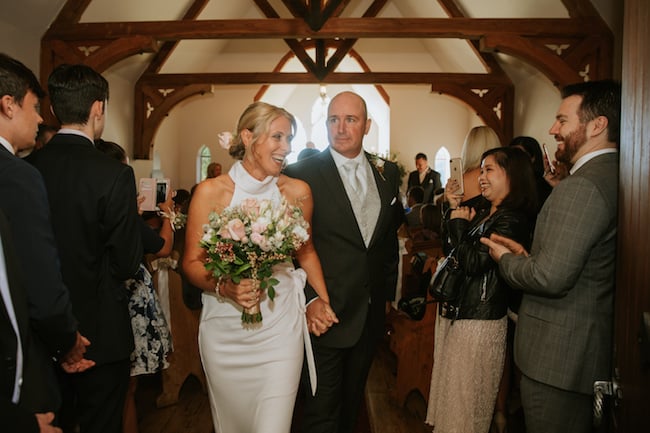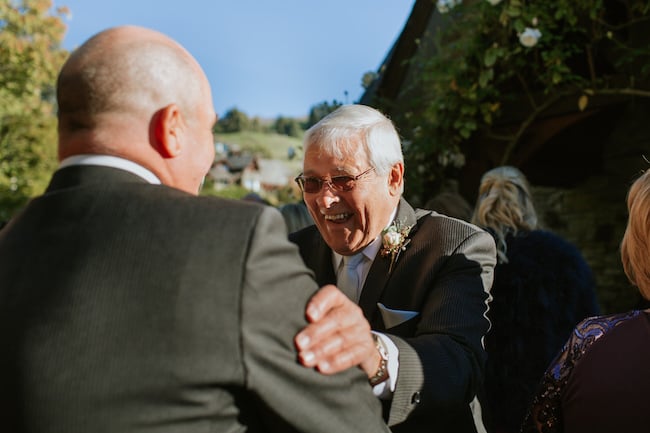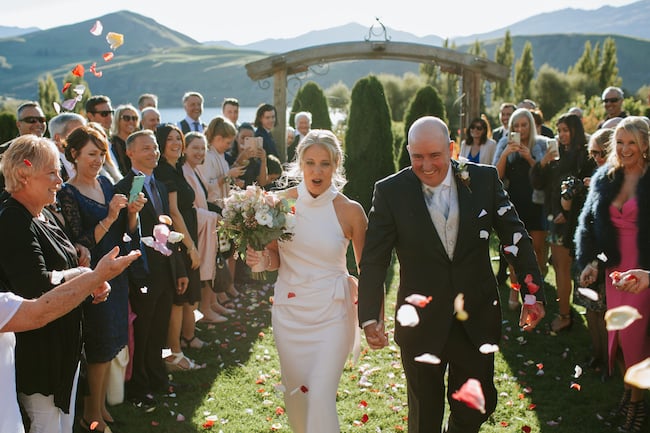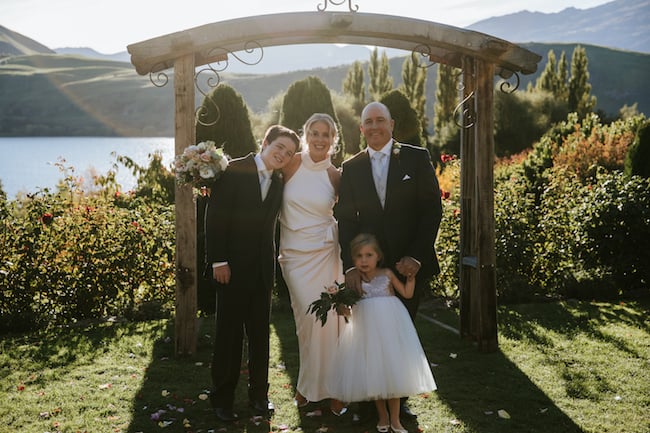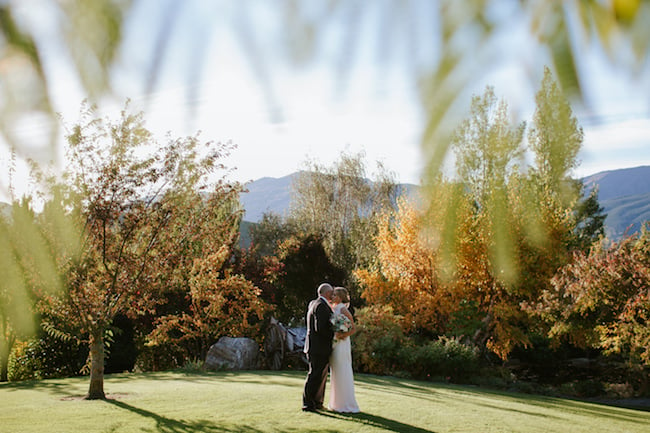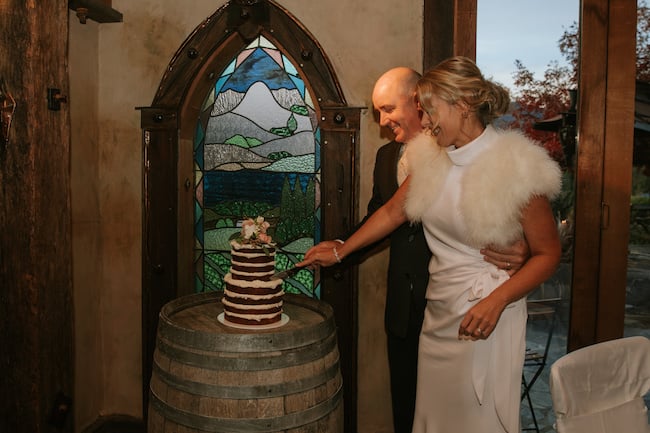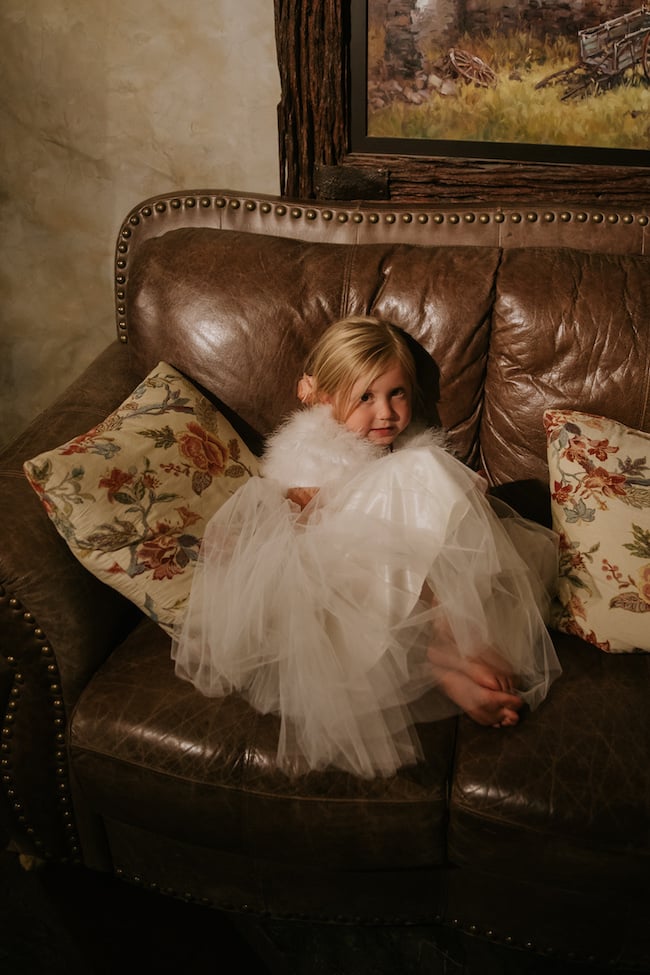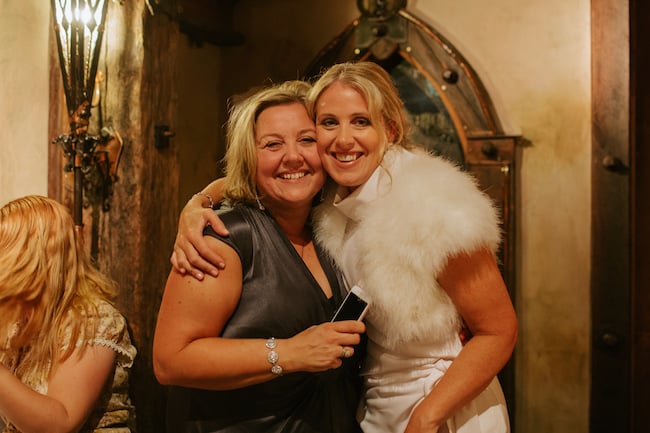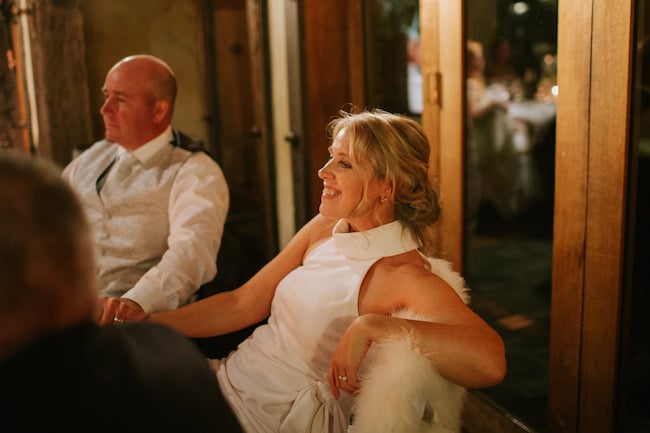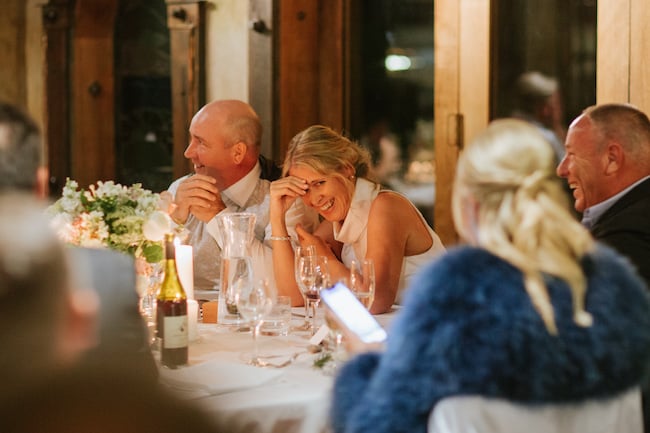 Wedding ceremony venue: Stoneridge Estate,  Queenstown
Reception venue: Stoneridge Estate,  Queenstown
Flowers: The Flower Room, Queenstown
Decor: Stoneridge Estate
Stationery: Liz's ex husband Craig - "He's still my dearest friend."
Wedding cake: Stoneridge Estate
Catering: Stoneridge Estate
"As our wedding was a destination wedding, we had the venue take care of all the details like the decor, catering and the wedding cake.
"Stoneridge Estate in Queenstown is so picturesque with amazing views over vineyards, Lake Hayes and the mountains, it was magical."
The moments that made Liz and Andy's wedding day special.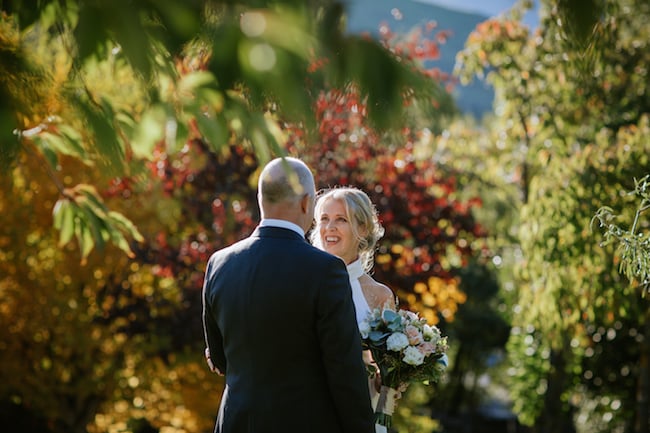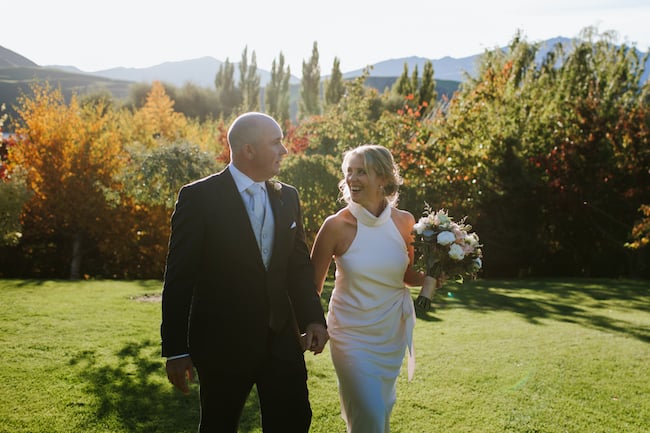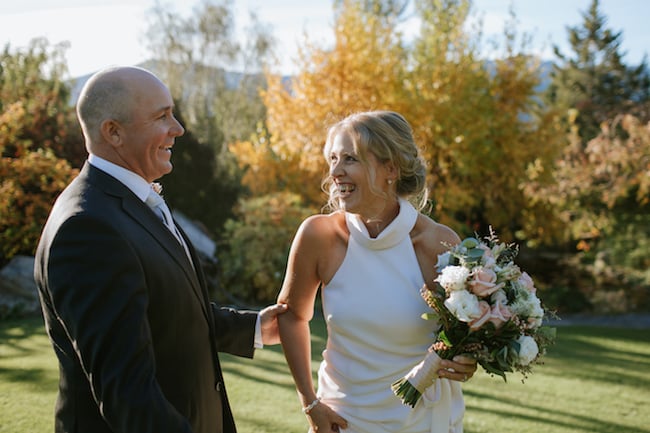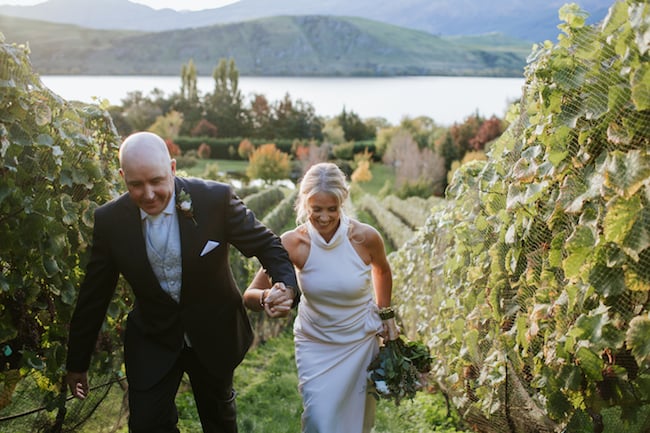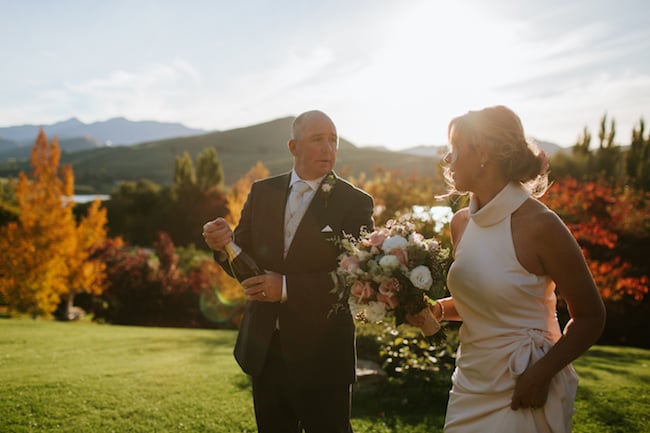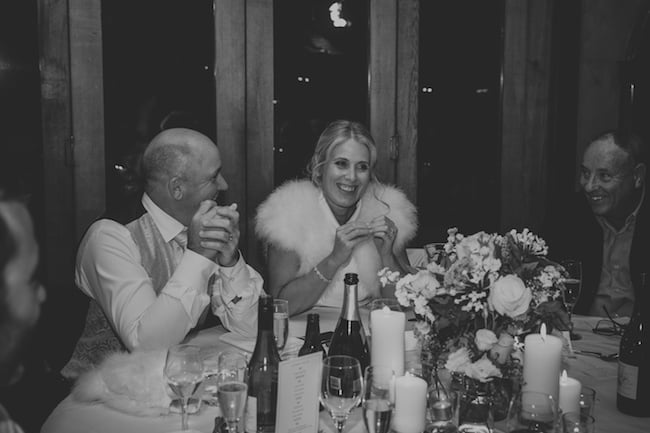 "I felt very chilled, relaxed, with no nerves on the day. I smiled through every minute, I just felt blessed and yes Dad, "lucky". I felt happy, completely happy.
"There were so many memorable moments throughout the day. One particular moment was with mum, as she helped me into my dress. More than anything, Andy and I just relaxing with Nat our photographer, having a champagne and a moment to just take in how lucky we are in that stunning location was everything. Having so many of our dearest friends and family travel so far for us was so special, it was a huge ask.
"My dad walked me down the aisle, dashing as ever in his 70s and not a winkle on his face! Andy chose our first dance song,  'Perfect' by Ed Sheeran, as a surprise. He loves his surprises, he planned our honeymoon as a surprise... what woman would cope with that?! The song was beautiful, it makes me cry every time I walk into H&M and it's playing."
Would Liz and Andy change anything about their wedding?
"Sadly, my brother Alastair and his beautiful little family were unable to make it to new Zealand for the day. If I could change anything, it would be to have had them there with us.
"Other than that, we wouldn't change a thing. Everything, surprisingly, went to plan (which is pretty good for a destination wedding) and it was absolutely worth every penny, and more.
"My advice for brides is, don't sweat the small stuff! You can't and never will be able to control everything on the day, it flies by in a second so try and make the most of it. And as you walk down that aisle, smile at as many people as you can, because they are what's important in life."
All images were supplied by the couple and the Alpine Image Company.
P.S. On this week's episode of Hitched, Aleisha McCormack delivers some hard truths about the bridal party and what brides can learn from bridesmaids who've been there, done that. Get it in your ears below.
Love weddings or getting married and need to ask all the questions about venues, flowers, photographers, wedding dresses, EVERYTHING? Come join Mamamia's wedding planning podcast Facebook group Hitched.