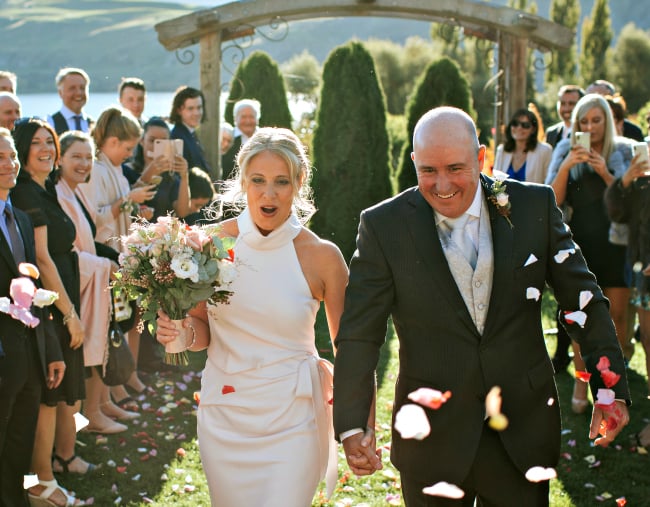 In honour of Mamamia's wedding planning podcast Hitched, we wanted to celebrate (and perve on) YOUR weddings.
Each week, we'll deep dive into one Aussie couple's wedding day to bring you all the details about the important stuff. From the practical things like the dress and vendors to the words of wisdom they wish they'd heard before their big day, below you'll find everything you want to know. 
Oh, there are lots of beautiful photos too.
This week's Wedding of the Week is Liz and Andy's stunning destination wedding that, for them, was a long time coming. Enjoy! Don't forget to Subscribe to Hitched here.
The basics.
Who: Elizabeth (Liz), 45, and Andrew (Andy), 50, from NSW
Wedding date: April 7, 2018
Number of guests: 94
Photography: Nat Symonds, Alpine Image Company, New Zealand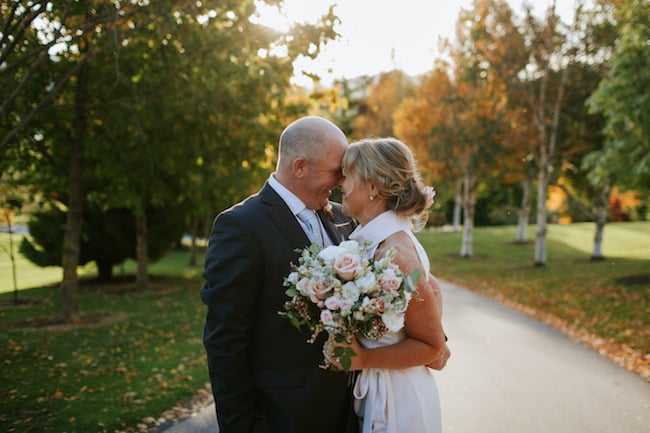 Liz and Andy's love story.
"My dad always says he doesn't know sometimes how I get through life, I must just be lucky! Who knew I could be so lucky and find someone for a second time to take on me and my baggage, and this time at 45! Not that that's old or even that I feel old, but still, it's quite amazing for me."
"To be honest, Dad, you could be onto something there! Seven years ago, our family "got Andy". It was Gus, my son who was five at the time, who chirped up one day at dinner "when did we get Andy", which of course made us all fall about laughing like we ordered him from The ICONIC and he was just dropped on our doorstep.