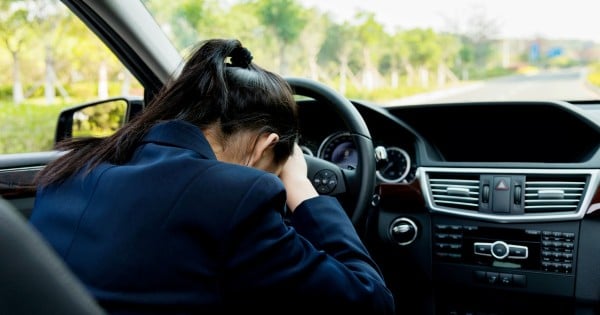 Last week my husband got caught speeding. To many this probably doesn't seem like a big deal. So what? Take the points, pay the fine, move on.
At first, aside from the money, I didn't see it as a big deal either because I didn't see this coming. For me, it has awoken a beast. A beast by the name of Post Traumatic Stress Disorder (PTSD).
I was diagnosed with PTSD in 2015, 15 months after I witnessed a fatal car crash.
At the time of the crash I was shaken. I felt uneasy behind the wheel of a car, I altered my route to work to avoid driving near the crash site, I had nightmares and loud noises startled me. I was reassured by loved ones that this was perfectly normal, and with time it would pass.
But it didn't.
Watch: Tips for helping a partner with PTSD (from a woman who's been there.) (Post continues after video.)
What loved ones didn't know was that I attended, unbeknownst to anyone, the funeral of the girl who I watched die. I saw her face every time I closed my eyes. The nightmares were persistent and graphic. I was avoiding events because I couldn't bear the thought of driving.
And because no one noticed, I let this behaviour go unchecked myself.
Nervousness while driving. A longer route to work. Disrupted sleeping pattern. Unexplained dark feelings. Her face. Her lifeless body. All became a part of my normal daily routine. Part of who I was.
I didn't even consider seeking the support of a mental health professional.
It wasn't that I didn't know they existed, at the time I was working as a Psychology teacher in a Secondary School and often spoke to students about the importance of talking to someone about their feelings.
Rather it was because I was embarrassed. I was embarrassed that something that was far more tragic for others – the girl who lost her life, her family, her friends, the other driver – had consumed me in such a way. I felt selfish.
I don't blame anyone for these feelings, but I know why they happened. (Post continues after gallery.)