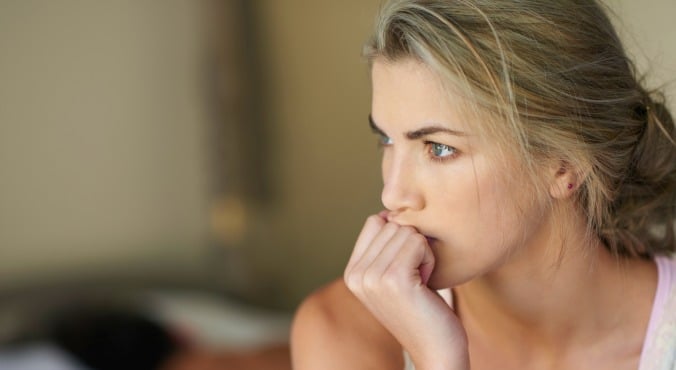 Image: iStock.
Although our understanding of mental health issues like anxiety is greater than it once was, in many ways it's still a complex and often confusing topic — even for the many Australians who regularly experience it.
Here, psychologists share the information and advice they wish more people knew about anxiety, and the most effective ways to cope with it.
1. It's more common than you might realise.
Anxiety can feel like an an incredibly isolating experience, but in fact, the national rates are quite high — especially among women. According to beyondblue, one in three Australian women will experience anxiety in their lifetime.
"We live in a world where every time you speak to someone, they're stressed. When it becomes ongoing and that worry is really getting in the way of the way you live your life, you've got to do something about it [and] make the choice to do something differently," says Danielle Buckley, registered psychologist and senior associate at the Positivity Institute.
2. There's an anxiety 'continuum'.
The term 'anxiety' doesn't describe a single experience. According to registered psychologist Maria Faustino of Marquee Health, anxiety levels often run in a continuum from 'healthy' to 'disordered' — and it's important to recognise the difference.
For instance, you've probably experienced a degree of anxiety before an exam or job interview, and at this level it isn't necessarily a bad thing. "An optimum level of anxiety can actually provide focus and energy to allow us to do our best in these types of situations, and usually passes after the 'stressor' has passed or has been removed," Faustino explains.
However, if this anxiety becomes uncontrollable, excessive or persistent, it can be detrimental to various aspects of your health. "It may impact our ability to enjoy life and achieve our goals, and it can also negatively impact our relationships and self-esteem," Faustino says.
3. The internet isn't always your friend.
The internet is home to millions of pages of health information, and not all of it is evidence-based. The urge to consult Dr Google when unusual symptoms present is only human, but it's really, really not a good idea.
That said, if you're experiencing anxiety the internet can be your ally; Buckley says online resources can be beneficial when it comes to learning about and managing anxiety, but only if they're from credible sites.
"Google is not a diagnostic tool. If you are concerned, though, and you think you're anxious or too stressed … you could get online to beyondblue and read their fact sheets, or [visit] the Mood Gym. It's a free online tool people can use," she advises.
4. Problem solving strategies can be helpful.
Buckley says building on your problem-solving skills is an effective way to manage your day-to-day anxiety. "Take that time to stop and say, 'Okay, what am I worried about, and what is the likelihood that this will actually come through?', then, 'What can I do about this problem?'" she explains.