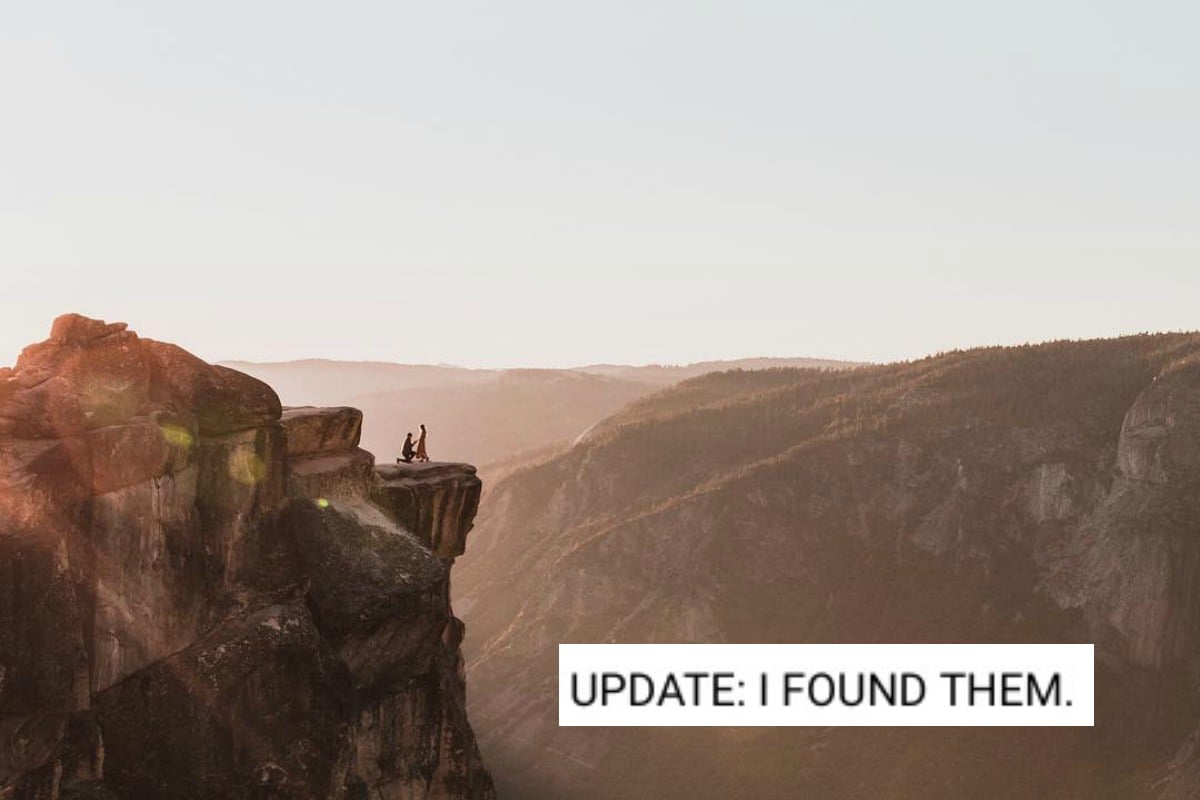 These days we're pretty sure you can't actually get engaged if its not captured on camera and uploaded to social media.
Luckily for one couple, photographer Matthew Dippel always has his camera in hand.
The Michigan man was getting ready to take a photo of a friend in Yosemite National Park in early October when he spotted a couple at a viewpoint called Taft Point and perfectly captured it as the man got down on one knee and proposed.
Dippel told ABC News he ran over to where they were and tried to find them, but after asking two dozen people was unable to track them down.
So, he turned to social media.
Dippel shared his (gorgeous) photo to Twitter and asked the internet to help him find the mystery couple. We know the internet loves a mystery (and a cute proposal) so it was no surprise that his post went viral.
Twitter help, idk who these two are but I hope this finds them. I took this at Taft Point at Yosemite National Park, on October 6th, 2018. pic.twitter.com/Rdzy0QqFbY

— Matthew Dippel (@DippelMatt) October 17, 2018
His original post received more than 375,000 likes and 173,000 retweets.
It took just 10 days for the internet to pull through for him.
"UPDATE: I FOUND THEM," he wrote. He introduced the couple as Charlie Bear and his fiancé Melissa.
"Huge congratulations to you two. I wish I was able to meet you in person and hug you," he wrote. "I'm glad I finally found you to share this special moment with you, thanks for being so awesome, maybe one day we will finally meet in person!"
Charlie and Melissa were of course then flooded with love and congratulations from everyone who had become invested in Dippel's search.
Charlie told ABC News he came across the image by accident when he was strolling through a local news station's Instagram feed. He said he and Melissa love the outdoors, which is why he chose Taft Point as the perfect spot to propose (for the second time!).
 

View this post on Instagram