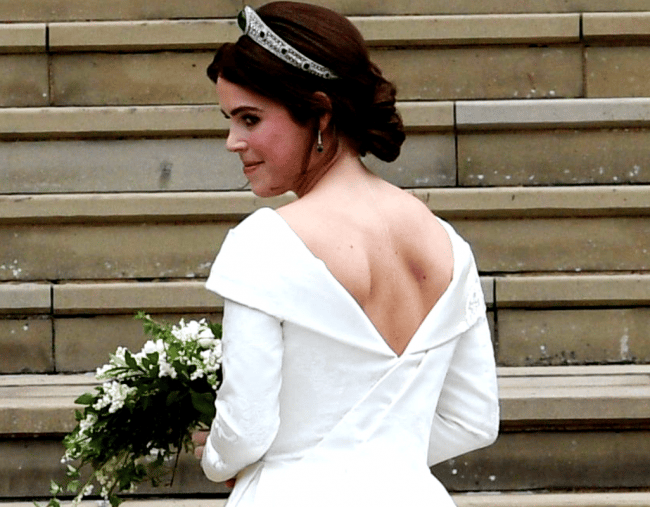 For everything Princess Eugenie and the Royal Wedding, visit our Royal Wedding hub.
As Princess Eugenie stepped graciously out of her Rolls Royce to mount the stairs of St George's Chapel, wedding guests and viewers around the world were simply stunned by the royal's beauty.
She wore a stunning Peter Pilotto and Christopher De Vos gown, complete with a plunging back and full skirt. Perched atop her head – her "something borrowed" – was the Queen's emerald tiara.
But royal fans were quick to point out something traditional missing from the bride's attire.
Just all the best-dressed guests at Princess Eugenie's wedding. Post continues after video…
A veil.
And the reason the modern royal opted not to wear one will warm your heart.
In an inspiring move of body positivity, Eugenie's backless dress sans veil was deliberately chosen to show to the world a single line down the very centre of her back – a scar from her struggles with scoliosis, imprinted on her body at just 12 years old.
#PrincessEugenie weds Jack Brooksbank at Windsor Castle. The bride wears designer Peter Pilotto and the Queen's tiara. :crown::heart:#royalwedding pic.twitter.com/DytwRzkM34

— Arielle Tsoukatos (@arielletsoukat) October 12, 2018
Ahead of her big day, Eugenie said: "I think you can change the way beauty is, and you can show people your scars and I think it's really special to stand up for that."
The princess – who is a patron of the Royal National Orthopaedic Hospital's charity – invited representatives from the hospital to attend her wedding.
She has previously opened up about her struggle with the medical condition on Instagram, posting a photo of an X-ray that shows the several pins and rods surrounding her spine.
In the post, the 28-year-old royal wrote: "Today is International Scoliosis Awareness Day and I'm very proud to share my X Rays for the very first time. I also want to honour the incredible staff at The Royal National Orthopaedic Hospital who work tirelessly to save lives and make people better. They made me better and I am delighted to be their patron of the Redevelopment Appeal."
"During my operation, which took eight hours, my surgeons inserted eight-inch titanium rods into each side of my spine and one-and-a-half inch screws at the top of my neck," she added.
"After three days in intensive care, I spent a week on a ward and six days in a wheelchair, but I was walking again after that," she continued.
The princess shared her hopes that awareness will help make the process less daunting for other children undergoing the surgery.
"My back problems were a huge part of my life, as they would be for any 12-year-old. Children can look at me now and know that the operation works. I'm living proof of the ways in which the hospital can change people's lives," she wrote.
And with one simple gesture – opting not to wear a veil on her wedding day – Eugenie displaying her scar to the world will not only offer hope for those struggling with scoliosis, but remain a powerful lasting image for young women with body insecurities everywhere.