Bookmakers in Britain have weighed in on who will be the godparents of the very tiny Prince Louis, and the odds of Prince Harry and Meghan Markle being chosen are not in their favour.
The christening of the two-month-old baby boy won't be until July 9, but speculation from royal fans has of course begun.
And it turns out there's a good reason why the odds that Meghan Markle will be selected as godmother are only 14/1. And that's because traditionally, royal parents choose close friends or even former staffers with the honour of being a godparent.
Prince Harry, 33, was not made godfather to Prince William and Kate Middleton's first two children. Prince George, 4, has seven godparents, among them Julia Samuel, a good friend of Princess Diana, while three-year-old Princess Charlotte has five godparents, including Prince William's cousin Laura Fellowes.
A bookmaker from British betting company Ladbrokes, Jessica Bridge, explained the odds in an interview with People.
"As with George and Charlotte, [William and Kate] chose close and trusted friends and aides, rather than immediate family members, and the odds suggest that will be the same with little Prince Louis," she said.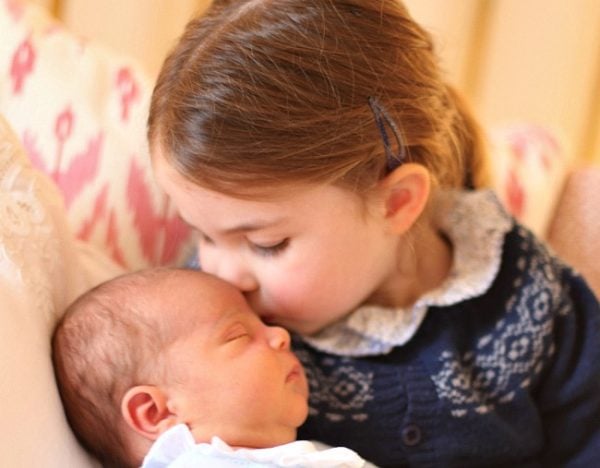 The bookmaker also shared who the most likely godparents are, according to to the betting company.
Tiggy Pettifer, Prince William and Prince Harry's former assistant, is the leading contender. The odds for her being chosen are 2/1.
The 52-year-old was the nanny of the two princes when their mother Princess Diana was tragically killed, and she was a source of strong emotional support for the boys.
Another possibility is William and Harry's stepsister Laura Lopes, the 40-year-old daughter of Camilla, the Duchess of Cornwall. Lopes' young daughter Eliza, who is now 10-year-old, was one of Kate Middleton's bridesmaids in 2011.
As for godfather, a likely candidate is William's outgoing private secretary Miguel Head, with the odds set at 5/4.