For everything Prince Harry, Meghan Markle and the Royal Wedding in one convenient place, visit our Royal Wedding hub.
Prince Harry has been photographed a lot lately – what with his wedding coming up this weekend and all. And this magnification on the 33-year-old that he probably hasn't experienced since well, ever, has allowed us the public to notice some things we hadn't before. Like that he never cleanly shaves anymore – or that he almost always has his hand in a certain position when he's photographed.
The hand position, which some are calling a "nervous tick" and others an "odd" hand gesture, is that Harry often places his right hand on or under his jacket.
Here are just a few examples:
Of course, now that people have noticed the hand placement, body language experts and royal watchers have been coming up with theories for the reason behind it.
According to the experts Good Housekeeping spoke to when they noticed the gesture after Harry and Meghan Markle's engagement announcement, it could be a sign he's uncomfortable - particularly at having his photo taken.
"Prince Harry's arm placed across his abdomen serves as a barrier to separate or distance himself from something that he makes him uncomfortable. In this case, it could be having photos taken," body language expert Blanca Cobb told the publication.
Fellow expert, Traci Brown, agrees, adding the position suggests he's "protecting" his vital organs which "says he's not quite comfortable in the situation".
Then there are those who think it's a sign he's part of the Illuminati (you know, that ancient secret group in Dan Brown's novels) as it's an ancient hand gesture supposed to signal allegiance to the group.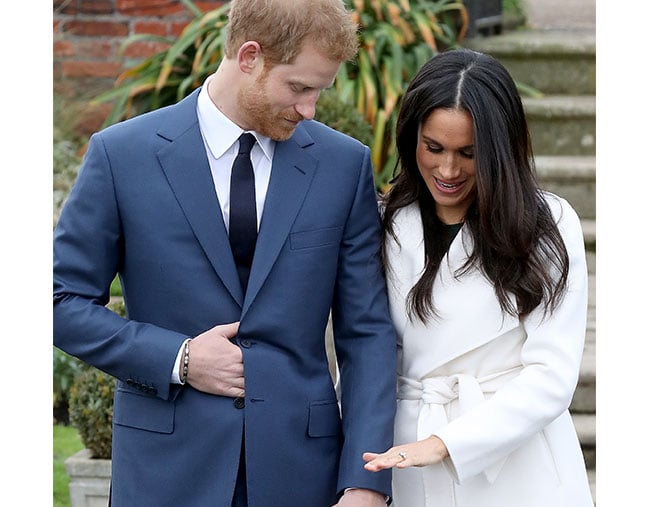 And then there are others who point out that the pose "hand-in-waistcoat" was commonly found in portraits of men in the 18th and 19th century and is associated with Napoleon Bonaparte. So it could just be the way Harry learned to pose for photos and has stuck with it.
Any theories? Please, tell us in the comments.