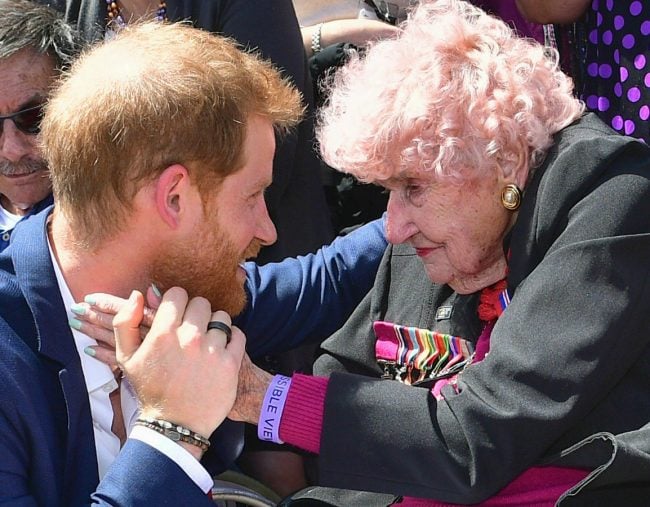 Let's all take a moment to respect the sheer cheekiness of 98-year-old Daphne Dunne.
You see, on Tuesday Daphne met Prince Harry for the third time.
A war widow, Daphne met the Duke of Sussex for the first time in 2015 when he noticed the Victoria Cross she was wearing, and the pair began talking.
"He said, 'I'm glad I came over,'" Daphne recalled. "We were just chatting for a little while and then they kept saying to him, 'We've got to go. We've got to go.' But he didn't worry about that. He just continued on with what he was doing which was talking to me and then when he started to go he gave me a kiss on the cheek."
98-year-old Sydneysider Daphne Dunne has met Harry for a third time in Sydney. Harry introduced his wife to Daphne for the first time today. "Marvellous." #RoyalWatch #7News pic.twitter.com/OgDIKnQpyU

— 7 News Sydney (@7NewsSydney) October 16, 2018
Since, Prince Harry has made a point of seeking her out in the crowd every time he visits Sydney.
When they met again in 2017, Daphne joked that she would like a kiss on the other cheek "because I was lopsided…", and Prince Harry happily obliged.
And on Tuesday afternoon, at the Sydney Opera House, Daphne was introduced to the other woman in Prince Harry's life, Meghan Markle.
"It's fantastic. I'm so happy to finally meet you. I've heard so much about you — all good things," the Duchess of Sussex said to Daphne.
Daphne very much approved of Prince Harry's new wife, saying: "I think it's wonderful, the two of you".
Prince Harry went on to compliment Daphne's shoes and to ask her whether she had dyed her hair a shade of pink because this is THE GREATEST LOVE STORY OF OUR TIME.
Then the Duchess of Sussex made a date with Daphne, adding, "Hopefully next time we see you we'll have a little one with us".
Daphne's first husband, Lieutenant Albert Chowne, died in 1945 during an attack on a Japanese machine gun post in Papua New Guinea.
On the day of his death, Lieutenant Chowne had organised some flowers to be sent to Daphne's work to celebrate her birthday and their first wedding anniversary.
Moments later, Daphne's lieutenant told her she was "wanted at home".
"My heart sank. You were rarely sent home and it was never good news," she told the Canberra Times.
When she arrived home, Daphne was told her husband had been killed. He was later awarded the Victoria Cross.
"I am proud for him but it doesn't make up for everything,'' she told the Sydney Morning Herald at the time.
"I would rather he had remained just ordinary and was alive. He was a wonderful man and a grand husband. I have no plans for the future. It is all dead to me now."
A decade later, Daphne found love again and married Corporal John Dunne.
And – of course – she then met Harry.