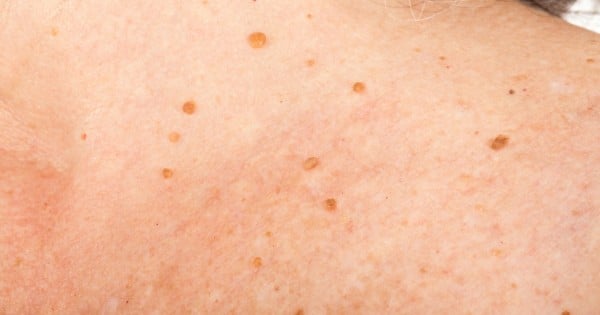 It's no secret that your body goes through a lot of changes during pregnancy. From the giveaway change in your stomach size to the rollercoaster of hormones, there's a lot going on.
We now know pregnancy 'glow' is a legitimate thing, but what about the, ahem, less pleasant changes to your skin?
Here are the four pregnancy skin issues you may not know about.
1. Darkened skin or melasma
It's not uncommon to find certain spots on your skin have darkened.
"Linea nigra (darkened skin in a line up and down the belly button) and darkening of the nipples and areola are very common and is from the pregnancy hormones," says dermatologist Dr Hope Dinh.
"After delivery, this should slowly resolve."
Watch: Jamila Rizvi shares the five pregnancy symptoms nobody warns you about. (Post continues after video.)
Blotchy pigmentation known as melasma or chloasma can also appear on the cheeks, jawline and neck.
"The pigmentation usually fades a few months after delivery but it can persist, requiring lightening cream treatments," says Dr Dinh.
"Some women do also notice that their moles darkened with pregnancy and breastfeeding. This can be a completely normal occurrence but women should see their GP or dermatologist if they have any concerns as melanoma during pregnancy does happen."
2. Lesions, spider veins and skin tags
These can include skin tags, angiomas (benign blood vessel overgrowth in the skin) and seborrheic keratosis (warty brown lumps on the skin).
While they might be unpleasant, they're usually nothing to worry about.
"These are all benign lesions and some may resolve spontaneously after pregnancy," says Dr Dinh.
"Women can also get spider veins on the legs with pregnancy. This happens because of the pregnancy hormones and also the increased volume of blood in pregnancy causes significant pressure on the vasculature and causes these small blood vessels to swell."