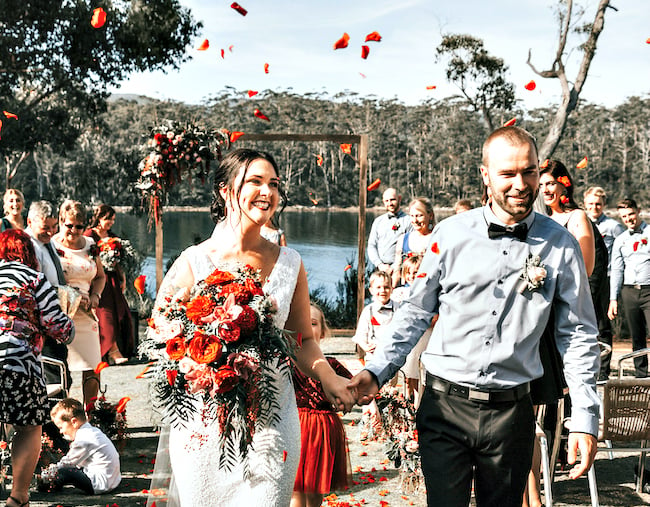 In honour of Mamamia's new wedding planning podcast Hitched, we wanted to celebrate (and perve on) YOUR weddings.
Each week, we'll deep dive into one Aussie couple's wedding day to bring you all the details about the important stuff. From the practical things like the dress and vendors to the words of wisdom they wish they'd heard before their big day, below you'll find everything you want to know. 
Oh, there are lots of beautiful photos too.
This week's Wedding of the Week is Abby and Nick's rugged Tassie wedding. Enjoy! Don't forget to Subscribe to Hitched here.
The basics.
Who: Abby, 29, and Nick, 31, from Tasmania
Wedding date: March 10, 2018
Number of guests: 100
Wedding budget: $30,000
Photography: Ali Davis Photography
"Ali is also a good friend of ours so it was a no brainer he would do our photography! Ali's style is exactly what we wanted. He focused not only on us, but used our amazing scenery as a feature also. We couldn't be happier with our amazing photos! He made us feel so comfortable having our photos taken, and we had such a fun time with him! His attention to detail is something to really be admired."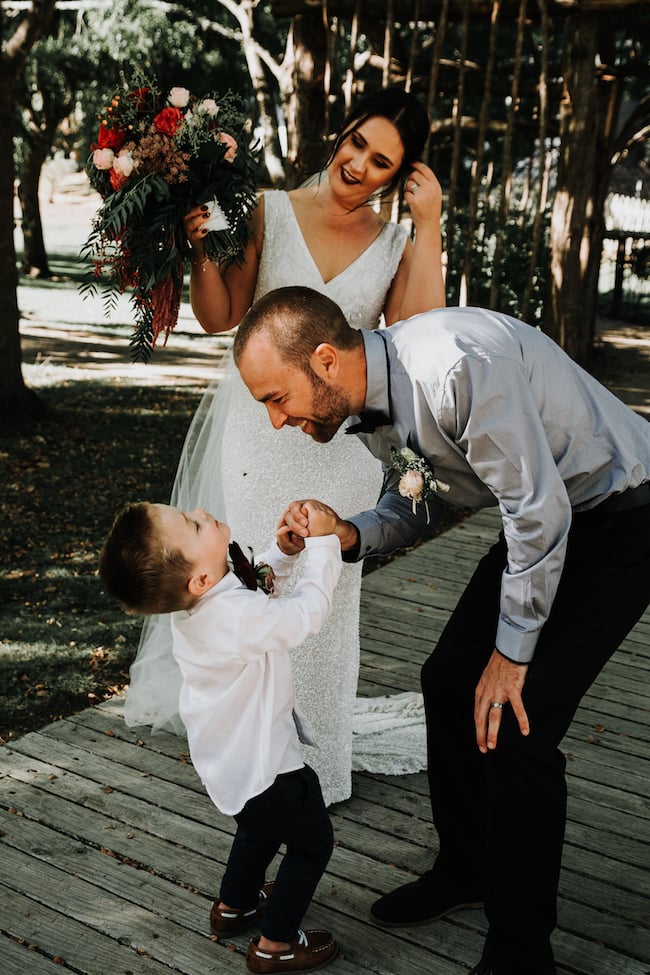 Abby and Nick's love story.
"We met 11 years ago through my now brother-in-law, he and Nick were good friends. I only knew Nick as "the hot guy". I was 18 and he was 20 when we first started dating. We got engaged on March 5, 2017 and had the wedding just over a year later. Really, I've been planning our wedding for years haha!"
"Marriage to us means family. It means acknowledging our love for each other is life long and for no one else. It shows the world we have found our lifelong love. I love looking at my wedding ring, remembering our wedding day and thinking of the love behind it."
The wedding dress.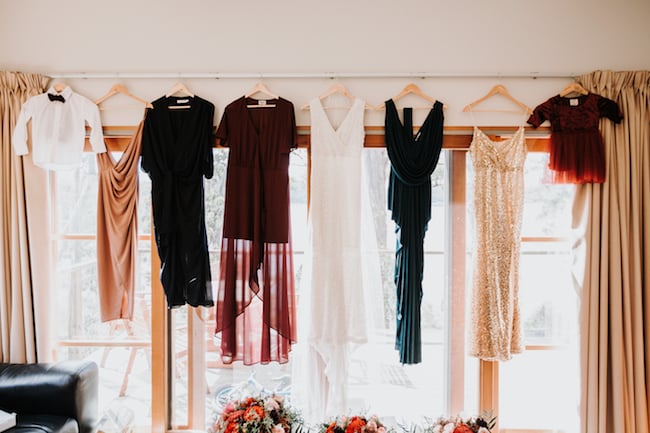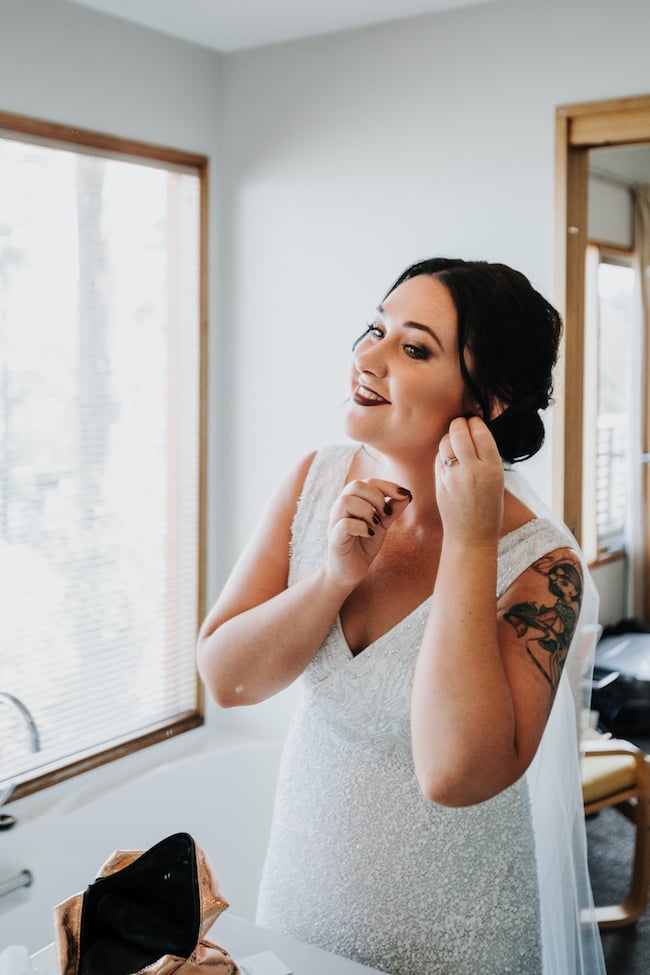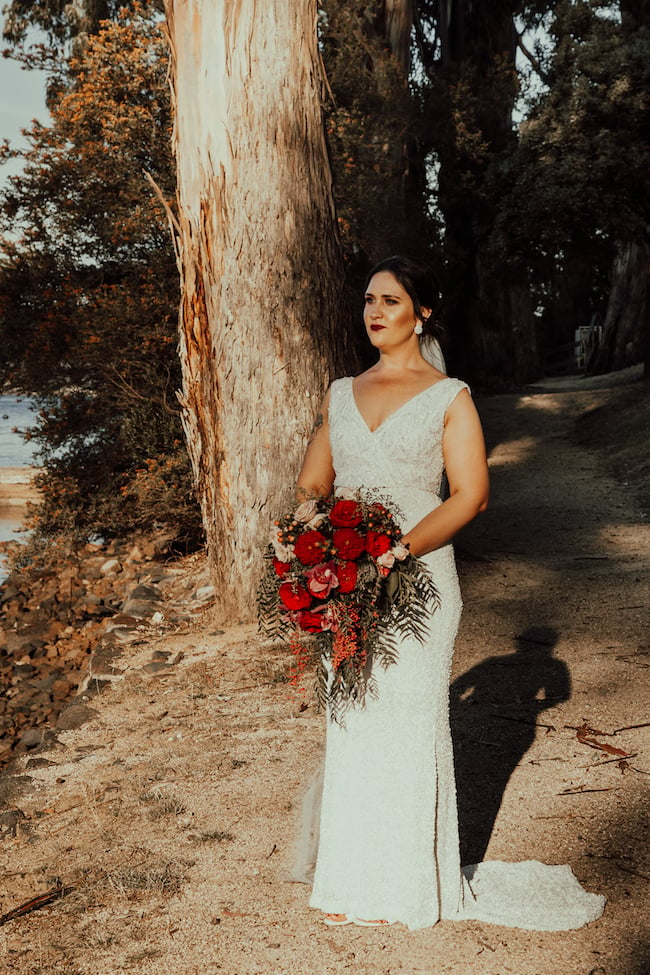 Wedding dress: Rachel Gilbert 'Miranda' gown from Luxe in Hobart
"I got my dress on my first dress trying shopping trip! I had nearly all of my bridesmaids with me, my Mum, mother-in-law, my step mum and another really good friend. I had so much fun, it was an emotional time also, having the realisation that I was going to marry my best friend. A few tears were shed that day.
"My wedding dress wasn't what I was looking for at all. I was looking for a long sleeve lace number, but I was feeling a bit out of sorts when nothing jumped out to me, I was trying on dresses that I had imagine myself in, and they looked pretty blergh. I remember wondering what on earth I was going to wear, even though I knew it was my first time trying on dresses.
"I was encouraged to try the Miranda gown on as a bit of fun because it looked so amazing on the hanger. Boy did I fall in love. As soon as the assistant put the dress on me, I KNEW it was the one. For the first time that day, I felt it, whatever they talk about when a bride "knows" it's the one. I felt amazing, beautiful, elegant and like a bride and I didn't want to take it off."
Abby's bridal hair, makeup and final touches.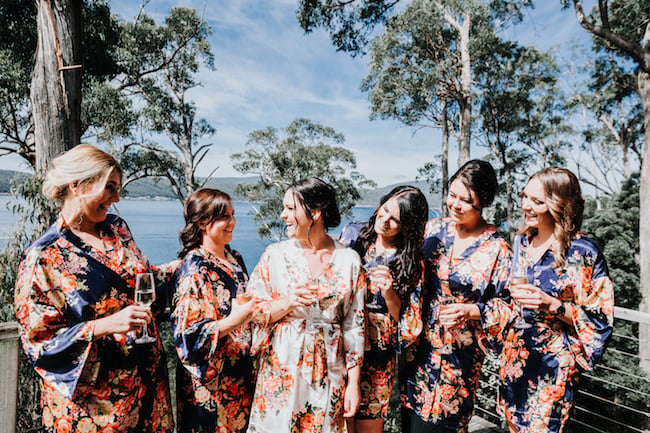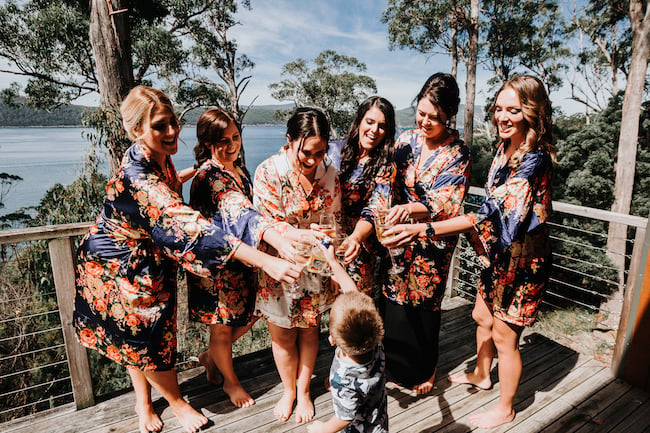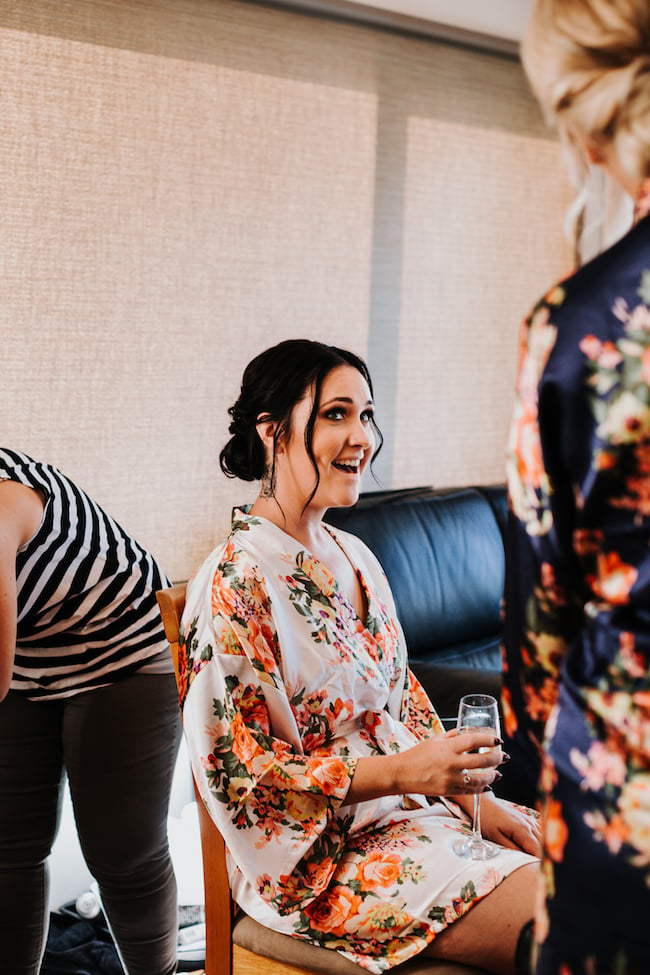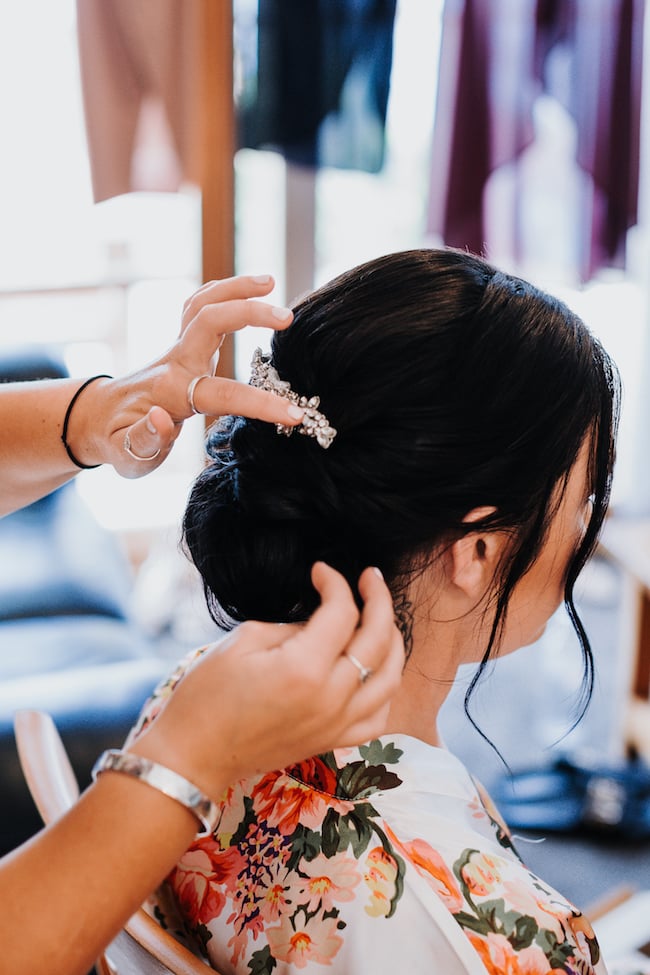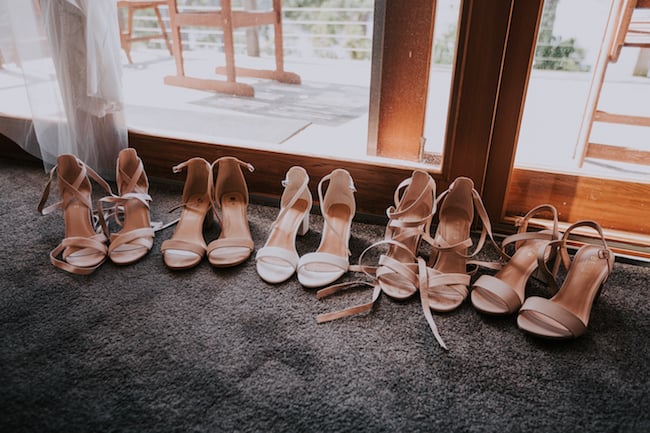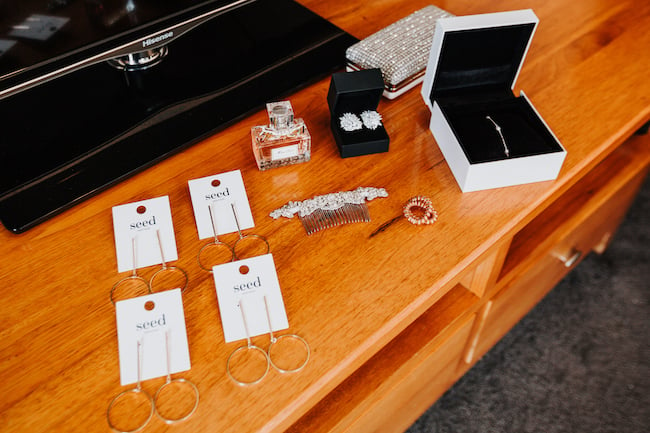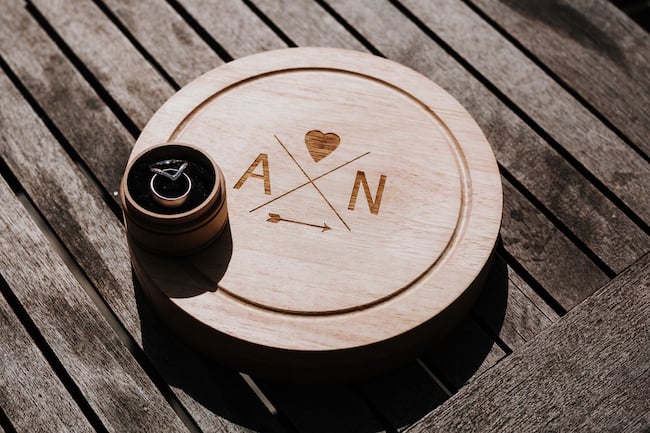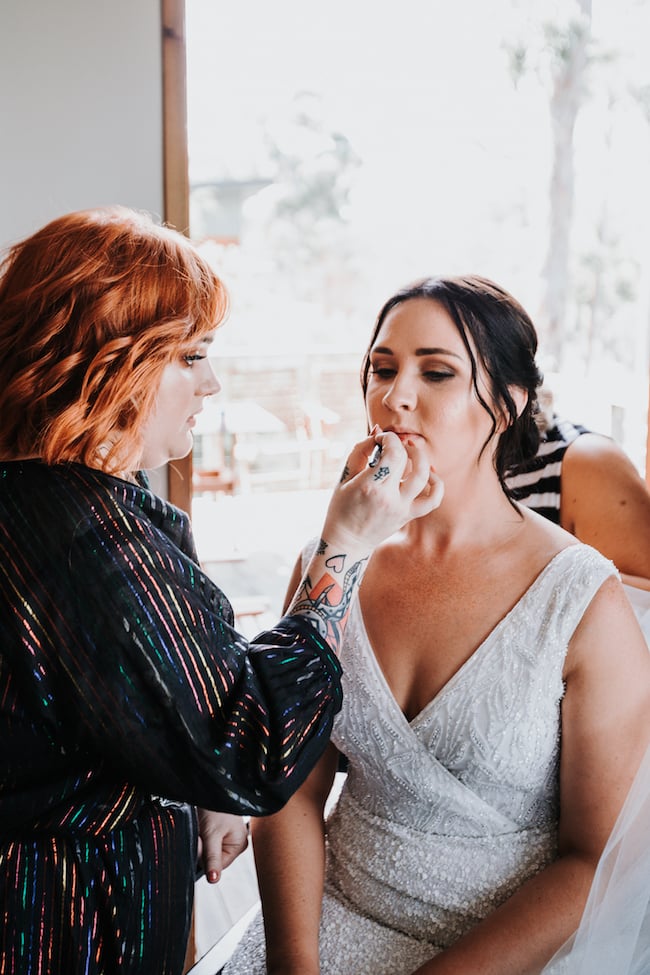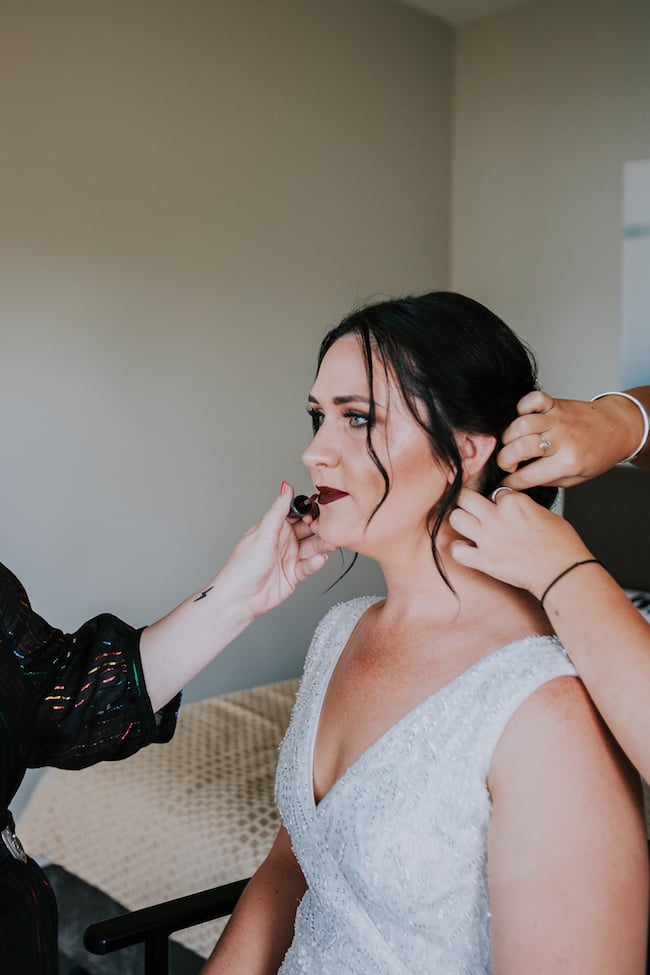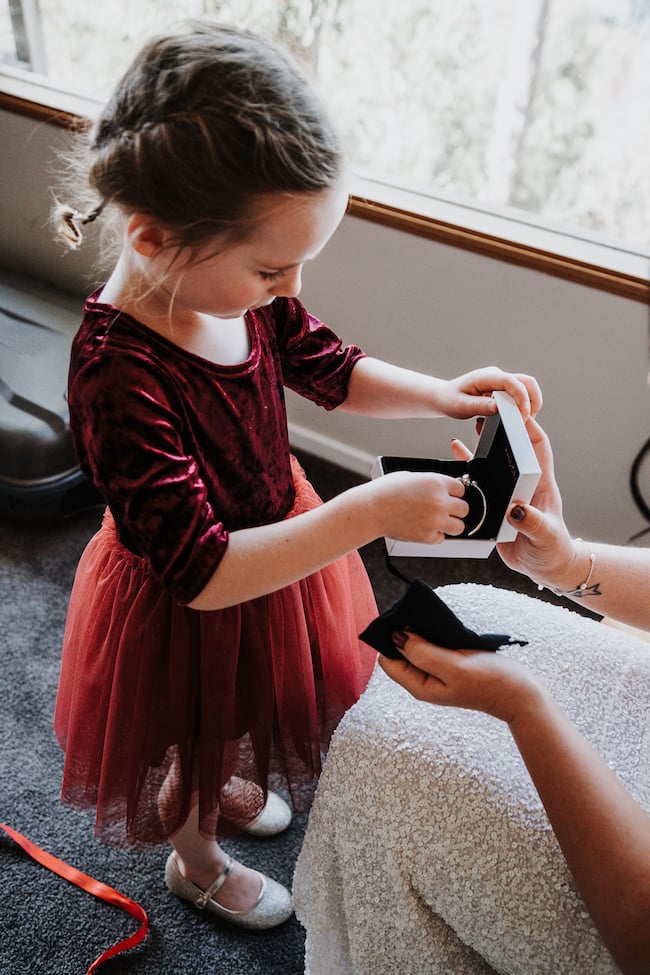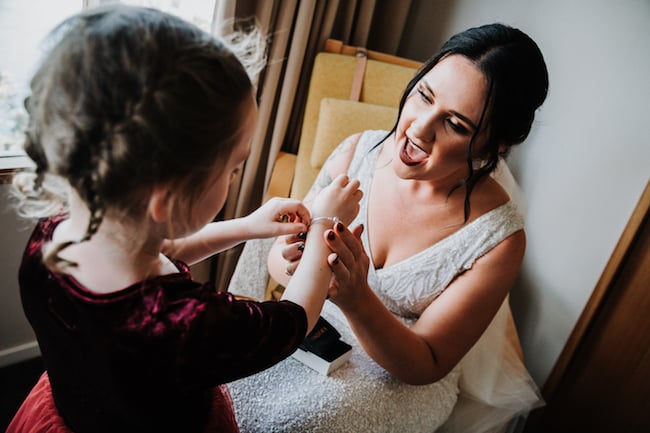 Wedding makeup: Alexandra Edwards
Wedding hair: "My good friend Georgia Graham styled my hair. She did an amazing job and was hiding horrendous morning sickness from us all too!"
Wedding shoes: White strappy block heels from Novo
Jewellery: Francesca earrings, Anna Campbell hair piece, "custom made fresh water pearl bracelet as an engagement present from one of my Mum's best friends."
Veil: Cathedral length veil, also purchased from Luxe
"I wanted to look breathtaking to my husband on our wedding day, I wanted him to see me for the first time and think "yep, there's my beautiful wife". I think every bride does, I wanted to look elegant and feminine."
"I don't have the highest self confidence, I have battled with this for years. But on my wedding day, I felt absolutely beautiful. I felt extremely comfortable and my confidence was booming. For a change, I actually wanted my photo taken, I was proud of how I looked and I was so excited to see Nick standing at the end of the isle.
"On the day, I had my grandma's pearls wrapped around the stem of my bouquet, a special touch given to me by my sister that got the water works going. My sister also made me a handkerchief that had embodied "no ugly crying!" as I am known for pulling rather unattractive faces when I cry!"
The bridal party.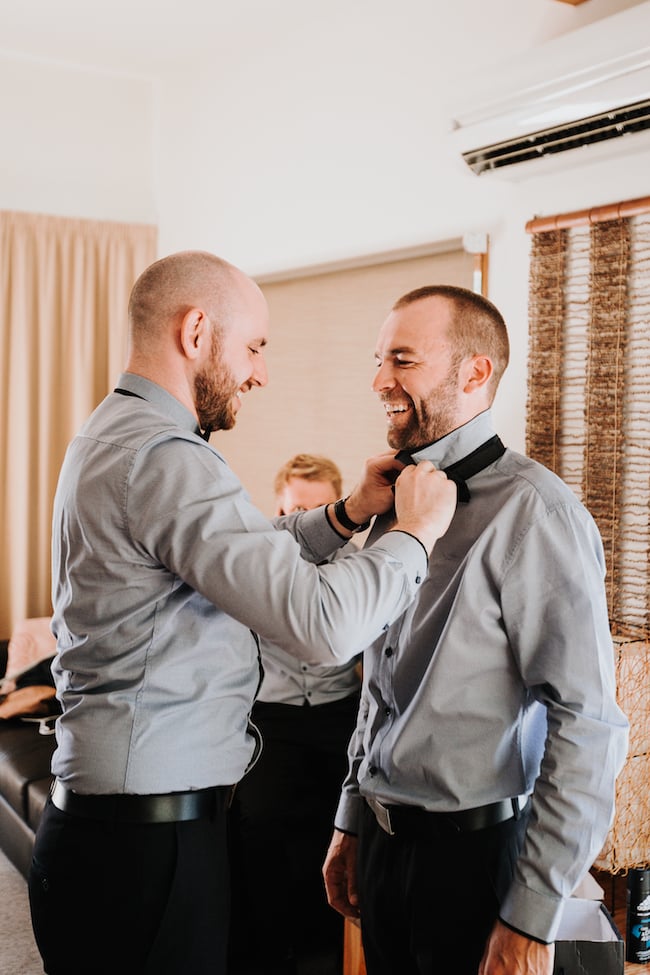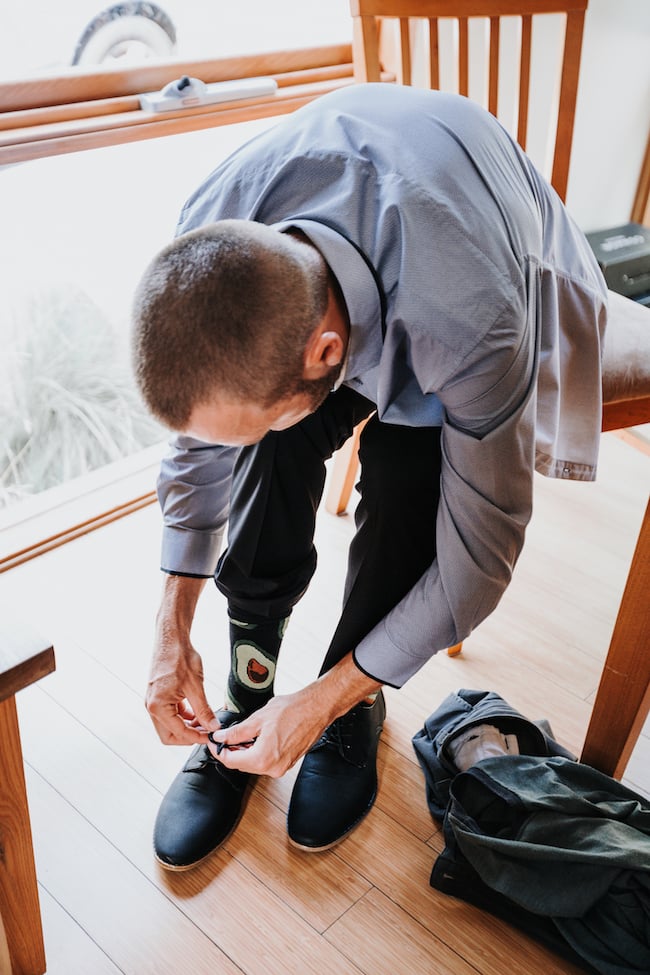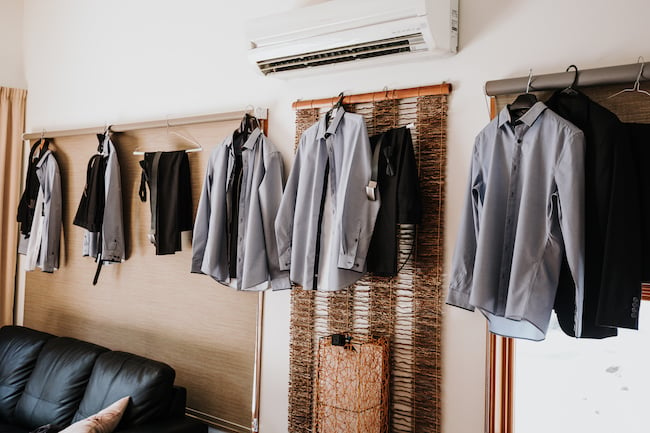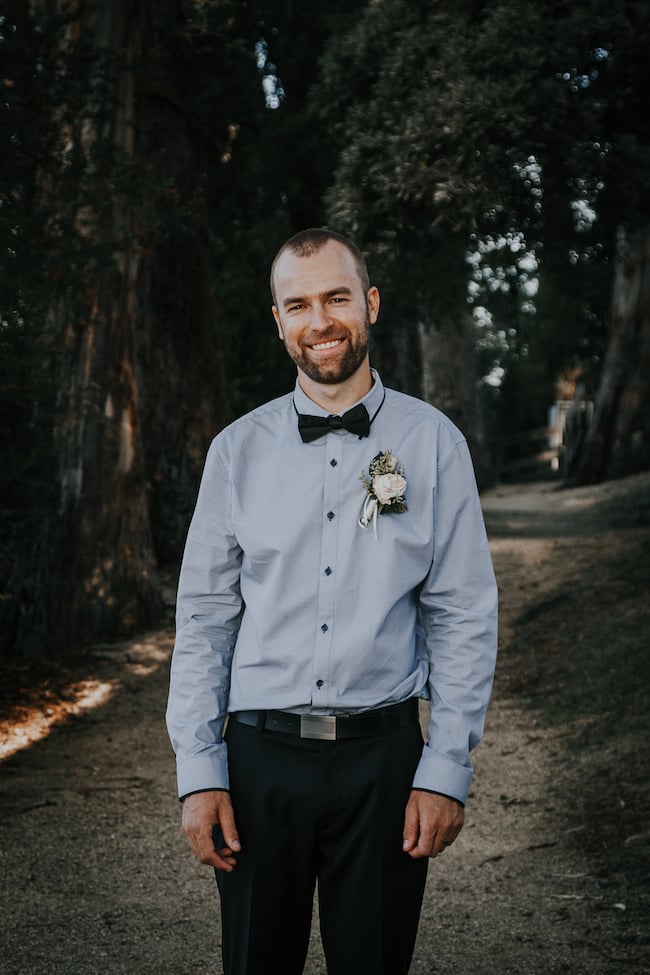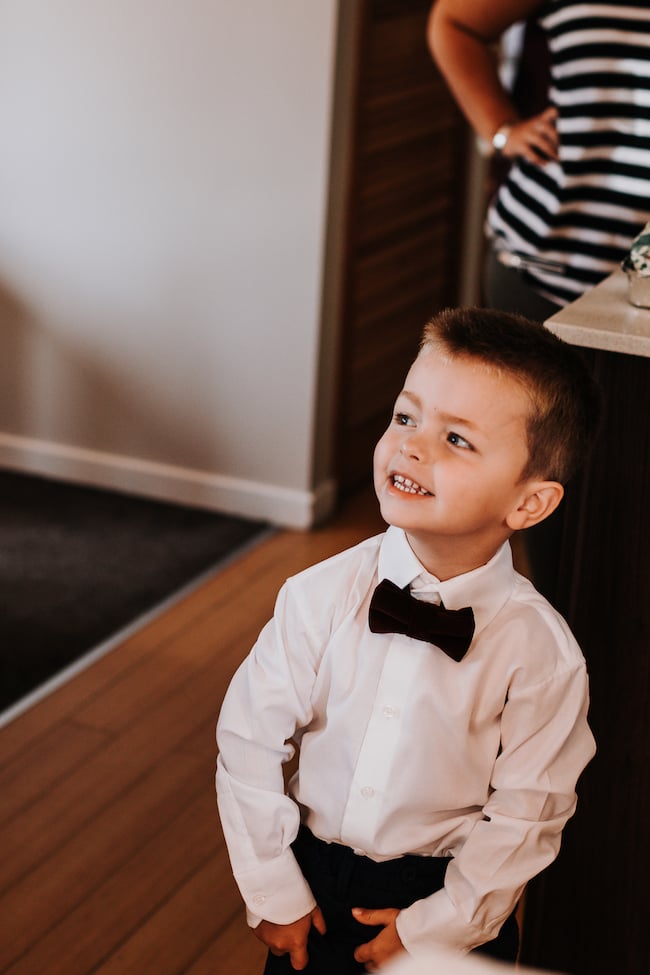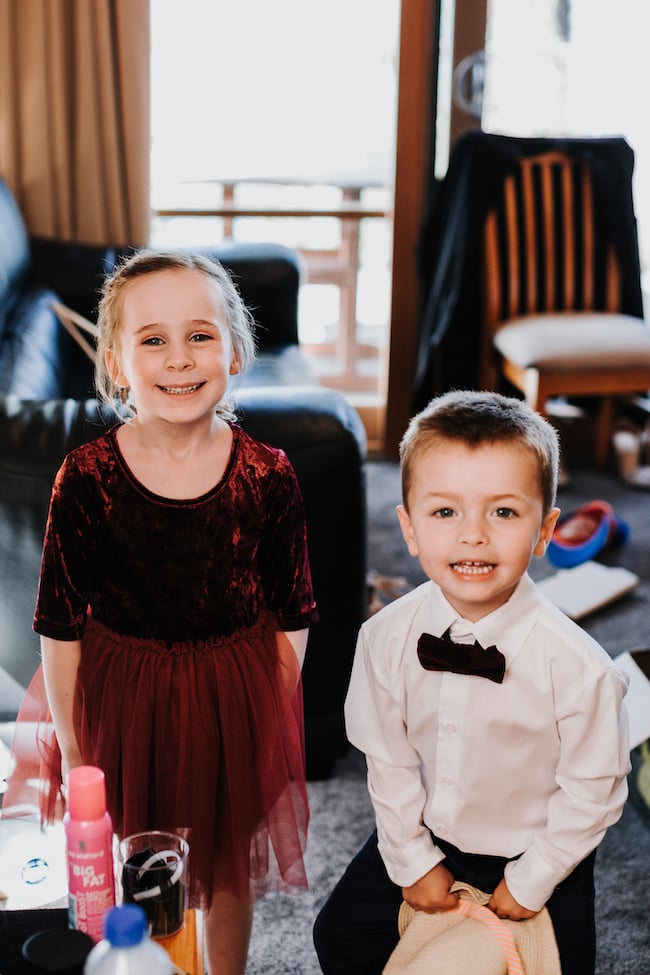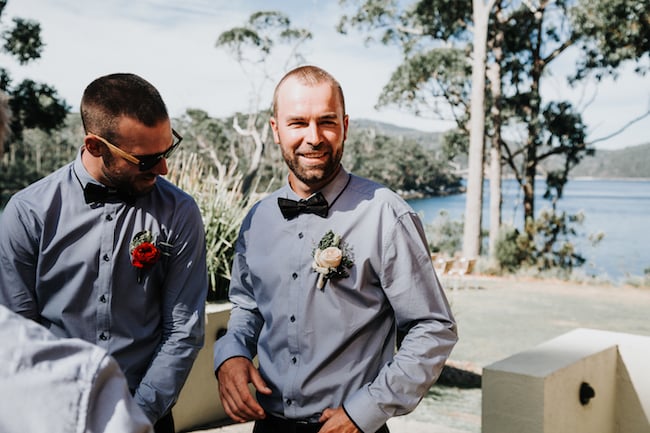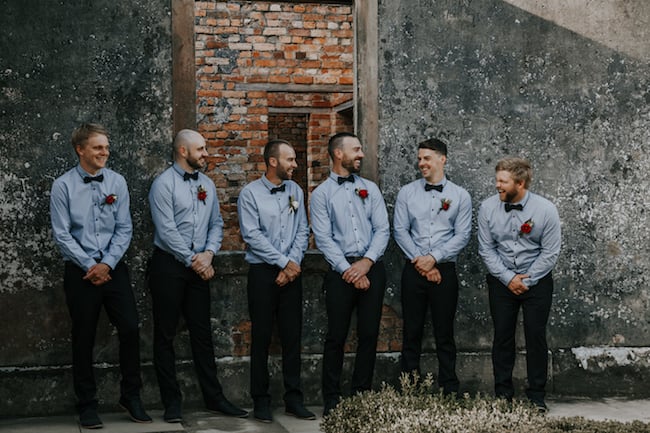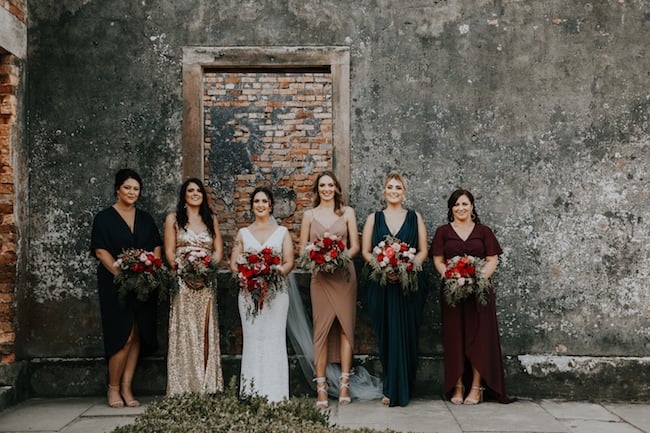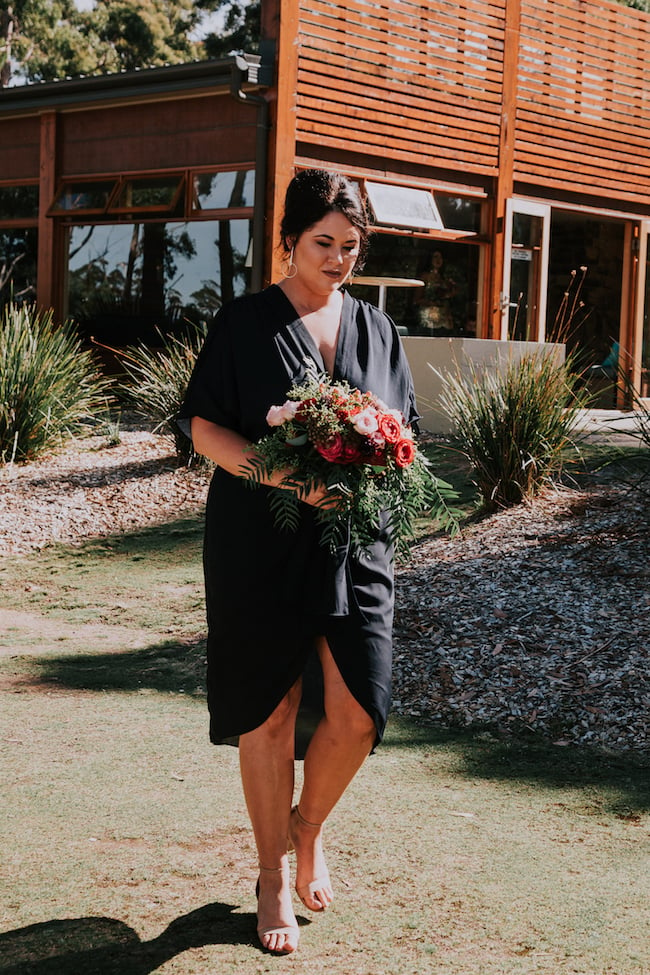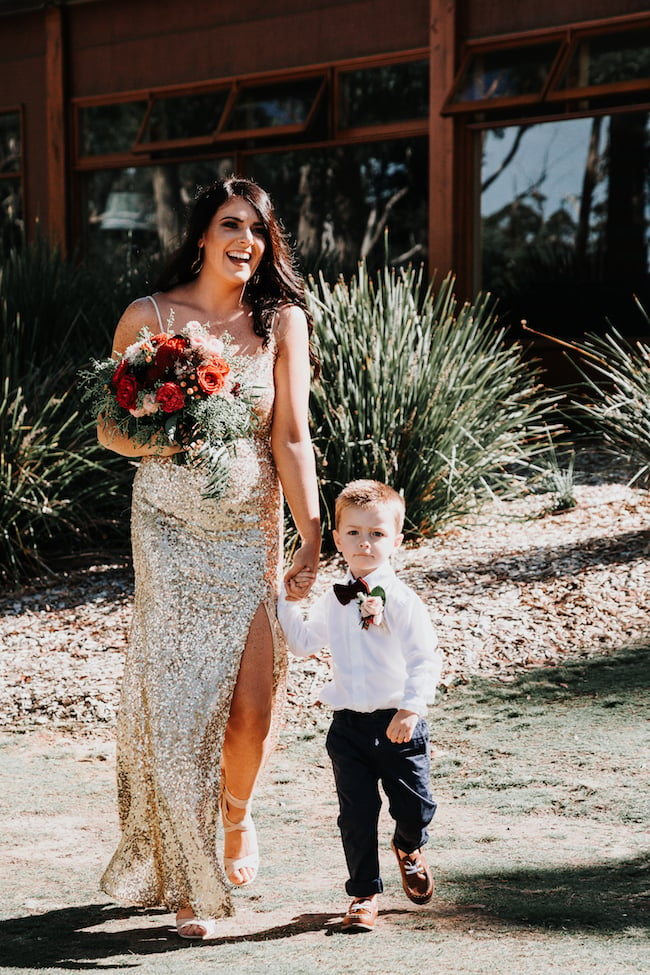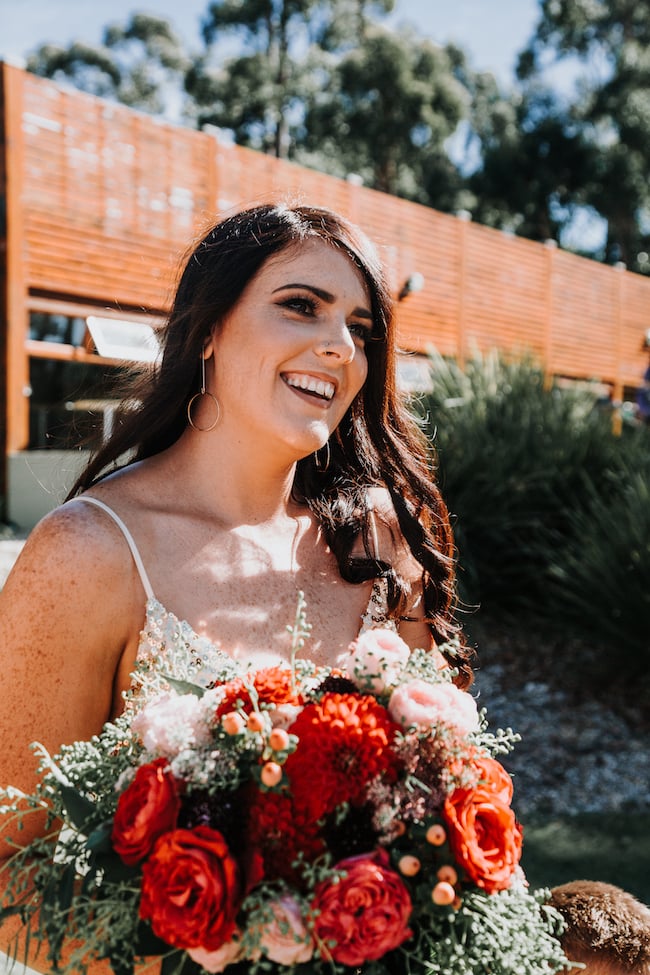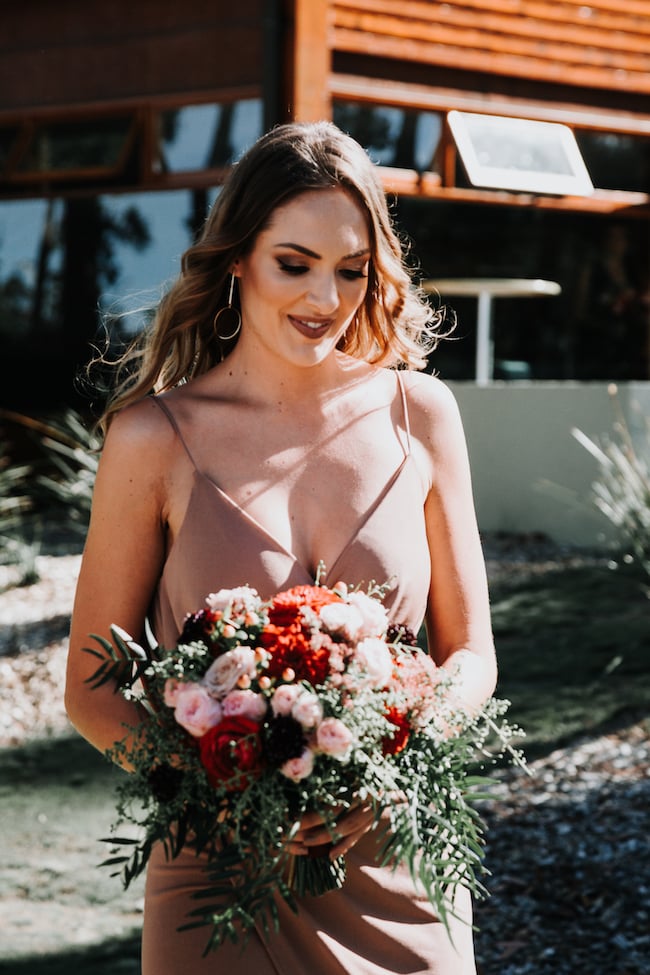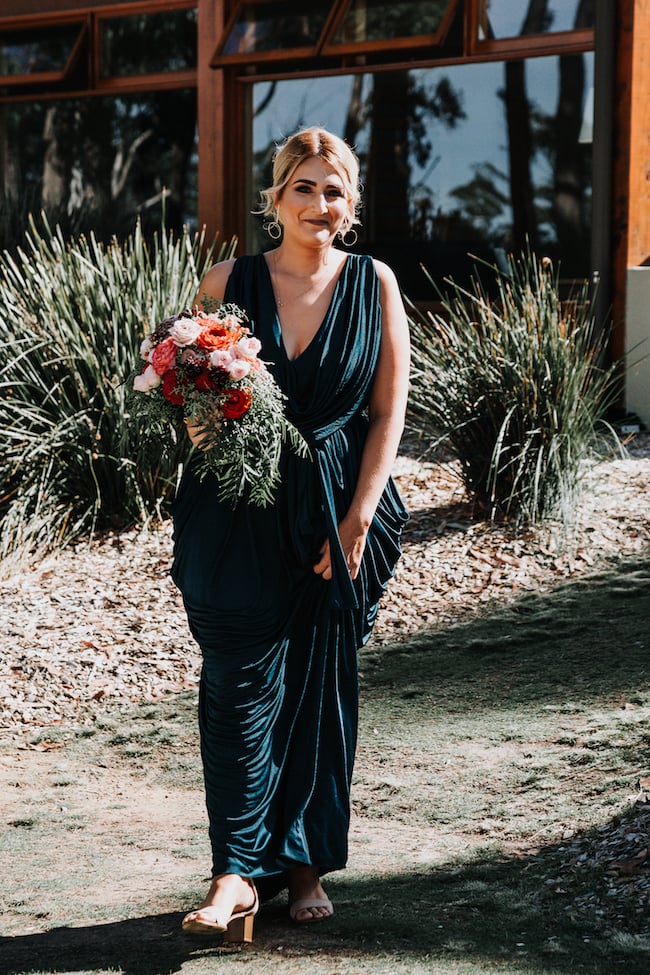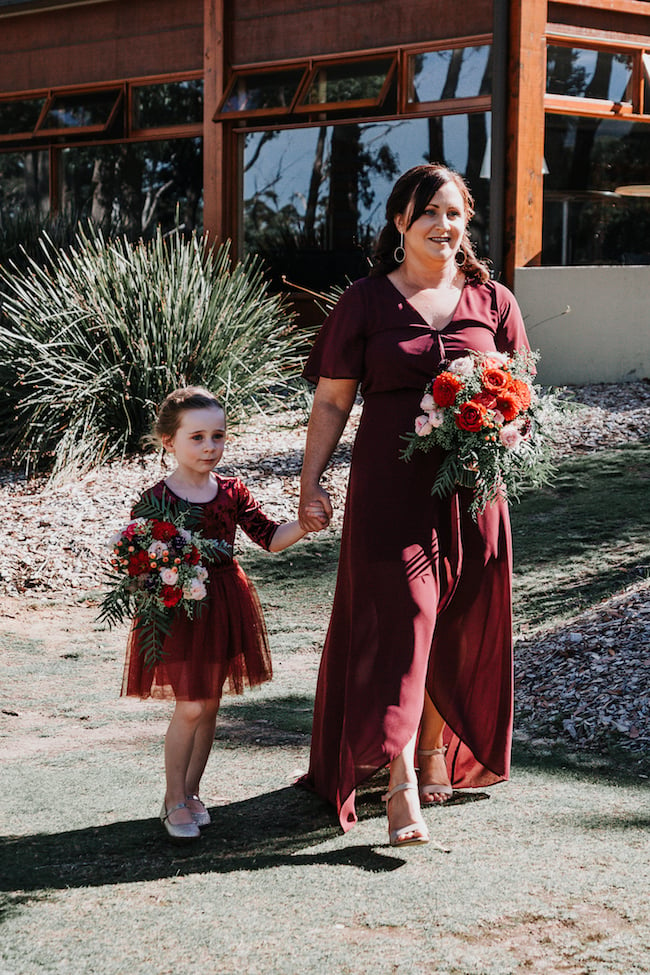 Bridesmaid dress and details: Chose their own
Groom's outfit: Connor black suit pants, dark navy and white patterned shirt, bow tie
Groomsmen outfits: Same as the groom
"I had five bridesmaids, a flower girl (my four-year-old niece) and our little three-year-old boy Felix as our little page boy. I was personally not a fan of the matchy bridesmaids dresses for my wedding, so I asked each of the girls to find their own dresses."
"I gave them each a colour - we had emerald green, burgundy, navy, nude and gold sequin. They were all purchased from different stores, as were their shoes. I wanted different dresses, as all
of my girls have such different body types and personalities. I wanted them to be truly comfortable in their outfits. They all looked incredible! They all wore some gold drop earrings from Seed that I bought as a little gift.
"The boys clothes were purchased from Connor. My husband Nick is a super casual guy so I wanted him to be comfortable. The boys wore black suit pants, dark navy/white patterned shirts with black bow ties. Nick did have a suit jacket but it was too hot on the day!
"Our bridal party consisted of our closest friends. We had a bridal party of 12 (including us). One of my bridesmaids has been my best friend since we were eight, it was very special to have her there, and another travelled over from Spain to be by my side. My sister was my matron of honour, and Nick's best man was his best friend from high school. The girls helped me so much. They were always there to listen to my non-stop wedding talk and were such a big part of my wedding planning. They kept me grounded when I was getting stressed!
"Our son Felix was so excited to be "getting married", as he would often tell people. He played a big part, being in our bridal party alongside his cousin Olivia. Liv's dress was a burgundy velvet and tulle combination and matched her Mum's dress perfectly. Felix looked like such a little gentleman in his brown loafers, navy chinos, white shirt and burgundy velvet bow tie. My mum was also in the bridal procession. Felix was supposed to walk with her down the isle but changed his mind last second of course and chose my bridesmaid Nicole to walk with!"
The ceremony and reception.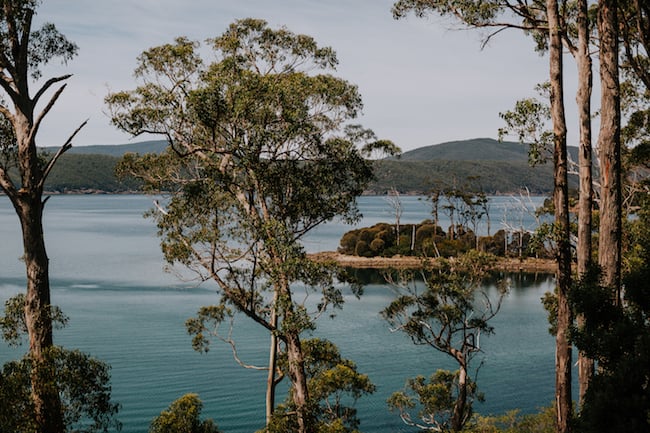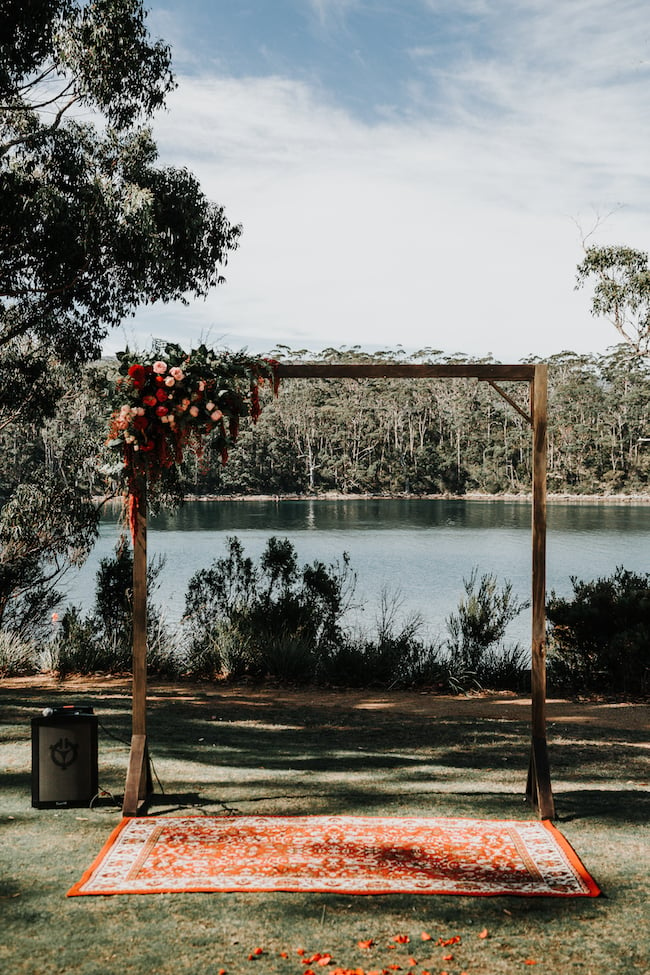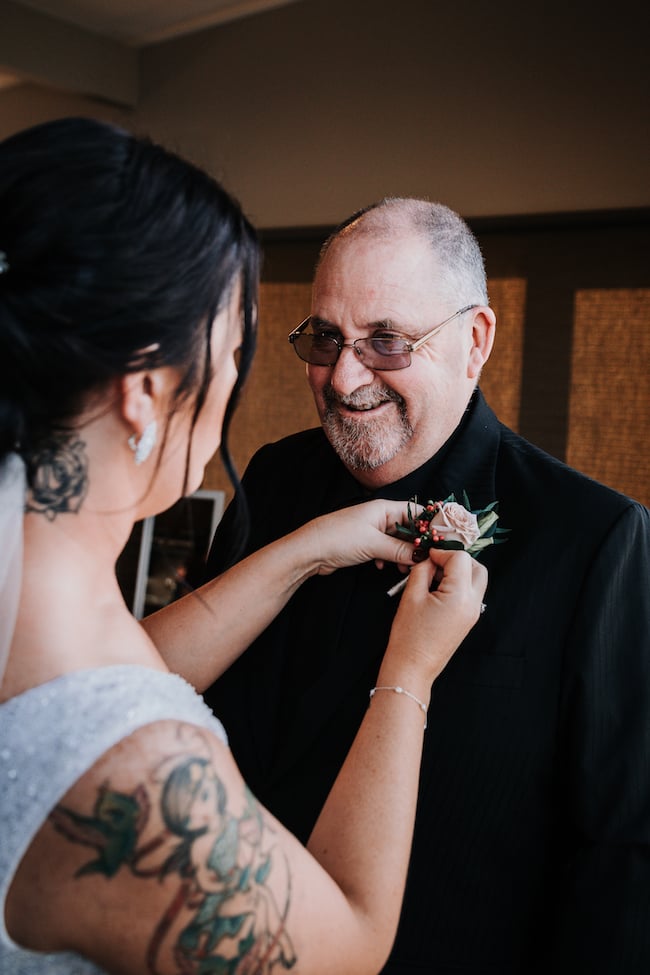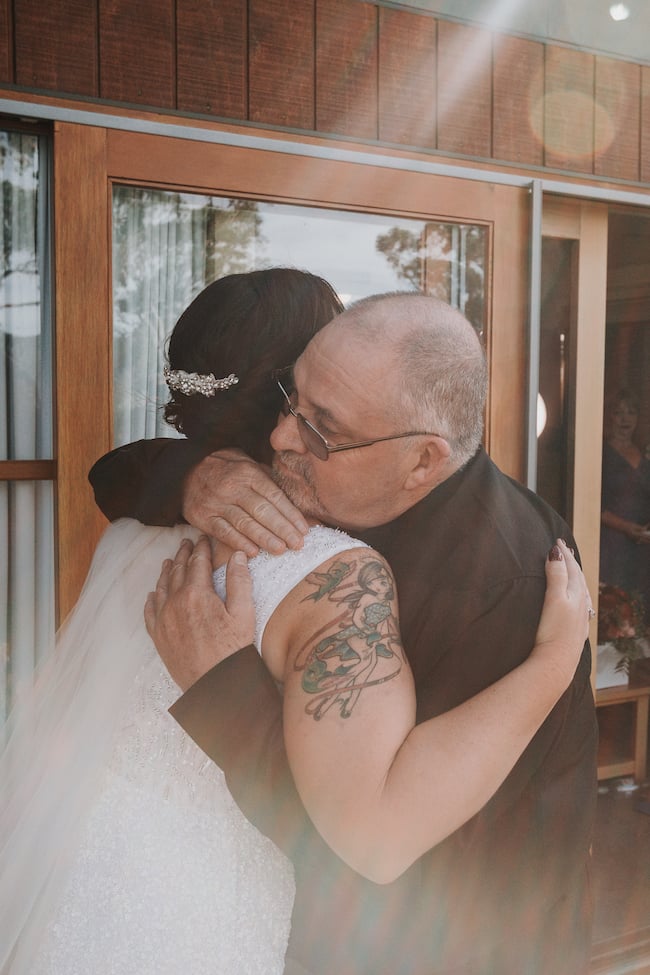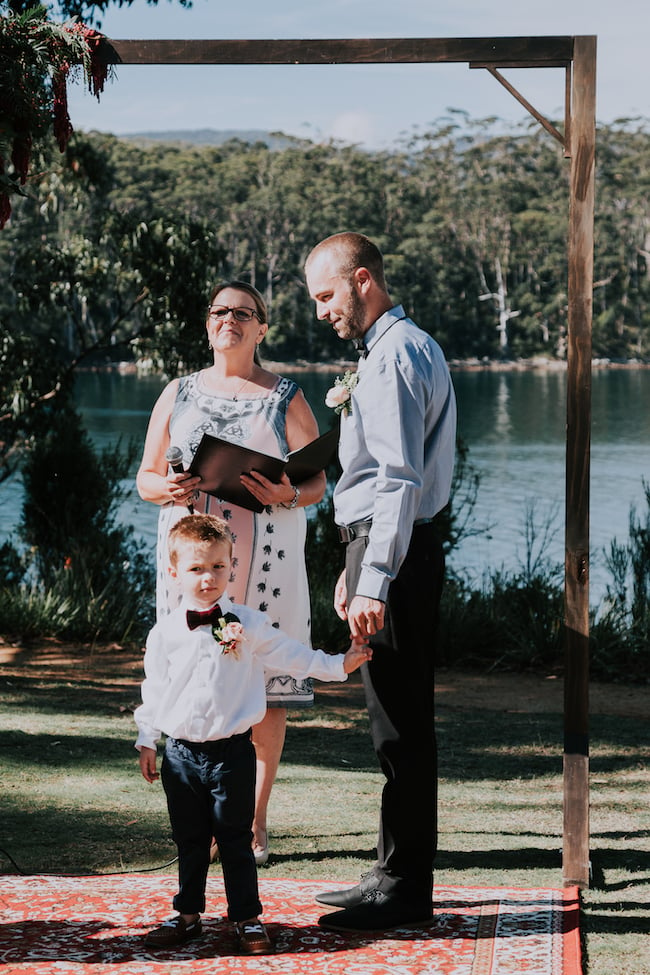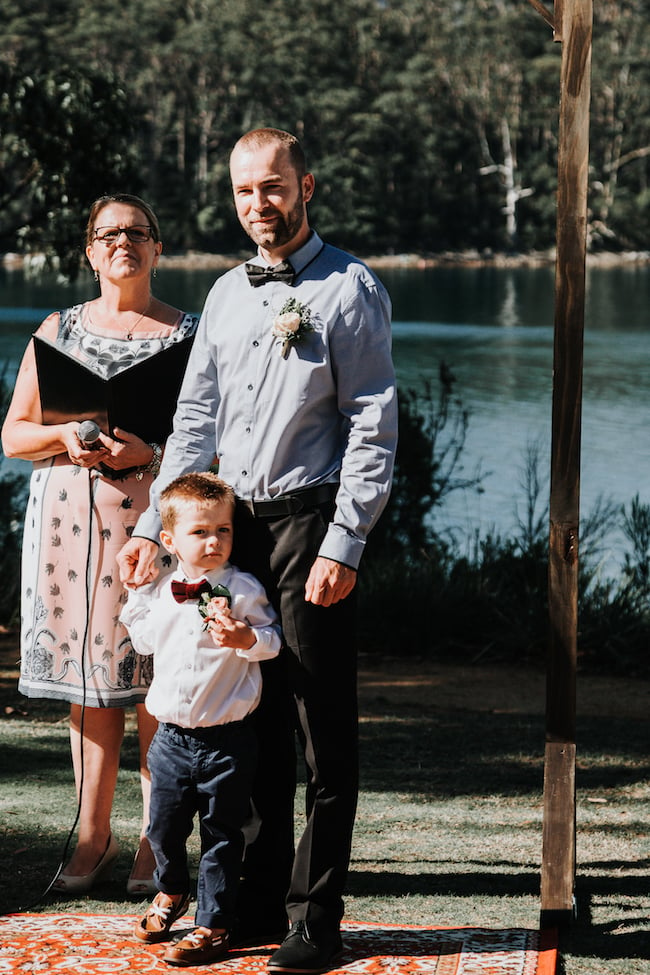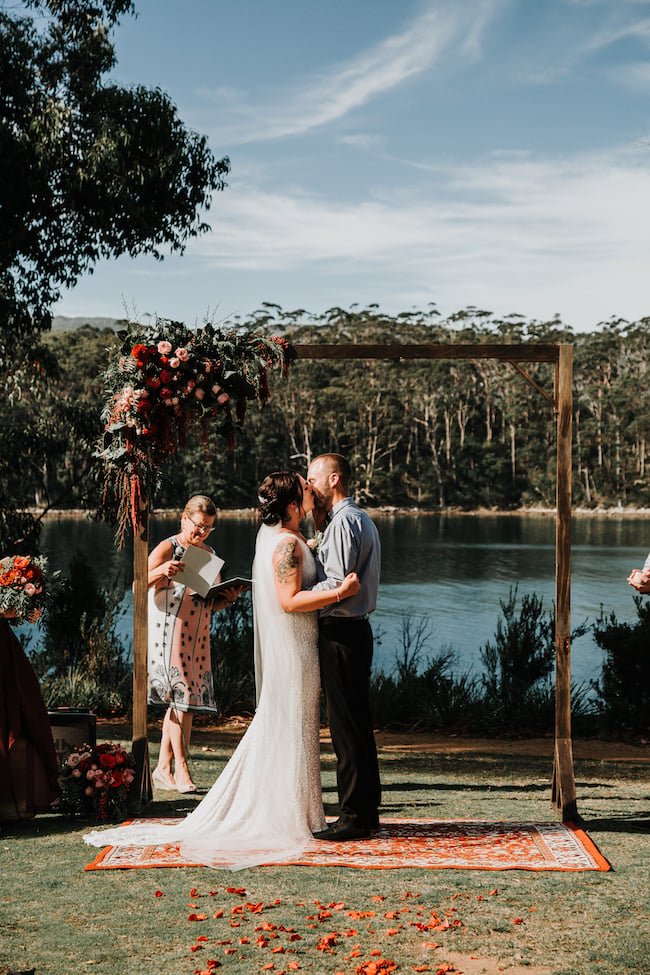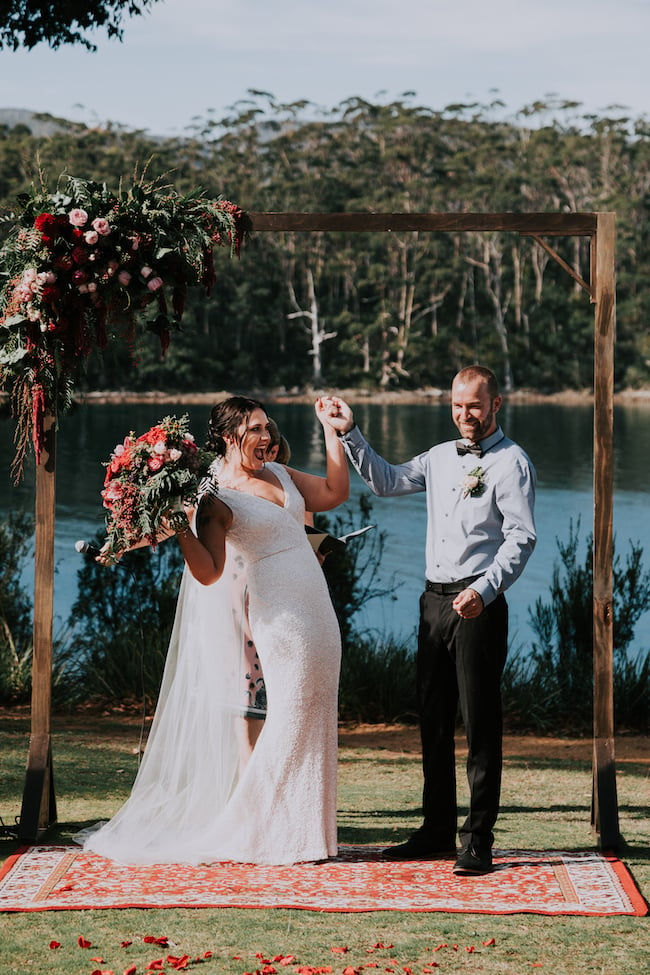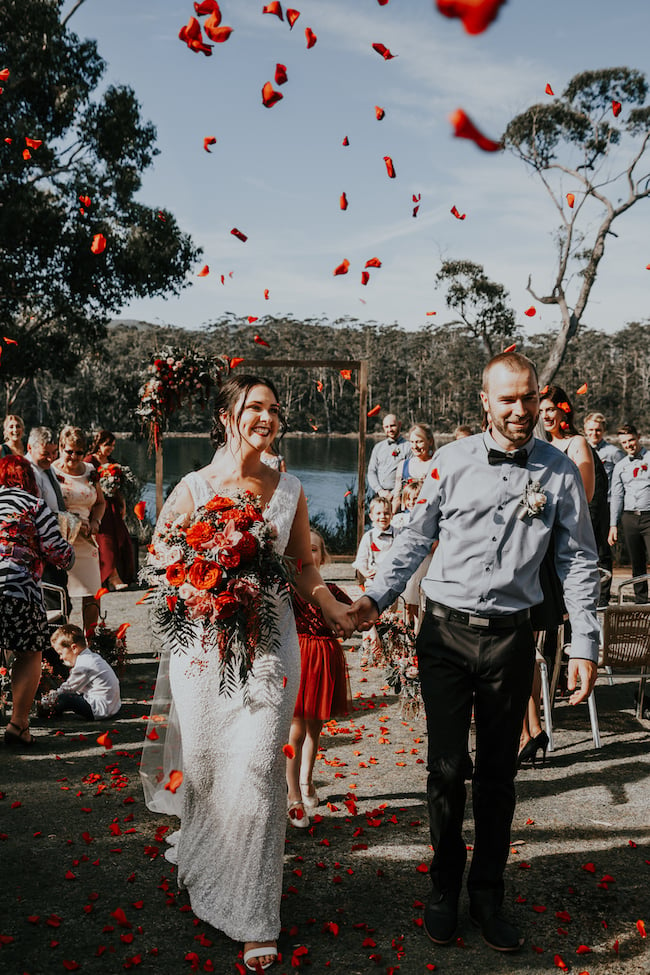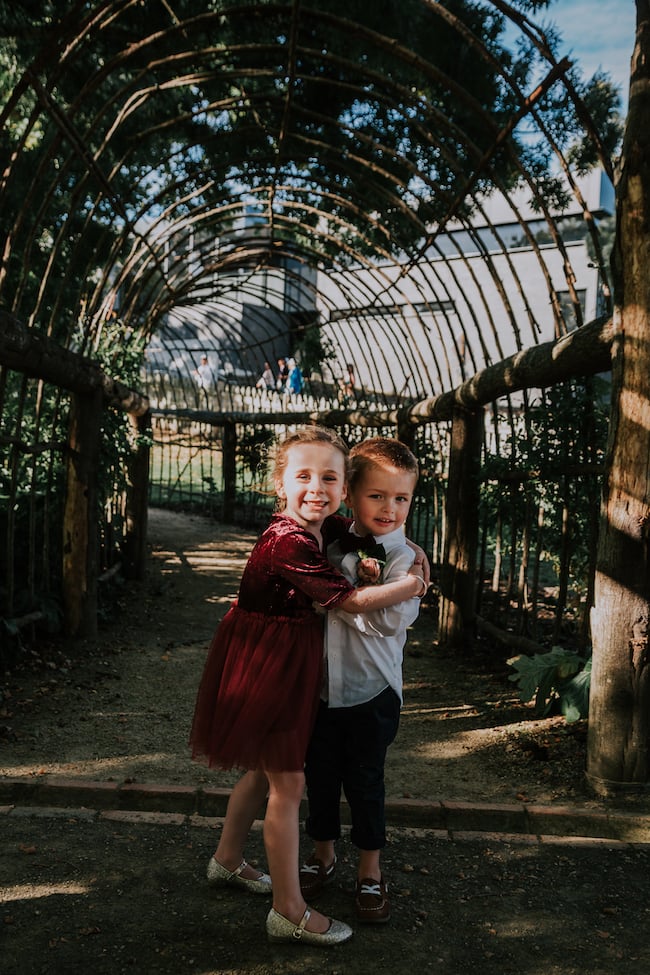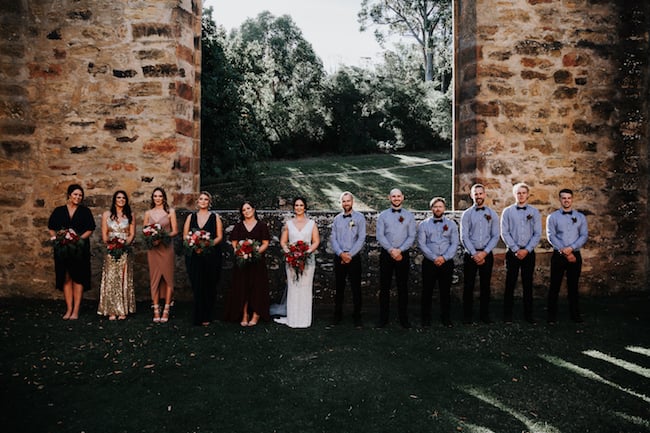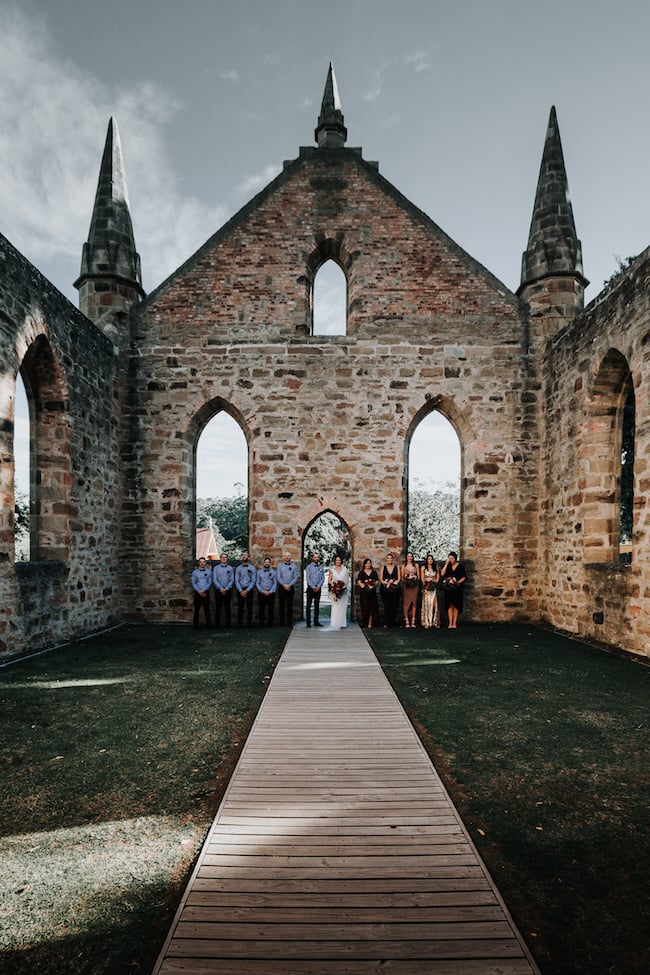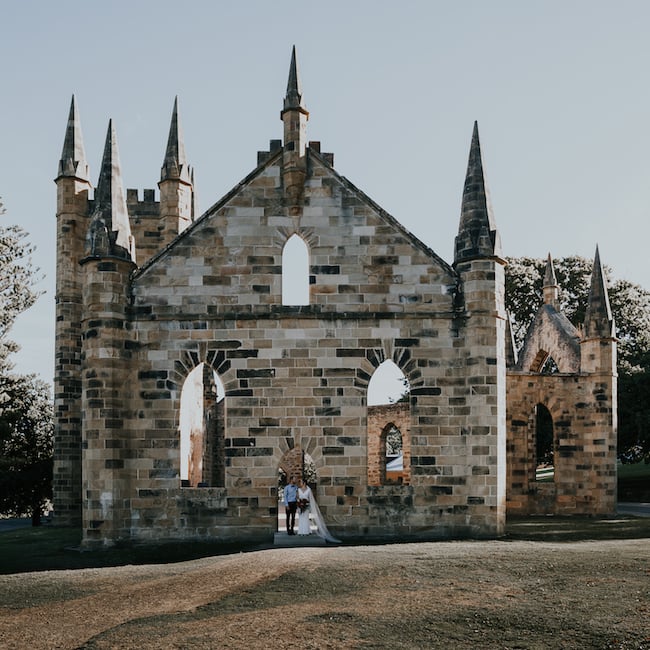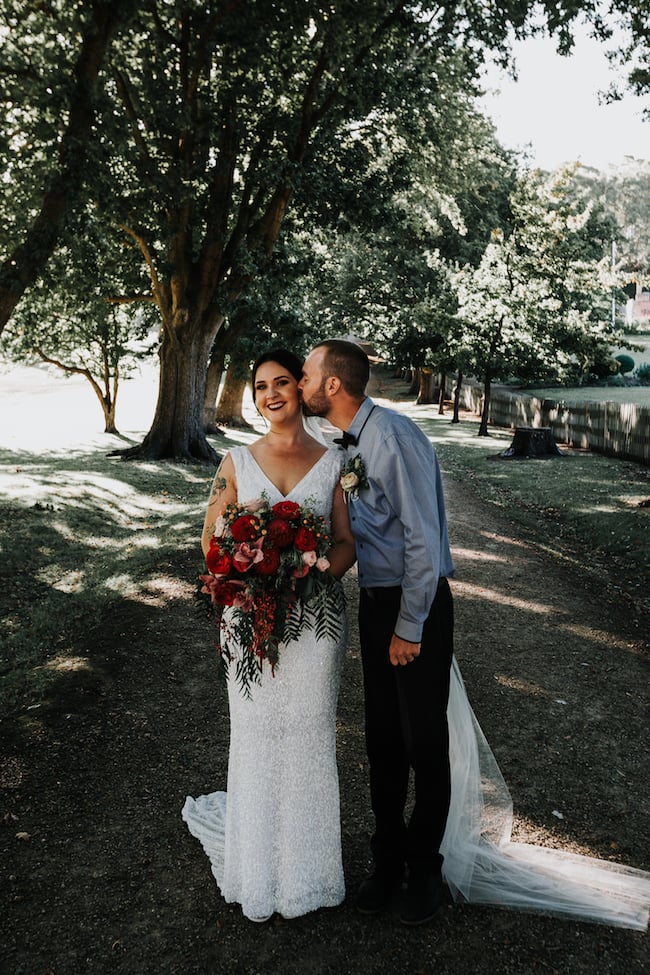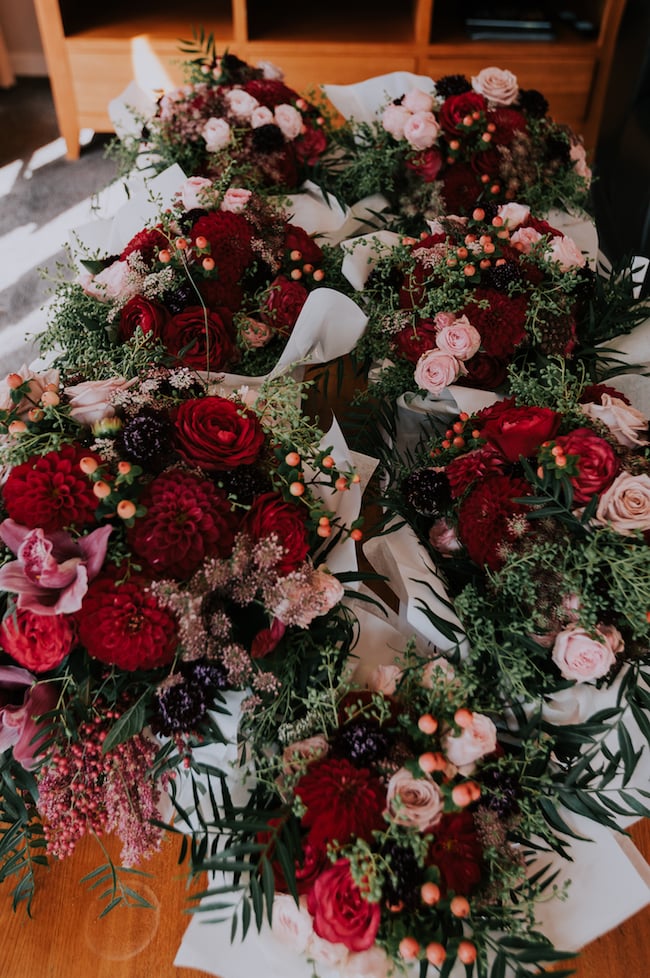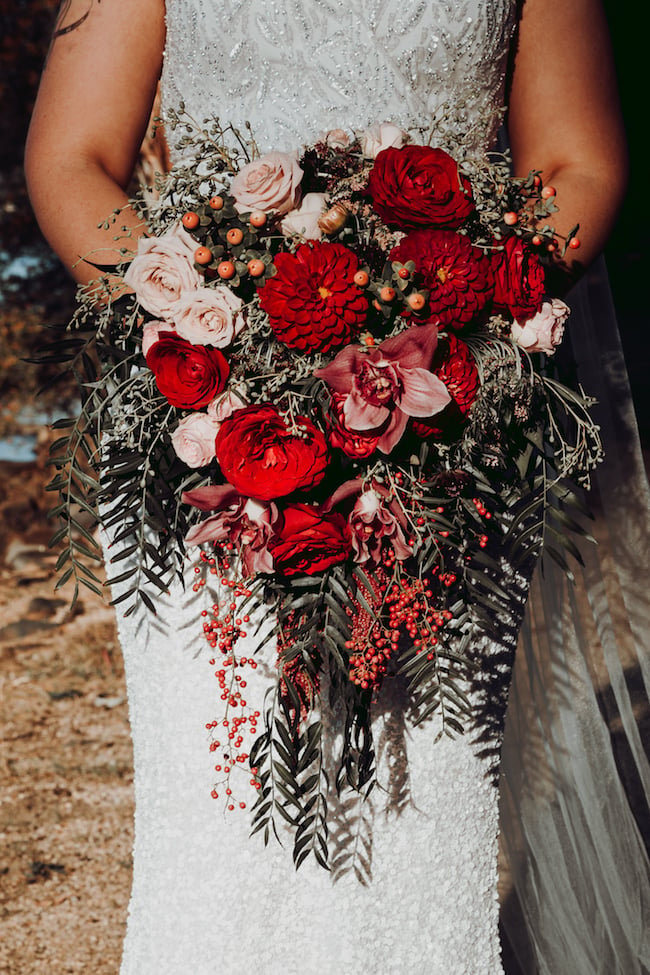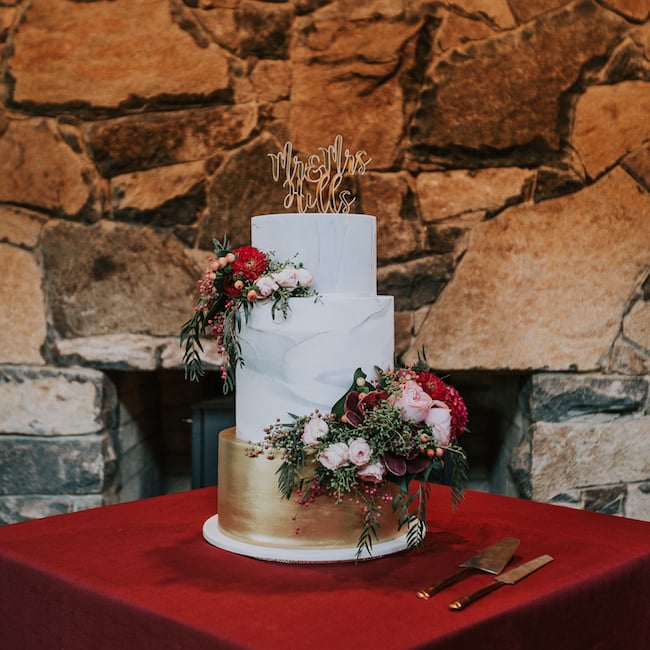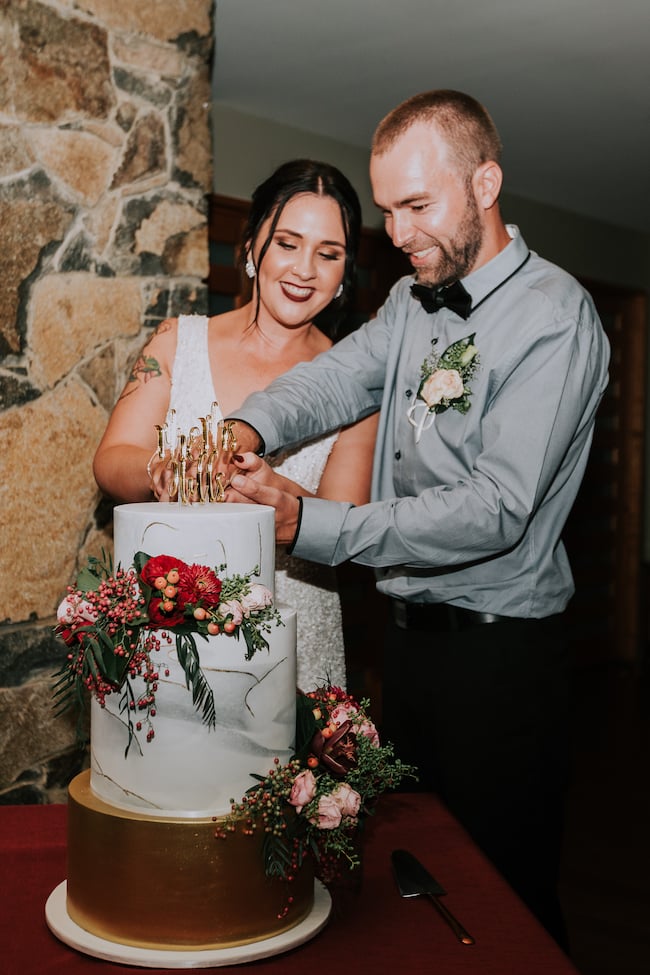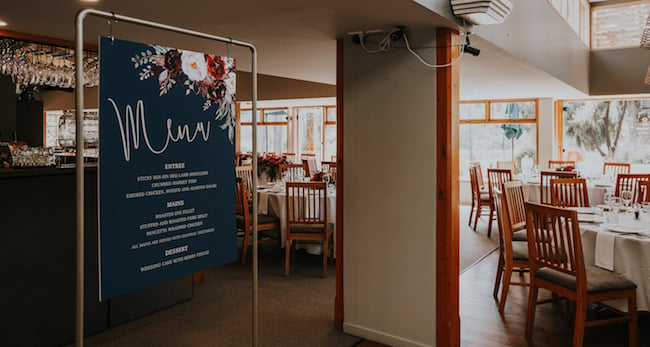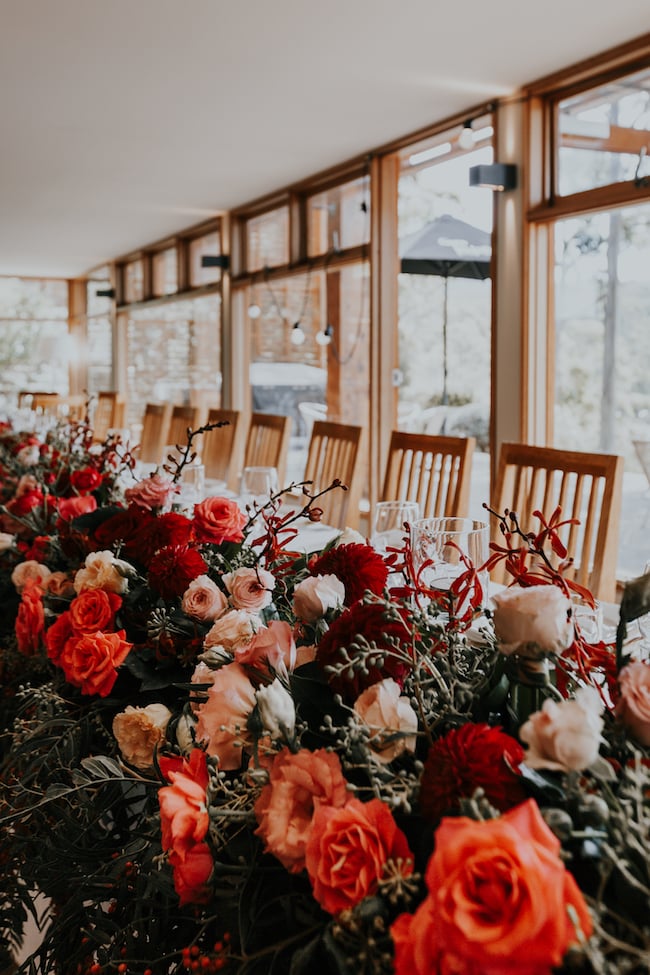 Wedding ceremony venue: Stewart's Bay Lodge, Port Arthur
Reception venue: Stewart's Bay Lodge, Gabriel's restaurant by the Bay
Celebrant: Jennifer Woods from Triabunna
Flowers: Floral Design by Frances Herrick
Decor: Style My Day
Stationery: Sundae Creative, Etsy
Wedding cake: Lily May Cake Design
Catering: Provided by the restaurant
Videographer: Ashton Howe
"We were married on a beautiful outdoor area overlooking Stewart's Bay at Port Arthur. We loved this venue due to the rugged Tasmanian wilderness as a backdrop, and it encompassed everything we love: outdoors, views and the bush setting. I knew our celebrant Jennifer from when I was a very young girl, so it was so special to have her marry us."
"My flowers were my main focus for our wedding. I believe they provided such romance and atmosphere, so I worked very closely for the 12 months with a very talented florist called Floral Design by Frances Herrick. I wanted our main decoration to be flowers. We had large bouquets, a seven-metre bridal table adorned with a cascading arrangement and smaller arrangements for guest tables. Our ceremony area was also covered in flowers. I adore the rich burgundy tones, which suited our entire "theme" I guess you could call it. They are still to this day, my favourite part of our wedding (aside from marrying Nick of course!).
"For decor, we used a small company called Style My Day which hired out pieces to us. We hired a beautiful arbour, candle holders, signage stands, Persian rug and a beautiful glass box for our cards. I didn't need a stylist, I had a vision in my head of how I wanted our wedding to look, and Nina from Style my Day helped me bring this to fruition.
"Our wedding cake was another creation that took us months to come up with. I worked with Natasha, founder of Lily May Cake Design, years ago before I became a nurse and I just knew she had to make our cake. Our cake was a three-tiered creation that was gold luster paint for the bottom tier, marble fondant with hand painted gold veining throughout for the top two tiers, finished with another beautiful creation from our florist. It was stunning!! Having Natasha create this for us was so special.
"We also had a videographer - best money we spent. He made us feel so comfortable and at ease and was such a pleasure to deal with. His editing is incredible. I have watched our highlights video countless times and cry every single time. Being able to relive the day is a true gift to us! Something to also show our son when he grows up."
The moments that made Abby and Nick's wedding day special.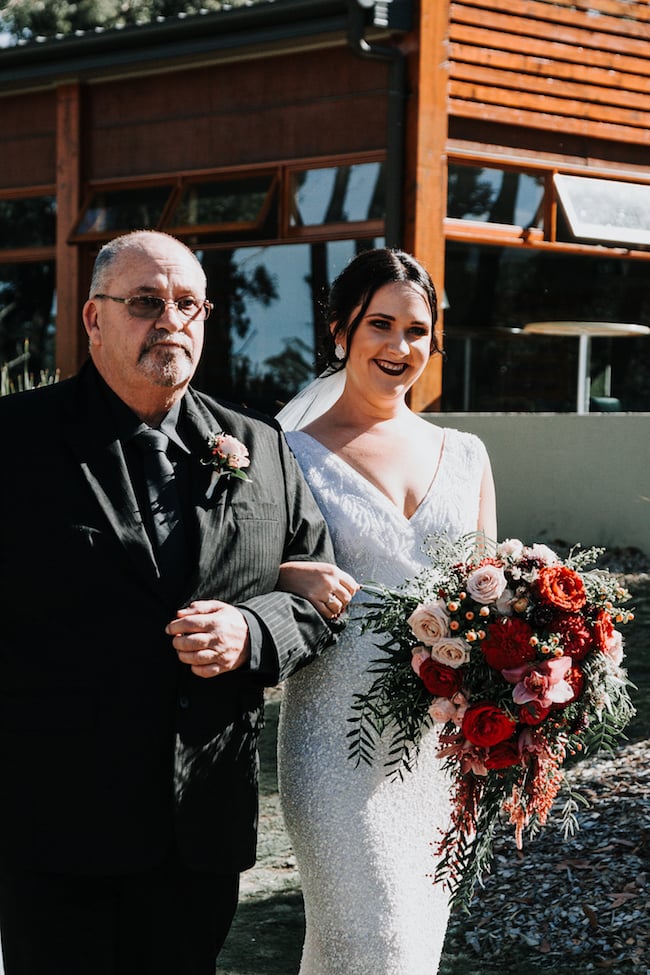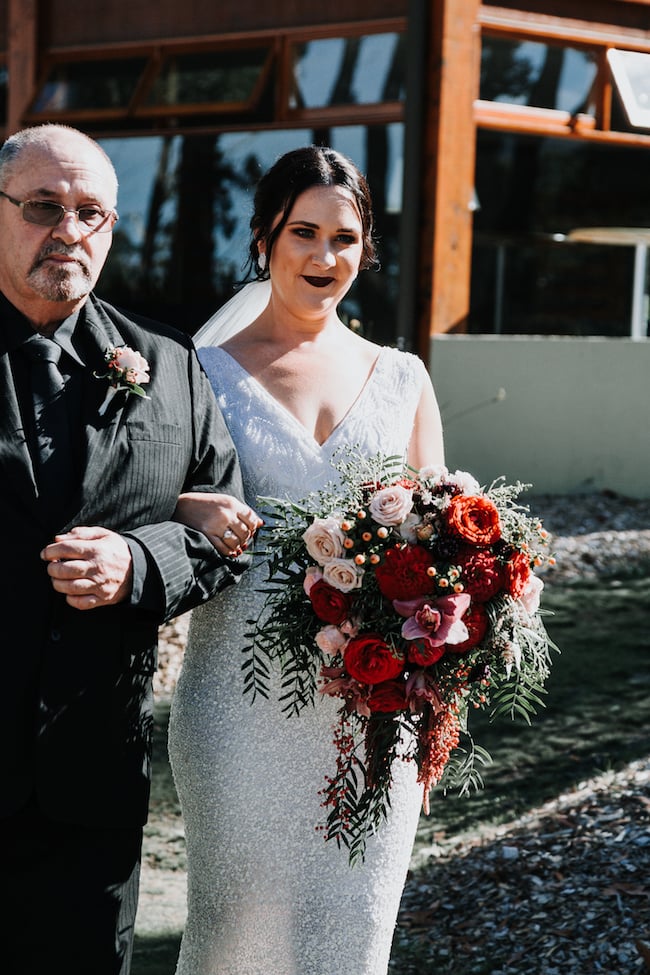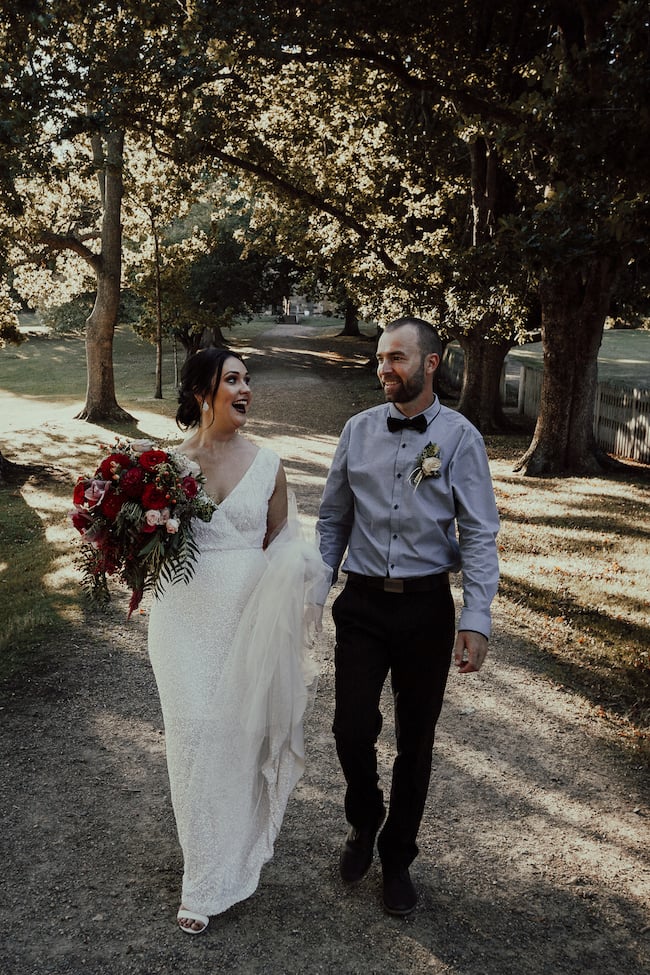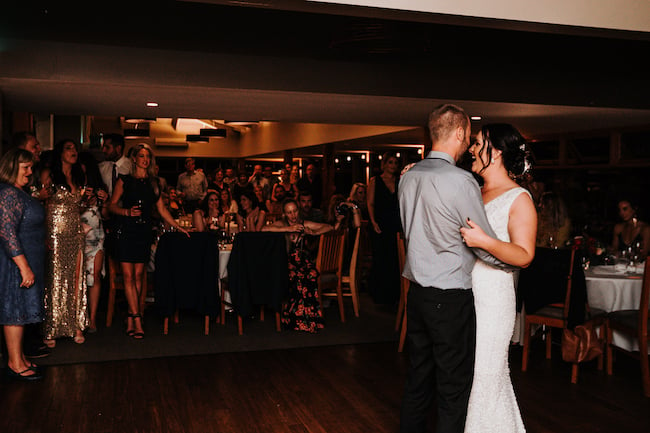 "On the day, Nick was a nervous wreck, the poor thing! He was mostly nervous about reading his vows that he wrote in front of 100 guests. I was definitely nervous, but excited at the same time! It was such a day of mixed emotions. Once I started getting ready, I calmed right down and was really excited. I just wanted to see Nick!"
"I will never ever forget walking down the isle with my darling dad, seeing Nick standing at the end, waiting with our son. My heart could have burst! Watching our video back, I realise how much he was crying, it was beautiful! Dad and I are very close, we always have been, so it was really special. My first reveal to my Dad in my wedding dress was an incredible moment. My dad is quite a strong man, and to see him breakdown in tears brings me to tears just thinking about. There is nothing like that moment when your Dad hugs you on your wedding day and tells you how beautiful you are, as he cries on your shoulder.
"Our song was 'Adore' by Amy Shark. The name says it all. We had a night a while ago Nick and I spent dancing to this song, and Nick NEVER dances, so it was fitting to have it be apart of our wedding day.
"Seeing all of our friends and family was also so magical, they had all come to see us get married which meant so much. One thing I remember clearly was the feeling of euphoria I felt all day. I have never felt so happy, and my face had never hurt so much from smiling. It really was the best day filled with so much love."
Would Abby and Nick change anything about their wedding day?
"I wouldn't change a thing. We put so much thought into every tiny aspect of the day/night, and work shopped every scenario, so we were pleased with everything that happened. I had a blast planning, I feel a year was plenty of time to plan without it being stressful. I was pretty organised and got all of the big stuff out of the way as quick as possible, so I could focus on all of the little stuff, which was the most time consuming part surprisingly."
"We feel like we spent our money wisely. We spent the big cash on the things that mattered most to us, and that made a difference on the day. Even my husband didn't mind spending $4,000 on flowers when he saw the arrangements.
"The best piece of advice I can give to other brides is, be unashamedly selfish. Your wedding day is for you and your other half, no one else. Take the time to stop together and take in the moment, remember how you are feeling at that time. It really does go so fast, so remembering to stop and make sure you actually spend time together is the most important advice I can give."
This week on Hitched, Aleisha McCormack shares why you really ought to hire a wedding planner or coordinator, even if you're super organised. Listen below!
Love weddings or getting married and need to ask all the questions about venues, flowers, photographers, wedding dresses, EVERYTHING? Come join Mamamia's wedding planning podcast Facebook group Hitched. 
All images supplied by the couple and  Ali Davis Photography.