The NSW Registry of Births Deaths and Marriages has released the statistics on the most popular baby names of 2017, sharing that the Kindy classes of 2022 and 2023 will be filled with Olivers, Charlottes, Williams and Olivias.
This is great information to have if you're into more unusual names – and also if you want your future offspring to have names that are common, and thus easily understood, and spelled.
Oliver topped the state's Register of Births, Deaths and Marriages list of 100 most popular baby names for the fourth year in a row.
William came in second for boys, maintaining its place for those four years, after having been usurped from the number one spot in 2013.
Girls, on the other hand, have a new number one: Charlotte, which beat 2016's winner Olivia. But there's only just a handful of difference in the numbers, making the names strong competition with each other for the top position, for the third year in a row.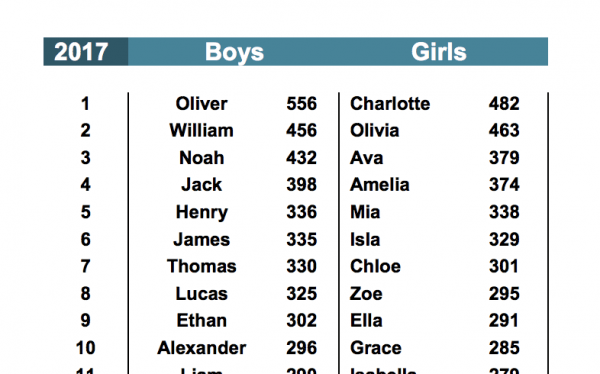 The popularity of Charlotte and William is likely to do with the increasing profile and popularity of the corresponding members of  The Royal Family - although, if we're going by cuteness factor, one would think George - which was ranked 28th - would beat out William by a mile.
"We are seeing little change in the most popular names, but there definitely seems to be a Royal flavour in the air," BDM Registrar Amanda Ianna told The Sydney Morning Herald.
Accordingly, one would expect that Louis will rate in the top ten, after only coming in at 70 in 2017.
"Mums and Dads are also wild about Harry with his name jumping from 27 to 21. While his real name, Henry, was the biggest mover on the list finishing seventh last year up from 18th in 2016," Registrar Ianna said.
Apart from Henry, other newcomers in the top 10 were Ella and Zoe for girls, replacing Emily and Ruby.
Elizabeth is at number 46, but it's interesting to note that Catherine and Meghan haven't featured on a top 100 list  since the early 2000s. No doubt, that will change in 2018, especially for Meghan.
Like to have your opinion heard? Want to win $100? Take our short survey now for your chance to win 1 of 3 $100 gift vouchers.