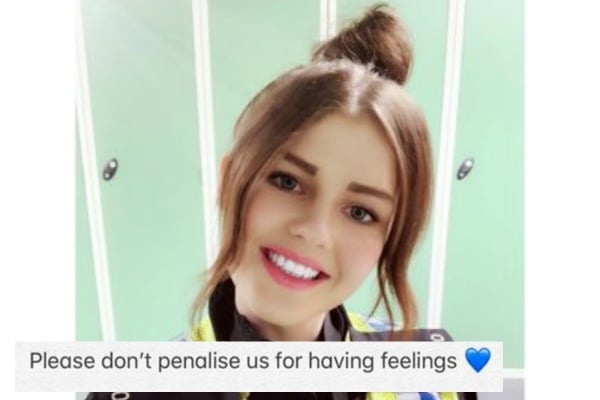 Many of us can only imagine with it is like to be a police officer, having to deal with the horrific and utterly distressing scenes they're exposed to on a daily basis.
The thought of watching a child die or having to deliver the devastating news to a parent, is chilling in itself.
They are, of course, only human, so there's no doubt what they have witnessed would have an impact on their physical, mental and emotional well being.
Now a UK policewoman's harrowing tweet has provided a glimpse into a night on the force.
Police Constable Jade Hunter described being one of six first officers who responded to a call to help the toddler suffering from cardiac arrest.
The girl, who was just three-years-old, did not make it.
And while the news of the young girl's death is shattering enough, Jade's description reflected a sense of helplessness as she and her colleagues stood by watching paramedics attempt to save the girl's life.
"Last night myself and five colleagues attended a report of a three-year-old female in a cardiac arrest," she wrote.
"Ambulance were already on scene and I cannot praise them enough for their amazing efforts and professionalism at such a difficult time.
"Unfortunately she didn't make it and my heart and deepest sympathies go out to her family and friends."
"Jobs like this are especially difficult to deal with, I cannot imagine the pain her parents and siblings are going through now."
Food for thought ???? pic.twitter.com/cNmPUBvqOa

— PC Jade Hunter (@WYP_JHunter) December 15, 2018