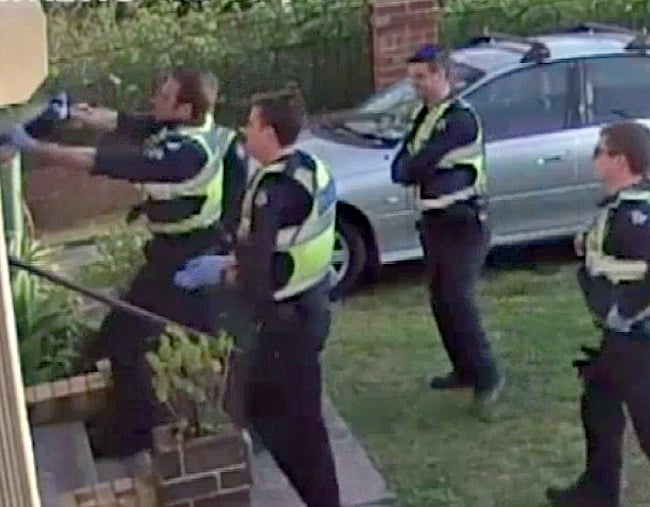 It was October 2017. Through the closed door, Melbourne man John yelled at the six officers gathered on his lawn. "Please leave. I don't want to fucking talk! F**k off! F**k off," he shouted. "Get off my f**king property."
The disability pensioner was withdrawing from pain medication following an operation on his back, leaving him distressed and unwell. Given his history of mental ill-health and current mental state, his psychiatrist requested police perform a welfare check at his Preston home.
"C'mon, John. We just want to have a chat," one officer pleaded.
"No, I can't. I'm alright. I've just got to get through this. Alright?" he yelled back. "I've done nothing wrong."
Then, seemingly in an instant, things changed. Over the next several minutes, John was tackled onto his front lawn, beaten, sprayed at close range with oleoresin capsicum (pepper spray), and blasted with a high-pressure hose.
The whole 20-minute encounter was captured by John's own home security system, footage that was this week released to The Age by his lawyer, Jeremy King. The highly charged footage attracted national media attention and sparked an investigation into the officers' conduct by the state's police watchdog, the Independent Broad-based Anti-Corruption Commission.
King has litigated multiple cases of alleged police misconduct and said that use of excessive force matters similar to John's are "quite common".
He told ABC, "What John's case highlights is that these things do occur, and he obviously has the evidence to be able to back it up.
"For him to be treated in that way is humiliating and quite degrading for someone who has mental health issues and had committed no crime."
The precise moment "protocol goes out the window".
According to ABC, police dispatch notes had warned that John may confront officers and attempt to provoke them into shooting him.
And in Jeremy King's view, police acted accordingly at first: the number of responding officers was "relatively standard protocol", as was the way those officers approached John's door, the way they spoke to him calmly in an attempt to appease his distress and deescalate the situation.
But as King told The Project, "Pretty much from the time [John] opens the door is when protocol goes out the window."
John raises his hands, and attempts to fend off an officer aiming OC spray at him. As he grabs the officer's wrists, he is pulled from his doorway, down his front steps and tackled to the ground by all six officers. Three of them then hold him down on the turf – one with a knee on John's neck – as another strikes him six times on the lower leg with a baton.
An officer can be seen spraying him in the face with OC at close range.
The hosing and humiliation.
The footage then captures John, handcuffed and kneeling on his lawn, being doused with a garden hose.
According to King, aftercare for OC spray is meant to involve flushing the skin and eyes with water, "administered by a bottle or a bucket".
"And [in John's case] there was a watering can nearby, but the police chose not to do that – they chose to spray him with a high-pressure garden hose," King told The Project. "That is certainly not in accordance with protocol."
John described the incident to the ABC: "He's aiming for my nostrils and it's going into my lungs — and that's when I started choking from the water and from the hot mace going into my respiratory [system]," he said. "I couldn't breathe. I really, literally, thought I was going to drown."
Also in breach of protocol, King said, was the officer who used his mobile phone to film John being hosed.
"It was like a game for them. They wanted to get their rocks off, you know?" John told ABC. "It's wrong."
What happens now?
Despite the IBAC investigation, as yet, no officers have been stood down over what took place at John's home.
Assistant Commissioner Luke Cornelius told media he was "very concerned" after seeing the vision. He had ordered an investigation, but later learned of the IBAC inquiry, which will take precedence.
"The conduct displayed on the CCTV demanded examination and explanation. The members involved clearly needed to be called to account for their conduct," Cornelius said.
Along with taking his case to the IBAC, John is launching civil action. He reportedly avoided complaining directly to Victoria Police because he was not confident his case would be investigated fairly.
The incident comes on the back of IBAC criticism of the force's complaints system. In February, an IBAC audit found "concerning deficiencies" in the way Victoria Police reviewed serious incidents involving its officers, including those where a member of the public was injured or killed.
The assessment of 142 files from 2015 and 2016 found that in 50 per cent of cases police had failed to consider evidence that should have been included, while two thirds failed to address human rights.