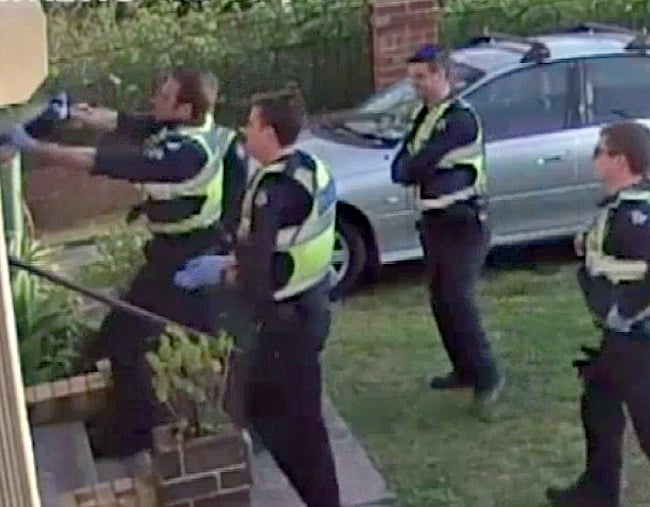 It was October 2017. Through the closed door, Melbourne man John yelled at the six officers gathered on his lawn. "Please leave. I don't want to fucking talk! F**k off! F**k off," he shouted. "Get off my f**king property."
The disability pensioner was withdrawing from pain medication following an operation on his back, leaving him distressed and unwell. Given his history of mental ill-health and current mental state, his psychiatrist requested police perform a welfare check at his Preston home.
"C'mon, John. We just want to have a chat," one officer pleaded.
"No, I can't. I'm alright. I've just got to get through this. Alright?" he yelled back. "I've done nothing wrong."
Then, seemingly in an instant, things changed. Over the next several minutes, John was tackled onto his front lawn, beaten, sprayed at close range with oleoresin capsicum (pepper spray), and blasted with a high-pressure hose.
The whole 20-minute encounter was captured by John's own home security system, footage that was this week released to The Age by his lawyer, Jeremy King. The highly charged footage attracted national media attention and sparked an investigation into the officers' conduct by the state's police watchdog, the Independent Broad-based Anti-Corruption Commission.
King has litigated multiple cases of alleged police misconduct and said that use of excessive force matters similar to John's are "quite common".
He told ABC, "What John's case highlights is that these things do occur, and he obviously has the evidence to be able to back it up.
"For him to be treated in that way is humiliating and quite degrading for someone who has mental health issues and had committed no crime."
The precise moment "protocol goes out the window".
According to ABC, police dispatch notes had warned that John may confront officers and attempt to provoke them into shooting him.
And in Jeremy King's view, police acted accordingly at first: the number of responding officers was "relatively standard protocol", as was the way those officers approached John's door, the way they spoke to him calmly in an attempt to appease his distress and deescalate the situation.
But as King told The Project, "Pretty much from the time [John] opens the door is when protocol goes out the window."
John raises his hands, and attempts to fend off an officer aiming OC spray at him. As he grabs the officer's wrists, he is pulled from his doorway, down his front steps and tackled to the ground by all six officers. Three of them then hold him down on the turf – one with a knee on John's neck – as another strikes him six times on the lower leg with a baton.